Sweet Potato & Artichoke Salad with Basil Oil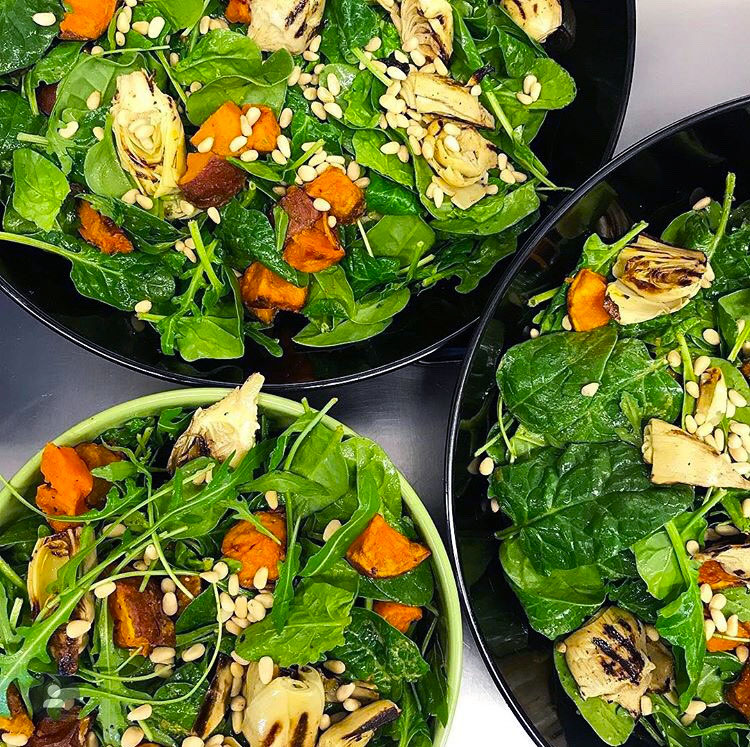 This salad is absolutely packed with flavour from the sweetness of the sweet potato and the saltiness of the grilled artichoke to the crunchiness of the pine nuts. Not only is it super tasty, it is loaded with nutrients. The Basil oil tops it off so beautifully and gives it a lovely fresh taste! (From the world's first vegan football club!)

Easy



Courtesy of 100% vegan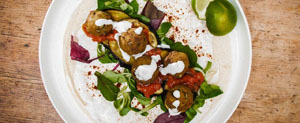 See other recipes by 100% vegan
Meal
lunches
sides-light-meals-and-salads
Ingredients
Salad
2 jars or tins artichoke hearts, drained and halved
2 large sweet potato, cut into cubes
3 garlic cloves, finely sliced
2 tbsp dried thyme
1 bag spinach
1 bag rocket
Handful pine nuts
Extra virgin coconut oil
Fine sea salt
Basil oil
1 bunch basil
Bowl of ice water
Rapeseed or olive oil
Instructions
Pre-heat the oven to 180ºC (fan)/350ºF/Gas Mark 4.
Place the sweet potato on a baking tray with the garlic, dried thyme, a pinch salt and small amount coconut oil.

Roast for 25-30 minutes or until soft on the inside and crispy on the outside.

Whilst the potato is cooking, grill the sliced artichoke hearts on a grill pan with a little coconut oil.
Leave sweet potato & artichoke hearts to cool once cooked.
Basil Oil
Bring a small sauce pan of water to the boil and blanch the basil for 30 seconds.
Immediately put the basil into a sieve and shock freeze it in the bowl of ice water.
Drain the blanched basil and then blitz it with a pinch of salt and some oil in a blender.
This will last for 1-2 weeks in the fridge.
Assembly
Combine the rocket and spinach in a large salad bowl.

Toss the leafs in the basil oil dressing.

Add the cooled sweet potato & artichoke hearts.

Toss again, adding the pine nuts.

Serve with a little basil oil drizzled on top.
Did you know that Vegan Recipe Club is run by a charity?
We create vital resources to help educate everyone – vegan veterans, novices and the v-curious alike – about vegan food, health and nutrition; as well as the plight of farmed animals and the devastating environmental impact of farming.
Through this work we have helped thousands of people discover veganism; but we want to reach millions more! We rely entirely on donations as we don't get any government funding. If you already support us, thank you from the bottom of our hearts, you are really making a difference! Please share our details with your friends and loved ones too, as every donation enables us to keep fighting for change.