Heavenly Halva Ice with Lemon Biscotti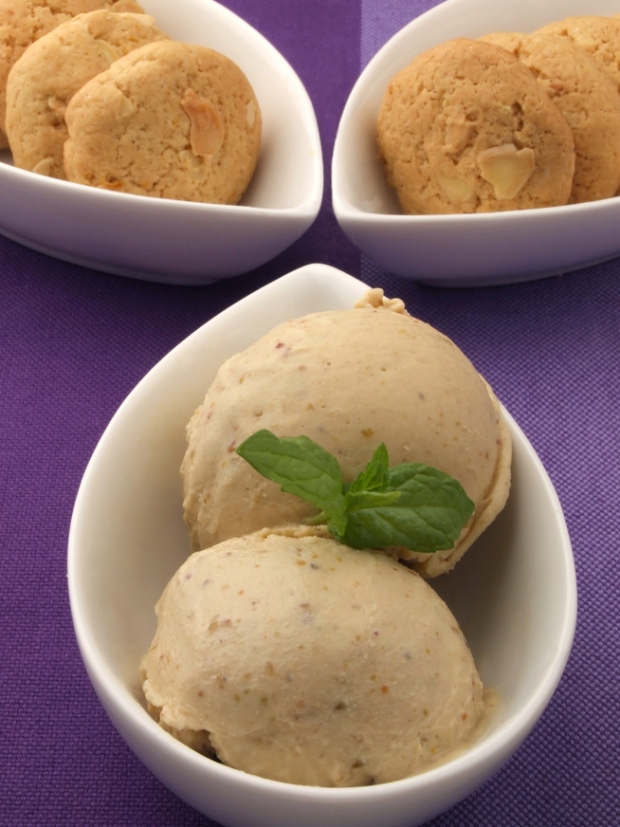 A rather special dessert that can be prepared beforehand to save time – the ice cream can go in the freezer and the biscotti stored in an air-tight container.
Photograph courtesy of http://flavourphotos.com/

Not too tricky
Ingredients
Halva Ice Cream:
400g/14 oz pistachio halva
500g/18fl oz plain soya yoghurt, eg Alpro (1 large tub)
Icing sugar to taste
Biscotti:
75g/2½ oz margarine
125g/4½ oz sugar
250g/9oz self-raising flour
2 quantities of egg replacer (found in health food shops), enough to replace 2 eggs
1 tsp vanilla essence
1 tsp baking powder
Grated zest of 1 lemon
Flaked almonds
Instructions
Ice Cream: 1. Chop the halva into small pieces.
2. Combine these with the soya yoghurt and blend with a hand-blender (or food processor) until smooth. Add a little icing sugar to taste.
3. Transfer the mixture to a plastic container and freeze for 1½ – 2 hours. Alternatively, use an ice-cream maker and follow its instructions.
4. If making by the freezer method, blend again briefly to break up the ice crystals and return to the freezer for another 2 hours.
Biscotti: 1. Preheat the oven to 180˚C/350˚F/Gas Mark 4 and line a baking tray with non-stick baking paper.
2. Cream the margarine and sugar together until fluffy. Blend in the egg replacer and vanilla essence. Sieve in the flour and baking powder and add the lemon zest and flaked almonds.
3. Take a heaped teaspoon of the dough and roll it into a ball. Place it on the baking tray and flatten it slightly. Do the same with the rest of the dough.
4. Bake for 25 minutes or until golden and crisp – longer if biscotti still soft. Store any extra biscotti in an airtight container.
Optional extras / notes
2 hours, including freezing time for the ice cream
Did you know that Vegan Recipe Club is run by a charity?
We create vital resources to help educate everyone – vegan veterans, novices and the v-curious alike – about vegan food, health and nutrition; as well as the plight of farmed animals and the devastating environmental impact of farming.
Through this work we have helped thousands of people discover veganism; but we want to reach millions more! We rely entirely on donations as we don't get any government funding. If you already support us, thank you from the bottom of our hearts, you are really making a difference! Please share our details with your friends and loved ones too, as every donation enables us to keep fighting for change.