Fishless Fillets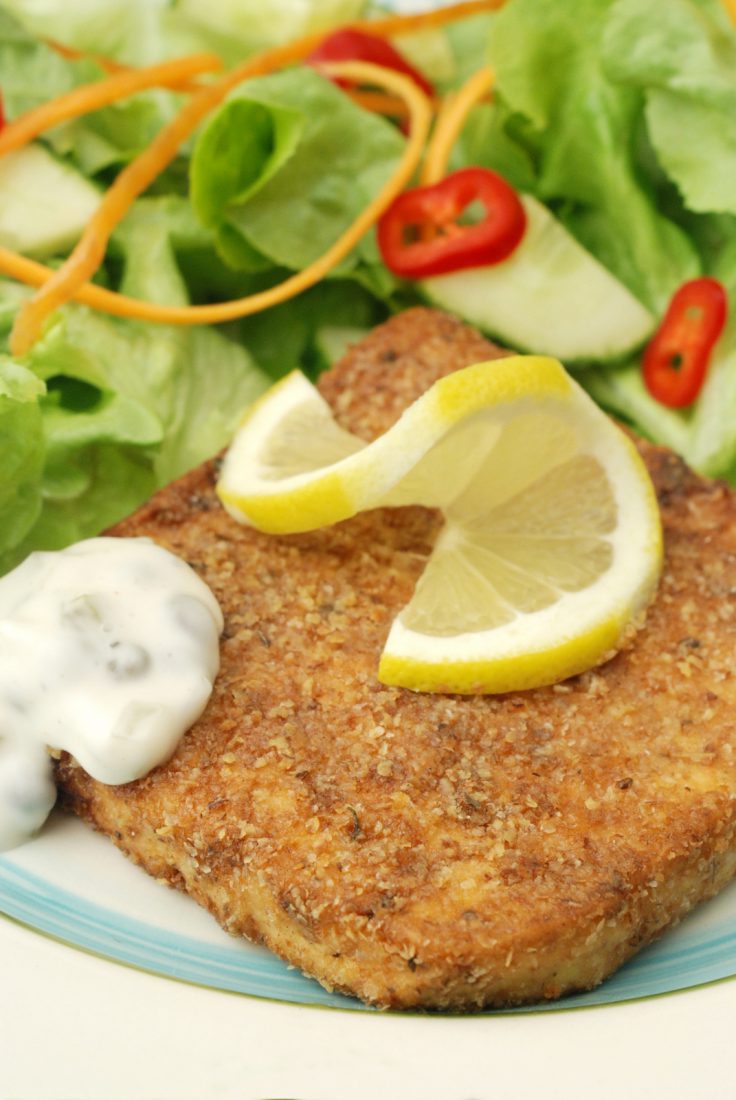 This makes a nice (and healthier) alternative to fish and doesn't take long.
Product info
Nori is a sea vegetable usually wrapped around sushi – those black sheets! It's a tasty food that is also a good source of protein, calcium and vitamin A. It's available in larger supermarket branches, Oriental grocers and health food shops as well as online – as sheets or sprinkles. In this recipe it's being used as an oceanic flavouring, hence sprinkles rather than whole sheet being mixed in.
Plain firm tofu – medium firm, firm or extra firm – is best pressed in this recipe if you have time See our tofu guide here Plain firm tofu is slightly more rough textured and is usually used in stir-fried and the like – very different from softer, creamier silken tofu. Well-known brands of firm plain include Cauldron, Dragonfly and Pulmone.
Vegan mayonnaise (for tartar sauce recipe below): Follow Your Heart Vegenaise; Plamil – and lots of other brands. Or make your own cheaply and quickly – click here for our popular Aquafaba Mayo!
For more information about fish – health, environment and welfare – check out Viva! Fish-free for Life guide ; Viva! Fish campaign info; Viva!End of the Line Guide and Viva! Fish Report

Not too tricky


Ingredients
450g/1lb plain firm tofu – get the extra firm variety if you can (Oriental stores) but otherwise, medium firm such as Cauldron et al will do. Try and press it if you have time – see above
1 tsp egg replacer made to packet instructions (eg 1 tsp Orgran brand + 2 tsp water)
2 tsp nori flakes – see above
2 tbsp soya sauce – use gluten-free (GF) version if appropriate
30g/1oz wheatgerm OR fine breadcrumbs – use GF breadcrumbs eg Orgran if appropriate
30g/1oz white flour, regular or GF
¼ tsp paprika
¼ tsp dried basil
Pinch of dried thyme
Oil for frying
Tartar Sauce. Makes one jar so halve or quarter the quantities if you prefer less
300ml vegan mayo
2 tsp capers, drained and rinsed
2 tsp sweet pickle – if large lumps, chop fine
1 tsp fresh chives, chopped (optional)
ALL KITTED OUT
Chopping board, knife, clean teatowel or kitchen paper, small bowl and fork/whisk, measuring spoons, container to mix the dry coating, flat plate or similar, frying pan and fish slice.
Instructions
Cut the tofu into several 'steaks' about ¾ cm/ ¼ inch deep.
Wrap the slices in a tea towel or thick kitchen paper and pat to remove excess moisture.
Beat the egg replacer, soya sauce and nori flakes together in a small bowl and set aside.
Combine the wheatgerm or breadcrumbs with the flour, paprika, basil and thyme on a plate or similar flat dish.
Heat the oil in a large non-stick or heavy frying pan.
Dip each slice of tofu into the egg replacer mixture then coat both sides with the wheatgerm/breadcrumb mixture.
Fry the slices until golden brown on both sides.
Serve with new potatoes and salad or green vegetables and tartar sauce.
Did you know that Vegan Recipe Club is run by a charity?
We create vital resources to help educate everyone – vegan veterans, novices and the v-curious alike – about vegan food, health and nutrition; as well as the plight of farmed animals and the devastating environmental impact of farming.
Through this work we have helped thousands of people discover veganism; but we want to reach millions more! We rely entirely on donations as we don't get any government funding. If you already support us, thank you from the bottom of our hearts, you are really making a difference! Please share our details with your friends and loved ones too, as every donation enables us to keep fighting for change.