Chicory Boats with Mock Chicken Salad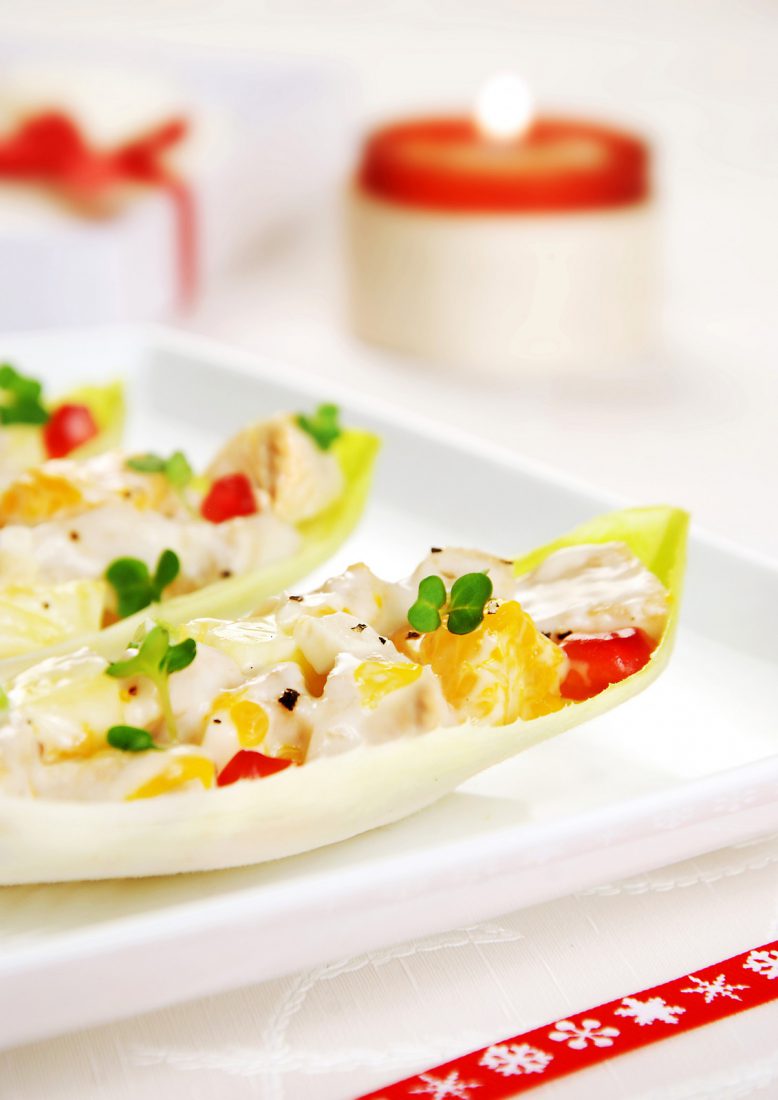 Chava is a professional food writer and photographer www.flavourphotos.com and first started to create mouth-watering vegan recipes and photographs for Viva! in 2006. She lives in the Cotswolds with her partner and two young boys, Sam and Alex.
She says: 'I love the elegant presentation for this easy starter. The mandarin segments and pineapple add an unusual twist to this 'chicken' salad.'

Easy

Meal
soups-starters
sides-light-meals-and-salads
Ingredients
8 chicory leaves (Tip: carefully cut a slither from the bottom of each chicory leaf. That way the 'boats' won't go wobbling around the plate!)
150g/5oz thawed chicken-style pieces (e.g. Fry's chicken strips)
70g/2½oz canned mandarin pieces, quartered
70g/2½oz fresh pineapple, cut into small chunks
4 tbsp dairy-free mayonnaise
4 tbsp dairy-free yoghurt
1 spring onion, very finely chopped
½ tsp of paprika
½ tsp of onion salt
Salt and pepper
Cress for decoration
Rocket leaves for serving (optional)
Instructions
1. Blend the mayonnaise with the yoghurt, spring onion, paprika and onion salt.
2. Cut the mock chicken into small bite-sized pieces.
3. Add the mandarin segments and pineapple.
4. Combine with the mayonnaise dressing and season to taste.
5. Divide between the chicory leaves and sprinkle some cress over the top. Garnish serving plate(s) with rocket if using.
Did you know that Vegan Recipe Club is run by a charity?
We create vital resources to help educate everyone – vegan veterans, novices and the v-curious alike – about vegan food, health and nutrition; as well as the plight of farmed animals and the devastating environmental impact of farming.
Through this work we have helped thousands of people discover veganism; but we want to reach millions more! We rely entirely on donations as we don't get any government funding. If you already support us, thank you from the bottom of our hearts, you are really making a difference! Please share our details with your friends and loved ones too, as every donation enables us to keep fighting for change.