Cashew Cheese Wrapped in Seaweed Flakes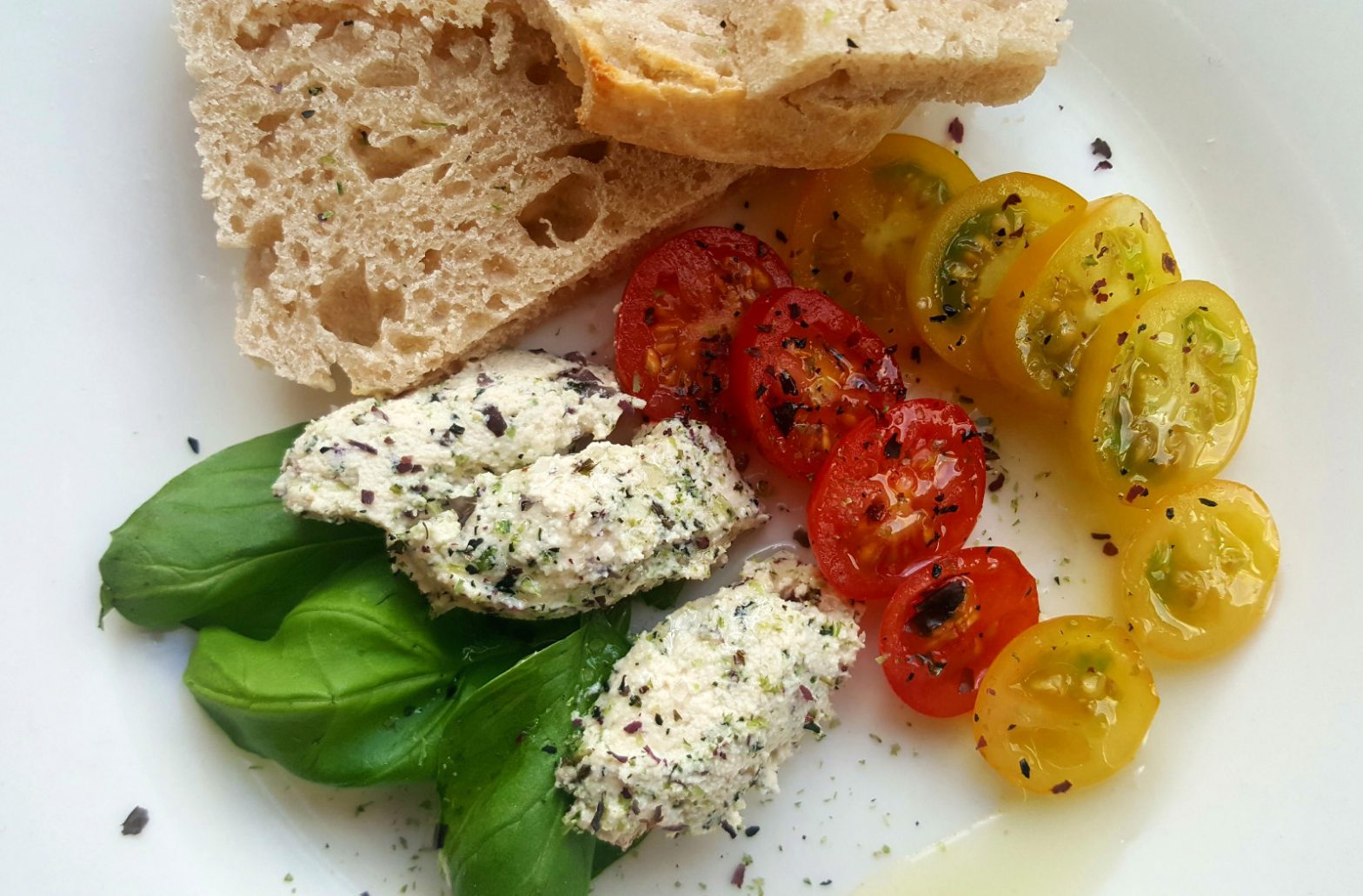 A pretty instant and creamy cashew cheese with a sophisticated twist – rolled in dried seaweed flakes or fresh herbs if you prefer! Thanks very much to Viva! podcast presenter Helen Wilson for this one! Check out her other recipes/news 🙂

Easy



Meal
vegan-desserts
lunches
sides-light-meals-and-salads
Ingredients
240g/2 cups raw cashews
2 garlic cloves, minced
½ tsp garlic powder plus more to taste
Zest of 1 lemon
Juice of 2 lemons
180ml/¾ cups water
2 tbsp nutritional yeast
½ tsp sea salt
2 tbsp olive oil
2 tbsp dried seaweed flakes
Instructions
Place cashews in a bowl and cover with cool water. Cover and soak overnight.
Once soaked, drain cashews thoroughly and add to food processor.
Add garlic, garlic powder, lemon zest, lemon juice, water, nutritional yeast, salt and olive oil.
Process until very creamy and smooth, scraping down sides as needed. Then taste and adjust the seasonings if needed.
Place a sieve over a large mixing bowl and lay down two layers of cheesecloth.
Use a spatula to scoop all cheese over the cheesecloth, then gather the corners and twist the top gently to form the cheese round.
Place in refrigerator to set for at least 6 hours so it can set.
To serve, unwrap from cheesecloth and gently invert onto a serving platter.
Reform with hands or cheesecloth as needed, then coat with the seaweed flakes. Serve with lemon slices (optional).
Did you know that Vegan Recipe Club is run by a charity?
We create vital resources to help educate everyone – vegan veterans, novices and the v-curious alike – about vegan food, health and nutrition; as well as the plight of farmed animals and the devastating environmental impact of farming.
Through this work we have helped thousands of people discover veganism; but we want to reach millions more! We rely entirely on donations as we don't get any government funding. If you already support us, thank you from the bottom of our hearts, you are really making a difference! Please share our details with your friends and loved ones too, as every donation enables us to keep fighting for change.