Buckwheat Pancakes with Spinach and Vegan Cream Cheese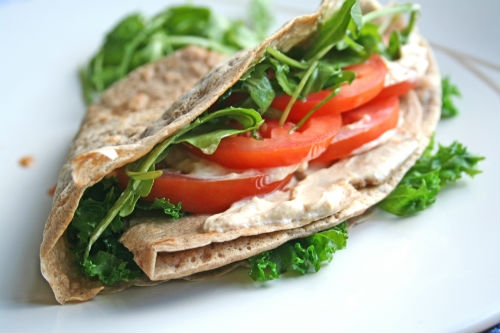 One of our special 'Mood Food' recipes – packed with lots of brain-boosting nutrients including B vitamins, omegas, amino acids, protein, magnesium and zinc – to help boost your mood, sharpen your mind and combat stress.

Easy
Meal
sides-light-meals-and-salads
Ingredients
40g/1½ oz buckwheat flour
70g/2½ oz plain flour
½ tsp baking powder
275ml/10fl oz soya or other plant milk
1 tbsp oil
Pinch of salt
Low-calorie oil spray
Bag of spinach, wilted in a saucepan in its washing water OR microwaved for about a minute, Drain
4 tbsp vegan cream cheese (homemade from our recipe below OR use a ready-made variety such as Sheese, Tesco or Tofutti Original).
Instructions
1. Pre-heat the oven to 180˚C/350˚F/Gas Mark 4.
2. Whisk all of the ingredients together, apart from the spinach and cream cheese, in a mixing bowl to form the batter.
3. Heat a shallow frying pan until it spits when you drop a little cold water on it. Coat the bottom of the pan with oil spray. Now spoon in a ladle of batter, spreading it around so it covers the base evenly.
4. Using a spatula, loosen the edges of the pancake after several minutes, and then turn it over to cook on the other side.
5. Remove the pancake from the pan when both sides are golden. Repeat this process to make around 6 pancakes. Keep them warm in the pre-heated oven as you go.
6. Spread a generous teaspoon of cream cheese onto the pancake and top with warm spinach.
7. Either roll the pancake up or fold half, and then into a quarter to serve.
8. Great served with some sliced tomatoes or grilled mushrooms.
Did you know that Vegan Recipe Club is run by a charity?
We create vital resources to help educate everyone – vegan veterans, novices and the v-curious alike – about vegan food, health and nutrition; as well as the plight of farmed animals and the devastating environmental impact of farming.
Through this work we have helped thousands of people discover veganism; but we want to reach millions more! We rely entirely on donations as we don't get any government funding. If you already support us, thank you from the bottom of our hearts, you are really making a difference! Please share our details with your friends and loved ones too, as every donation enables us to keep fighting for change.