Banana Cardamom & Coconut Biscuits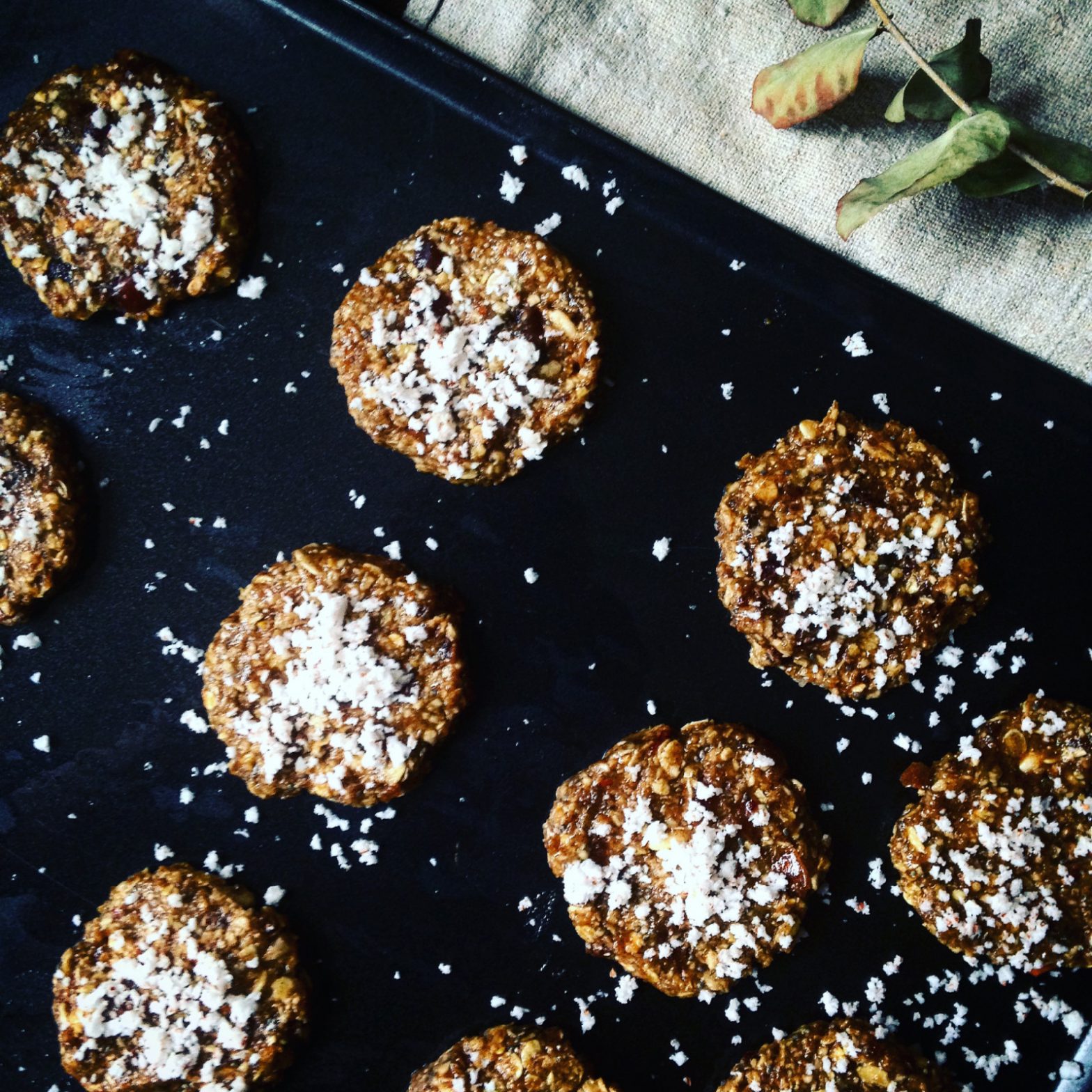 These delicious vegan biscuits are high in fibre from the oats and flour, rich in potassium from the bananas and bolstered by heart-healthy omega 3s from the chia seeds. A stunning, energy-packed mid-morning or afternoon treat.
Recipe created by Rachel de Thample, director of the Vegan Natural Chef Diploma course.

Easy




Meal
vegan-desserts
breakfasts
Ingredients
125g dark rye flour
150g jumbo porridge oats
½ tsp bicarbonate of soda
¼ tsp sea salt
1 tsp ground cinnamon
Ground seeds from 6 cardamom pods
A generous grating of nutmeg
100g coconut sugar
2 ripe bananas, mashed
2 tsp chia seeds
100ml olive, hemp or coconut oil, or a mix
100g finely chopped pitted dates
100g desiccated coconut
Instructions
Preheat your oven to 180ºC/350ºF/Gas Mark 4.
Mix all of the ingredients together really well in a large mixing bowl – make sure you fully mix in the bicarb and salt – you don't want to bite into a clump of it!
Scoop it up by heaped teaspoons or scant tablespoonfuls and arrange with 3cm between each cookie on a lightly oiled baking tray.
Gently press each cookie flat (about 1cm or slightly less) thick – tidy up the edges a little, if needed. Finish with an added sprinkling of nuts, seeds or coconut on top, if you like.
Bake in the centre of the oven for about 12 minutes, or until nicely coloured. They'll be a little soft when fresh from the oven but will firm up on cooling.
They'll keep in an airtight container for up to a week. You can freeze the batter if you don't want to make the full batch – if you freeze the batter in a log shape you can just cut and bake from frozen – just add 2-3 minutes to the cooking time.
Did you know that Vegan Recipe Club is run by a charity?
We create vital resources to help educate everyone – vegan veterans, novices and the v-curious alike – about vegan food, health and nutrition; as well as the plight of farmed animals and the devastating environmental impact of farming.
Through this work we have helped thousands of people discover veganism; but we want to reach millions more! We rely entirely on donations as we don't get any government funding. If you already support us, thank you from the bottom of our hearts, you are really making a difference! Please share our details with your friends and loved ones too, as every donation enables us to keep fighting for change.