Almond & Pinenut Patties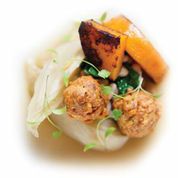 Head Chef Richard Buckley at Acorn Vegetarian Kitchen in Bath says: 'In the restaurant we serve these little smoky devils with gently poached fennel and roast butternut squash but they are great in place of falafels or served with a big fresh salad and some of your favourite bread. We also tend to batter them and fry them but deep frying can be a faff at home. Feel free to try this though if you've got the equipment.'
Measurements note: many modern digital scales offer tiny measurements like 3g. Otherwise, start small when using spices or salt and adjust to taste! Chefs like Richard use these precise measurements to ensure consistency of taste in the restaurant.


Meal
soups-starters
sides-light-meals-and-salads
vegetable-side-dishes
Ingredients
125g blanched almonds
125g pine nuts
2 medium onions
4 cloves garlic
1-2 tbsp olive oil
6g mild smoked paprika
7g parsley, without stalks
5g tarragon, without stalks
100g water
2g agar powder – or use flakes. Find this in a health food shop, Waitrose or Ocado or other online stores. Clearspring is the most common brand
3g salt
Gram flour, 1-2 tbsp to coat the patties (sieve it before using)
Plain vegetable oil for frying – quantity depends on whether you shallow or deep-fry
Instructions
1. Preheat oven to 180°C (fan assisted 160°C)/350°F/Gas Mark 4.
2. Put the almonds and pine nuts onto a tray and toast until golden.
3. Peel and dice the onions and peel and mince the garlic.
4. Fry the onions in a medium pan with a little olive oil. Add the garlic and continue until cooked.
5. Add the smoked paprika and agar and stir. Add the water and bring to the boil.
6. Chop the herbs.
7. Put the nuts, onion mixture, herbs and salt together in a food processor and process to a coarse paste.
8. Put into storage container and leave to set in the fridge for at least 30 minutes.
9. Scoop out a tbsp of the mixture and form into a ball in your hands. Continue until you have enough balls for the number of people to be served.
10. Flatten the balls and toss in a little sieved gram flour and fry in a little oil until golden and crispy.
11. Remove to a plate lined with kitchen paper and use as you will.
Did you know that Vegan Recipe Club is run by a charity?
We create vital resources to help educate everyone – vegan veterans, novices and the v-curious alike – about vegan food, health and nutrition; as well as the plight of farmed animals and the devastating environmental impact of farming.
Through this work we have helped thousands of people discover veganism; but we want to reach millions more! We rely entirely on donations as we don't get any government funding. If you already support us, thank you from the bottom of our hearts, you are really making a difference! Please share our details with your friends and loved ones too, as every donation enables us to keep fighting for change.