Vegan Gravlax with Smokey Carrots and Almond Cream Oatcakes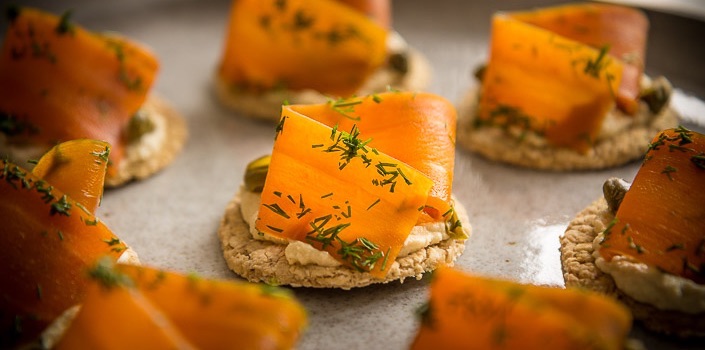 This is Lydia's vegan version of gravlax using carrots instead of salmon. The method of 'curing' very thinly sliced carrot gives an uncanny likeness to smoked salmon without the fish flavour. We've served ours with an almond cream but you could use a regular dairy cream cheese or soft goats cheese.
Tips: You could use pumpernickel or rye sourdough bread instead of the oatcakes. For gluten free buy gluten free oatcakes. This recipe would make fantastic vegan bagels for a special brunch or lunch. The smoky carrot would also be great served with scrambled tofu for a great vegan breakfast.

Not too tricky
Courtesy of Demuths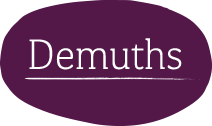 See other recipes by Demuths
Ingredients
Smoky Marinade:
2 tbsp shoyu
1-2 tsp liquid smoke or sweet smoked paprika
1-2 tsp white wine vinegar
Small piece of kelp
4 juniper berries crushed
1 tsp sugar or maple syrup
50 ml water
2 large fat carrots
½ lemon juiced
3 tbsp dill, chopped finely
Almond cream:
100g skinned almonds, soaked overnight in plenty of cold water
3 tbsp olive oil
2 tbsp nutritional yeast
½ tsp dried garlic powder or 1 small clove fresh garlic crushed to a smooth paste
½ lemon zested and juiced
Salt to taste
1 tbsp chopped capers
Oat cakes for serving
Instructions
Preheat the oven to 180°C.
Place all the marinade ingredients in a small pan and heat gently.
Slice the carrots very thinly into fat ribbons with a sharp knife, mandolin or speed peeler.
Place in a dish and pour over the hot marinade. Mix through thoroughly to coat the carrot well.
Take a large sheet of foil and lay a sheet of baking parchment the same size on top.
Tip out the carrots onto one half of the parchment with the marinade. Lay them as flat as possible so they aren't folded or tangled.
Fold over both the foil and parchment, and close all the edges by rolling inward and pinching to seal.
Place the foil package onto a baking tray, and bake in the oven for 15-20 minutes or until the carrots are tender. Set aside to cool.
To make the almond cream, drain the soaked almonds and place in a blender with the other ingredients. Blend until very smooth, adding a little water if necessary. You are aiming for a thick smooth consistency similar to Greek yoghurt. Taste and adjust the seasoning to your liking.
Place the chopped dill onto a plate.
Drizzle the carrot slices with the lemon juice then take a slice and dip both the long edges into the dill. Place onto a tray, and repeat with the remaining carrot slices.
To serve: spread a teaspoon of almond cream onto an oatcake then drape or curl a carrot slice on top attractively. Add a few chopped capers and place onto your serving plate. Repeat with the remaining carrot slices.
Did you know that Vegan Recipe Club is run by a charity?
We create vital resources to help educate everyone – vegan veterans, novices and the v-curious alike – about vegan food, health and nutrition; as well as the plight of farmed animals and the devastating environmental impact of farming.
Through this work we have helped thousands of people discover veganism; but we want to reach millions more! We rely entirely on donations as we don't get any government funding. If you already support us, thank you from the bottom of our hearts, you are really making a difference! Please share our details with your friends and loved ones too, as every donation enables us to keep fighting for change.