Tropical Jelly with Peach & Raspberry Coulis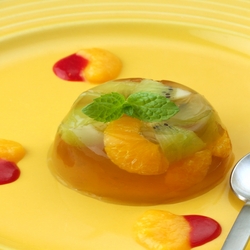 This dessert is easy to make but looks really impressive. Preparation is quick – just leave at least an hour for it to set. A coulis is just a posh name for a thin sauce! In fact, they are incredibly easy to make – just whizz the fruit up with a blender to get a blast of wonderful colour and flavour. You could also vary the fruit – eg try mango or blueberries in the jelly or strawberries in the coulis. New ingredients?
Vegegel or agar agar are setting agents (the veggie alternative to animal-derived gelatine) – found in large supermarkets or health food shops
Agave syrup is a healthy natural sweetener – available from good health food shops and large supermarkets.
Photo and recipe courtesy of http://flavourphotos.com/

Not too tricky
Ingredients
Jelly
500ml/18fl oz white grape or apple juice
1 sachet of Vegegel (eg Dr Oetker from most large supermarkets) OR 1 tsp agar powder from health food shops
½ tin mandarin segments
1 large kiwi fruit
125g/4oz white seedless grapes
Caster sugar or agave syrup to sweeten
Coulis
½ tin peach halves in fruit juice (without added sugar) – drain and set the juice aside for later
50g/2oz frozen raspberries
Agave syrup or caster sugar to sweeten raspberries if desired
Instructions
1. Peel the kiwi, cut it into small pieces and halve the grapes. Divide the kiwi, grapes and mandarin segments between four bowls. Porcelain bowls are best if you want to turn the jellies out for serving.
2. Follow the Vegegel instructions to make the jelly with the juice. Alternatively, add the agar powder. Heat the grape/apple juice gently until boiling point, stirring to ensure the vegegel/agar is well dissolved. Taste and add sweetener of your choice if you wish. Make sure this is well dissolved also.
3. Pour the warmed juice over the fruit and let the jellies sit in a cool place. Once they have cooled down, chill them in the fridge for one hour.
4. Meanwhile, to make the fruit coulis, blend the peach halves with a hand blender and set the puree aside.
5. Liquidise the frozen raspberries with a little of the peach juice. Sweeten the raspberries a little more with the agave syrup or caster sugar if too tart for your taste. .
6. When the jellies are set, turn out each one onto an individual large plate. Spoon each fruit coulis around artistically and serve.
Optional extras / notes
70 minutes: 10 minutes preparation, 60 minutes in fridge to set
Did you know that Vegan Recipe Club is run by a charity?
We create vital resources to help educate everyone – vegan veterans, novices and the v-curious alike – about vegan food, health and nutrition; as well as the plight of farmed animals and the devastating environmental impact of farming.
Through this work we have helped thousands of people discover veganism; but we want to reach millions more! We rely entirely on donations as we don't get any government funding. If you already support us, thank you from the bottom of our hearts, you are really making a difference! Please share our details with your friends and loved ones too, as every donation enables us to keep fighting for change.