Summer Buddha Bowl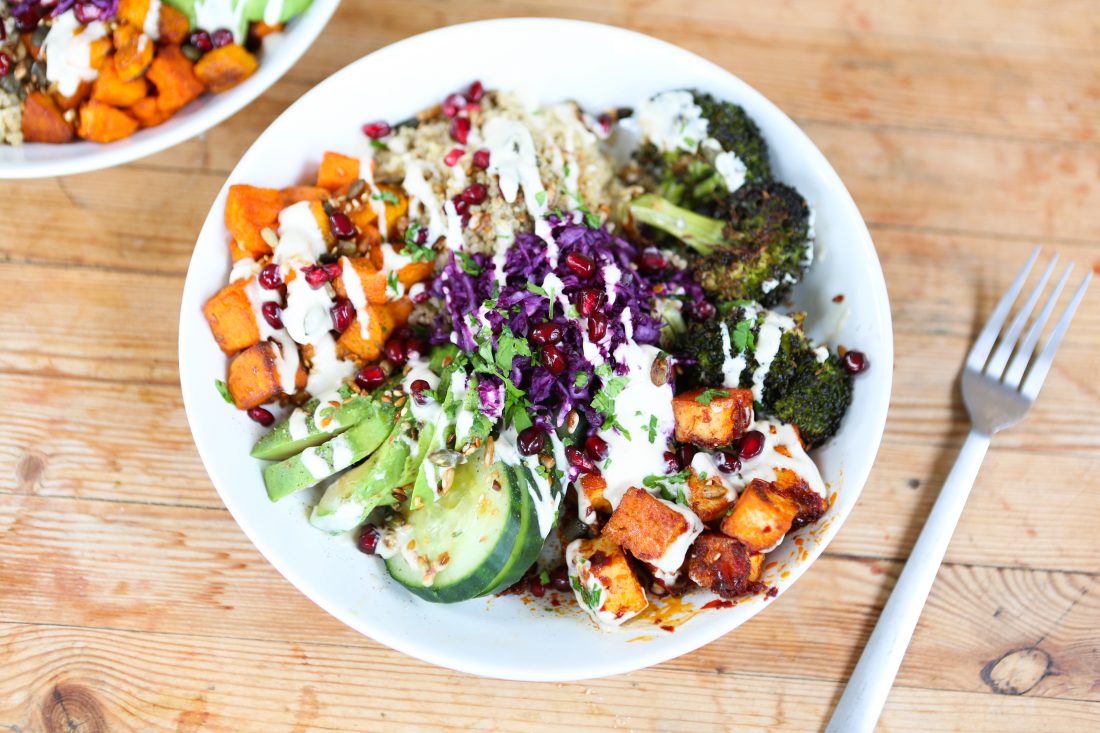 Healthy, summery and a lovely array of flavours – get creative and enjoy 🙂

Easy



* Nutritional information per serving. * For a lower fat version, halve the amount of tahini and olive oil.
Ingredients
Roasted broccoli 
Half a head of broccoli, broken into florets
1 tsp cumin seeds
1 tbsp olive oil
Quinoa
100g/⅗ cup (uncooked) quinoa, rinsed and cooked according to the instructions on the packet
Butternut squash
400g/2 cups butternut squash, cubed
1 tsp paprika
1 tsp olive oil
Tofu
(use this recipe or our Easiest Tofu Recipe Ever)
150g/¾ cup firm tofu, drained and patted down with kitchen roll or a tea towel
1 tbsp soy sauce
1 tbsp rose harissa paste (eg Belazu)
Veg/Salad
Use veg/salad of your choice eg avocado, cucumber, lettuce, tomatoes, grated red cabbage, pomegranate seeds
Tahini dressing
2 tbsp tahini
2 tbsp lemon juice (fresh or bottled)
2 tbsp olive oil
2 tbsp water
Pinch salt
Instructions
Roasted broccoli
Preheat the oven to 180°C/350°F/Gas Mark 4.
Drizzle with some olive oil and the cumin seeds and make sure it's fully coated.
Bake for around 20 minutes or until the florets are lightly golden.
Butternut squash
Drizzle the cubes with olive oil and paprika and make sure it's fully coated.
Bake for around 30 minutes or until soft and golden, turning once.
Tofu
While the vegetables are roasting, lightly fry the tofu cubes in a little oil until golden. Add the soy sauce and rose harissa. Taste and add a little salt if necessary.
Tahini sauce
Mix all the ingredients thoroughly in a mug.
Assembly
In two wide shallow bowls, arrange all of the different ingredients into sections then drizzle with the tahini sauce.
Did you know that Vegan Recipe Club is run by a charity?
We create vital resources to help educate everyone – vegan veterans, novices and the v-curious alike – about vegan food, health and nutrition; as well as the plight of farmed animals and the devastating environmental impact of farming.
Through this work we have helped thousands of people discover veganism; but we want to reach millions more! We rely entirely on donations as we don't get any government funding. If you already support us, thank you from the bottom of our hearts, you are really making a difference! Please share our details with your friends and loved ones too, as every donation enables us to keep fighting for change.