Poached Pears in Red Wine with Cinnamon or Star Anise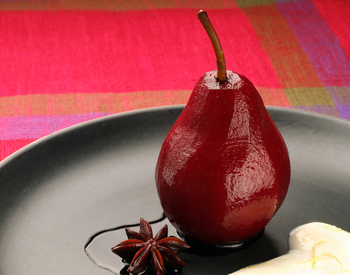 This dessert is not only great in taste but beautiful to look at.
Photograph courtesy of www.flavourphotos.com

Not too tricky
Ingredients
4 firm pears
2 tbsp agave or maple syrup – available from large supermarkets or health food shops
300ml/10fl oz red wine – vegan wine is pretty easy to source. See link below
Pinch of cloves
Stick of cinnamon OR 1 star anise
Vegan Booze
It is pretty easy to get cruelty-free booze – however, while basic ingredients are fine, it's what some manufacturers use to fine (clarify) wine, beer and cider that can be a problem.
Viva! Wines sells a good range of all-vegan wines and other animal-friendly tipples!
Useful sites include
Vegan Frommars is a very comprehensive website which includes supermarket as well as brand names.
Veggie Wines covers beer and cider as well as wine.
Barnivore is a very useful website listing vegan alcoholic drinks.
Instructions
1. Peel the pears, leaving them whole but keeping the stalks.
2. Put wine, syrup, cinnamon and cloves in a saucepan. Bring to the boil, add pears and simmer gently for 30-40 minutes or until pears are cooked right through.
3. When ready, remove them from a pan with a slotted spoon and place them in individual dishes. Remove cinnamon stick. If using star anise, keep it for garnish.
4. Vigorously boil liquid in pan until it has reduced by half. Pour syrup over pears and chill.
Optional extras / notes
1 hour, including 20 minutes chilling time
Did you know that Vegan Recipe Club is run by a charity?
We create vital resources to help educate everyone – vegan veterans, novices and the v-curious alike – about vegan food, health and nutrition; as well as the plight of farmed animals and the devastating environmental impact of farming.
Through this work we have helped thousands of people discover veganism; but we want to reach millions more! We rely entirely on donations as we don't get any government funding. If you already support us, thank you from the bottom of our hearts, you are really making a difference! Please share our details with your friends and loved ones too, as every donation enables us to keep fighting for change.