Pearl Cous-Cous Crumble with Mixed Pepper Dressing and Slow Roasted Tomatoes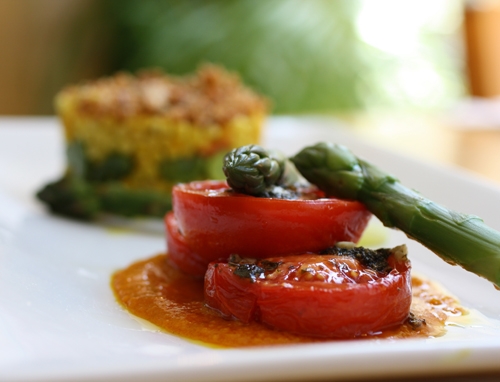 Intricate
Ingredients
Cous-cous
200g/7oz pearl cous-cous
320ml/11fl oz boiling water
Olive oil
Salt and Pepper
Crumble topping
4 slices of white bread
3 sprigs of thyme
3 tbsp of olive oil
Mixed pepper dressing
5 lemons
100ml/7 tbsp olive oil
2 onions
1 red pepper
1 yellow pepper
1 clove of garlic
1 tsp turmeric
Salt and pepper
Slow roasted tomatoes
4 medium tomatoes (plum if available)
1 tsp brown sugar
½ bunch of fresh oregano – if available
– or 2 tsp of dried oregano
1 garlic clove
Olive oil
Salt and Pepper
 
Instructions
1. Put the cous-cous in a bowl and season with salt and pepper and enough olive oil so that each grain is lightly coated.
2. Add the boiling water and cover the bowl with cling film or a heavy plate. Leave for 20 mins to steam cook.
3. For the crumble topping, blend the white bread, thyme and olive oil in a food processor to a breadcrumb consistency.
4. Spread the breadcrumbs out on a baking tray and toast in a hot oven at 200°C/400°F/Gas Mark 6 for 8-10 mins, stirring occasionally.
5. Now for the dressing: dice the onions, peppers and garlic, and juice the lemons.
6. Mix everything together so the vegetables are well-coated before putting the mixture on a baking tray. Bake in the oven at 200°C/400°F/Gas Mark 6 for 30 mins.
7. To make the dressing, blend the cooled roasted vegetable mixture. Add a tablespoon of olive oil and the remaining juices from the baking tray until you get a smooth consistency.
8. To prepare the tomatoes, core them, cut in half and lay on a baking tray face up.
9. Finely chop the fresh oregano and garlic and mix in the sugar, olive oil and seasoning before spreading across the top of the tomatoes. Place in the oven for 8-10 mins at 180°C/350°F/Gas Mark 4.
To serve 10 Mix the dressing and cous-cous together and firmly press a quarter of the cous-cous into an 8cm ring and then cover with a quarter of the crumble topping. Remove the ring and repeat with the other three portions.
Did you know that Vegan Recipe Club is run by a charity?
We create vital resources to help educate everyone – vegan veterans, novices and the v-curious alike – about vegan food, health and nutrition; as well as the plight of farmed animals and the devastating environmental impact of farming.
Through this work we have helped thousands of people discover veganism; but we want to reach millions more! We rely entirely on donations as we don't get any government funding. If you already support us, thank you from the bottom of our hearts, you are really making a difference! Please share our details with your friends and loved ones too, as every donation enables us to keep fighting for change.