One Pot Thai Yellow Curry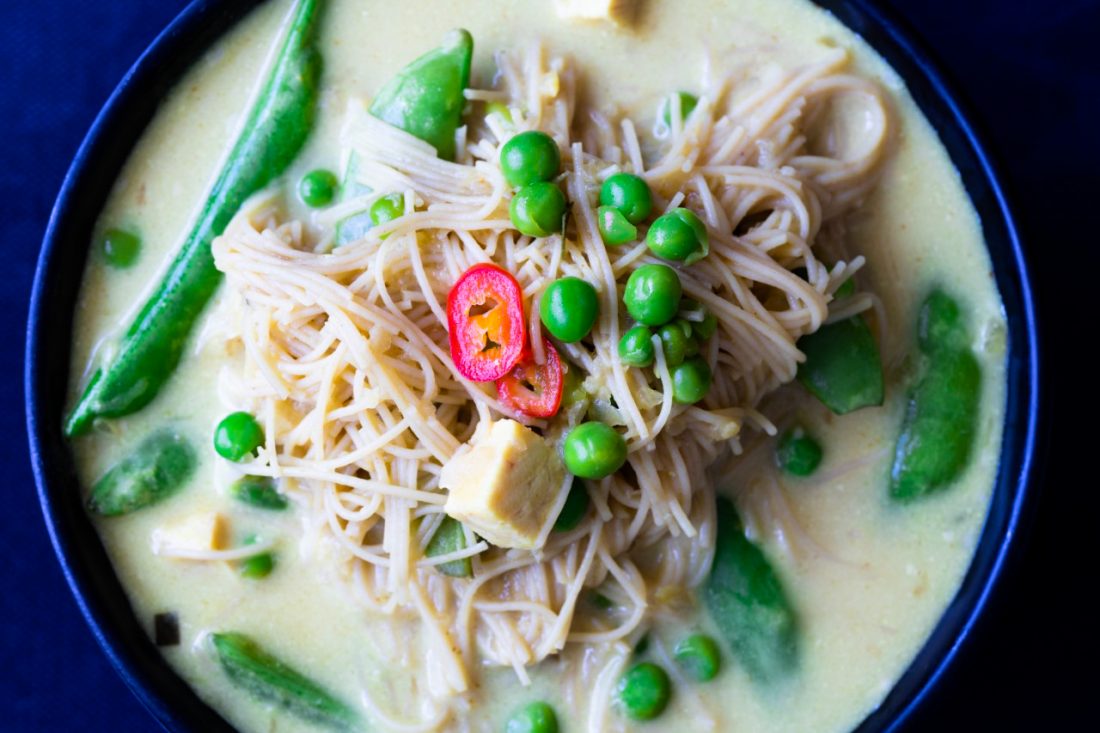 We love one pot dishes. They are so quick and easy to make which is perfect for a weeknight dinner. And they also produce minimal washing up! This is a flavoursome Thai inspired dish that is incredibly healthy as well as tasty.

Easy




Ingredients
15g root ginger, roughly chopped
150g onion, roughly chopped
2 tbsp water
1 tbsp toasted sesame oil
2 fresh kaffir lime leaves, finely chopped (optional)
10 fresh curry leaves (optional)
1 tsp ground cumin
½ tsp ground turmeric
½ -1 fresh chilli, finely sliced
1 tbsp tamari
1 can (400ml) coconut milk
800ml water
1 tsp salt
½ a block (100g) of tempeh or firm tofu, finely chopped (optional)
3 handfuls sugar snap peas
150g frozen peas
130g fine rice noodles
Instructions
Put the ginger, onion and water in a food processor or the chopper attachment of a hand blender. Blend until the vegetables are pureed and have become a paste. If you do not have a food processor, simply grate the onion and ginger very finely instead of blending.
Heat the oil in a wide frying pan or saucepan on a medium heat. Once the oil is hot add the ginger and onion purée.
Fry the purée for around 10 minutes until it has fully browned. You may need to add small splashes of water if the oil dries out to stop the purée from burning.
Add the lime and curry leaves, spices, chilli, tamari, coconut milk, water, salt, tempeh, sugar snap peas and frozen peas. Allow the curry to cook for 10-15 minutes to let the flavours develop.
Add the noodles, pushing them below the surface of the sauce. Put the lid on the pan and cook for around 5 minutes until the noodles are cooked and soft.
Serve immediately.
Did you know that Vegan Recipe Club is run by a charity?
We create vital resources to help educate everyone – vegan veterans, novices and the v-curious alike – about vegan food, health and nutrition; as well as the plight of farmed animals and the devastating environmental impact of farming.
Through this work we have helped thousands of people discover veganism; but we want to reach millions more! We rely entirely on donations as we don't get any government funding. If you already support us, thank you from the bottom of our hearts, you are really making a difference! Please share our details with your friends and loved ones too, as every donation enables us to keep fighting for change.