Moudardara: Lebanese Rice & Lentils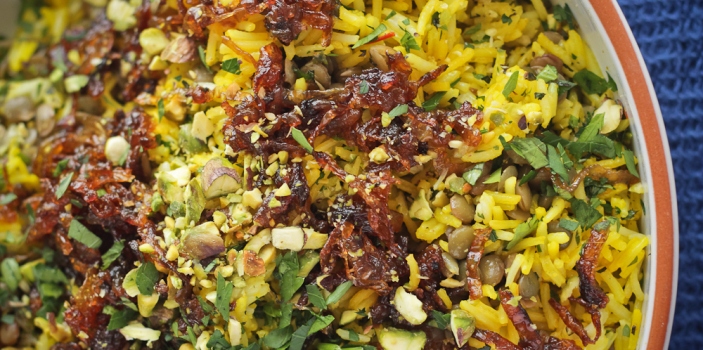 Moudardara is a Lebanese rice and lentil dish that gets topped with caramelised onions and saffron. It's a mainstay of our Vegetarian Diploma course and for good reason. A few simple ingredients get transformed into the sort of dish that keeps people coming back for more, making it great dinner party. Our diploma student Rachel Kinchin aptly described Moudardara on her blog: "This dish is a magical middle-eastern delight and it's easy – a simple showstopper. I made it as soon as I got home from the first week of the course."
The key with Moudardara is to cook the onions very slowly to caramelise them which takes up to 40 minutes, but its worth it for the unctuous sweet caramelised taste that contrasts with the earthy lentils and saffron rice. We like to serve this with stir-fried Cavolo nero and roasted onion squash.

Not too tricky
Courtesy of Demuths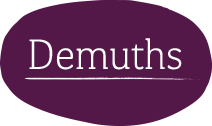 See other recipes by Demuths
Ingredients
Ingredients:
1 tbsp olive oil
1 tsp lightly crushed cumin seeds
90g basmati rice
160ml boiling water
1/4 tsp salt
pinch saffron threads
50g cooked brown lentils
1 tsp dried barberries, soaked for 10 minutes (or use chopped unsweetened cranberries)
chopped parsley
chopped tarragon
chopped dill
2 tbsps fried onions
1 tbsp chopped pistachios
Instructions
Method:
Put the olive oil, cumin seeds and rice into a saucepan and fry gently for 1 minute, making sure the rice is coated in oil.
Add the boiling water and salt. Put a lid on and simmer on a low heat for 10 minutes. Turn off the heat and leave the rice to sit for 5 minutes.
Meanwhile, soak the saffron in 1 tablespoon of boiling water and set aside.
When the rice is ready, pour the saffron water over the surface. Cover the pan immediately with the lid. Leave for 5 minutes.
Fluff the rice up with a fork.
Drain the barberries and stir them into the rice along with the herbs. Stir the lentils through and serve in a dish, topped with fried onions and pistachios.
Cooking the Lentils:
Brown lentils do not need soaking, simple wash and drain them.
Place them in a pan with plenty of water, a bay leaf and an onion, copped in half.
Simmer gently for 20 minutes or until the lentils are soft.
Making the Fried Onions:
Slice 2 large onions.
Heat 2 tbsp ghee and rapeseed oil.
Put one slice in if it sizzles then add the rest and add a pinch of salt, sugar and a good grating of pepper.
Make sure all the slices are separated and coated in oil.
Turn down the heat and leave it to cook slowly and become a very dark caramelised colour. This might take 30-40 minutes.
Did you know that Vegan Recipe Club is run by a charity?
We create vital resources to help educate everyone – vegan veterans, novices and the v-curious alike – about vegan food, health and nutrition; as well as the plight of farmed animals and the devastating environmental impact of farming.
Through this work we have helped thousands of people discover veganism; but we want to reach millions more! We rely entirely on donations as we don't get any government funding. If you already support us, thank you from the bottom of our hearts, you are really making a difference! Please share our details with your friends and loved ones too, as every donation enables us to keep fighting for change.