Marinated Mushroom Bruschetta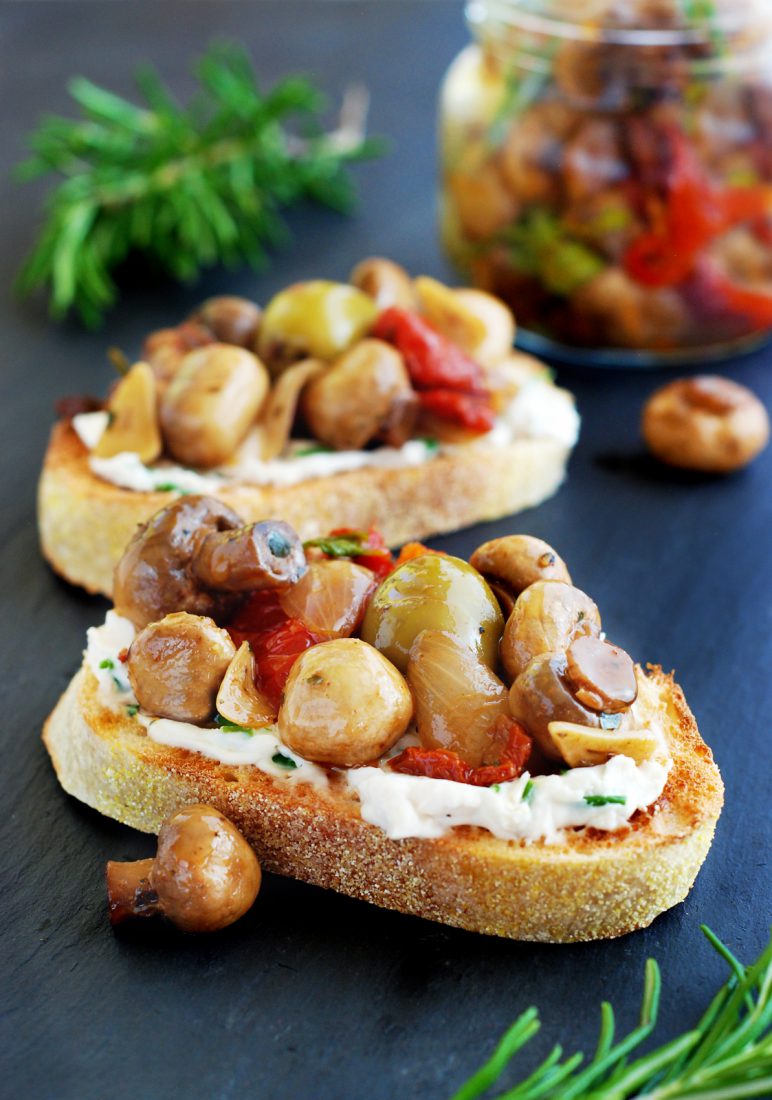 Chava Eichner says: 'This delicious Bruschetta makes a fabulous starter or you could serve them as part of a BBQ buffet'. Exactly! (Or as part of an indoor buffet… )
Picture courtesy of Flavour Photos

Not too tricky



Meal
soups-starters
lunches
sides-light-meals-and-salads
Ingredients
125g dairy-free cream cheese (e.g. Sheese, Tesco or Tofutti)
2 tbsp finely chopped chives
8 slices baguette or sourdough bread
4 shallots, quartered
1 tbsp olive oil
2 cloves garlic, finely sliced
400g button mushrooms
1 tbsp fresh rosemary needles
¼ tsp paprika
Zest of ½ lemon
1 tbsp chopped parsley
Salt and black pepper
8 olives, pitted
8 marinated tomatoes (semi-dried or sundried tomatoes in oil)
Instructions
First, blend cream cheese with chives until smooth and set aside for a while while the flavours develop
Sauté the shallot pieces in olive oil for 2-3 minutes. If your olives or tomatoes are in flavoured oil, you could use some of this instead.
Add mushrooms, rosemary, lemon zest, sliced garlic and paprika. Keep stirring occasionaly unti the mushrooms begin to soften.
Mix in olives and tomatoes and season with chopped parsley, salt and black pepper.
Toast the bread slices, spread liberally with the cream cheese mixture and top with the mushroom mixture.
Optional extras / notes
Includes time for the cream cheese and chive mixture to party (get their flavours developing!)
Did you know that Vegan Recipe Club is run by a charity?
We create vital resources to help educate everyone – vegan veterans, novices and the v-curious alike – about vegan food, health and nutrition; as well as the plight of farmed animals and the devastating environmental impact of farming.
Through this work we have helped thousands of people discover veganism; but we want to reach millions more! We rely entirely on donations as we don't get any government funding. If you already support us, thank you from the bottom of our hearts, you are really making a difference! Please share our details with your friends and loved ones too, as every donation enables us to keep fighting for change.