Lemon Curd – deliciously vegan!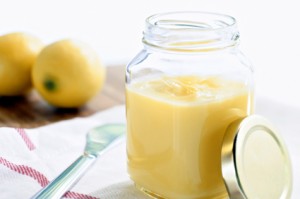 This recipe makes a tangy, very lemony 'curd' – or 'vurd', as some people call it! It's nice on breakfast toast but also as part of a cake filling.
I tried different recipes, tweaked them a bit and came up with this combination. I think this one is the best so far but feel free to email us with your own recipes, ideas, contributions…
Photo courtesy of She Knows

Not too tricky
Meal
vegan-desserts
breakfasts
Ingredients
4-6 unwaxed lemons (plus a little bottled juice in case there isn't enough from the lemons)
Lemon zest, 1tsp-1 tbsp, depending on how tart you like it
¾ cup fresh lemon juice
¼ tsp salt
1¼ cups caster sugar
2 tbsp mild coconut oil, softened (eg Biona Cuisine)
2 tbsp cornflour
2 tbsp vegan margarine, eg Biona, Pure, Suma, Vitalite etc – break it up into smaller pieces OR use extra mild coconut oil
Kit
lemon zester or grater
knife
lemon squeezer
sieve
measuring cups
measuring spoons
small saucepan
wooden spoon (no garlic or onion traces!)
whisk
small clean jars and screwtop lids for the curd (about the size of a wholegrain mustard jar). If you have a dishwasher, that's the easiest way to sterilise them. Alternatively, wash in hot soapy water then rinse with hot water and drain.
kettle
bowl of warm water
Circles of greaseproof paper to fit over the top of the curd – use the lids to measure, draw round with a pencil and then cut them out
Instructions
Zest the lemons first then squeeze them for the juice. Sieve the juice and pulp, making sure you scrape underneath the sieve to get all the lemon goo! If you haven't enough, top up with bottled lemon juice.
Mix the cornflour with a little lemon juice to make a smooth paste. Set aside.
Place the rest of the juice plus zest, salt and sugar in the pan. Bring to the boil then simmer.
Soften the coconut oil a little so you can measure it out more easily. Add this to the hot juice along with the margarine pieces/extra coconut oil and cornflour paste. Whisk vigorously so that no lumps form.
Simmer this mixture for about 8 minutes, stirring occasionally, especially round the sides of the pan. It should start to thicken a little. Remove from the heat and let it cool for a bit.
Then place the clean jars in the bowl of warm water and pour the curd into the jars. Let them cool down further before adding the greaseproof paper circles and screwtop lids.
Place in the fridge and leave the jars to set for a couple of hours before using.
It will keep for up to three weeks in the fridge.
Optional extras / notes
15-20 minutes plus cooling and setting time
Did you know that Vegan Recipe Club is run by a charity?
We create vital resources to help educate everyone – vegan veterans, novices and the v-curious alike – about vegan food, health and nutrition; as well as the plight of farmed animals and the devastating environmental impact of farming.
Through this work we have helped thousands of people discover veganism; but we want to reach millions more! We rely entirely on donations as we don't get any government funding. If you already support us, thank you from the bottom of our hearts, you are really making a difference! Please share our details with your friends and loved ones too, as every donation enables us to keep fighting for change.