Ethiopian Lentil Stew (Mesir Wat)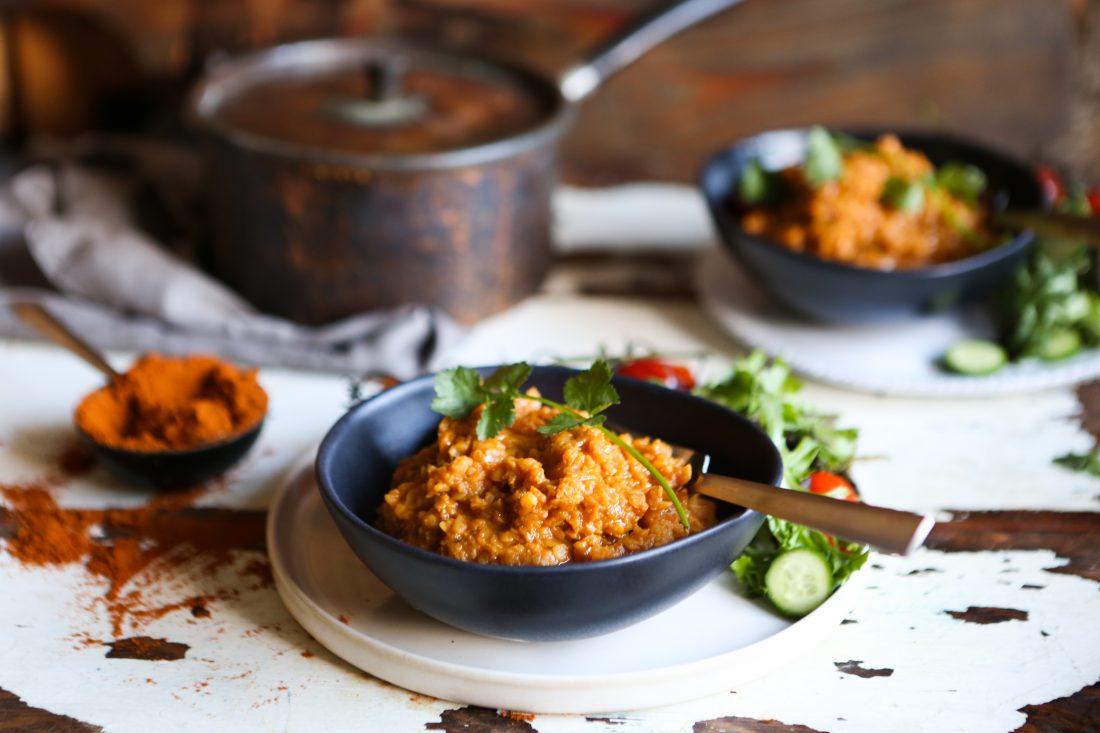 There is a quick and a longer version of this recipe – it's really worth making the spiced butter and berbere spice blend if you've got the time. If not, then enjoy the easier version of this delicious, warming and traditional Ethiopian dish.

Easy




Ingredients
Spiced/infused butter (niter kibbeh)
Leave this stage out for a quicker version of the recipe but if you have the time it's really worth it!
200g/7 oz vegan butter or 200ml rapeseed oil (we used Naturli Vegan Block)
1 shallot or ¼ onion, finely diced
2 cloves garlic, roughly chopped
2cm knob ginger, peeled and roughly chopped
1 tsp black peppercorns
1 tsp fenugreek seeds
1 tsp coriander seeds
1 cinnamon stick
1 bay leaf
4 cardamom pods
Stew
4 tbsp of the infused butter (niter kibbeh) or just use 1 tbsp of rapeseed oil if leaving out this stage
1 large onion, finely diced
2 cloves garlic, finely chopped
1 tbsp berbere spice blend (for a quick version buy it ready-made or make your own for better results. If you can't find berbere then you can also use baharat or garam masala)
1 tsp chilli powder (optional – if you'd like extra heat)
1 tbsp tomato puree
5 tomatoes, cut into quarters or 1 x 400g (14 oz) tin chopped tomatoes
250g/1¼ cup red lentils, rinsed
750ml/3 cups vegan stock
Juice of half a lemon
Serving options: brown rice, warm chapati, fresh coriander or parsley, green salad, vegan yoghurt, lemon wedges
Instructions
Spiced/infused butter (niter kibbeh)
Place all of the ingredients into a large saucepan and simmer on a very low heat for around 20 minutes, stirring occasionally. It's important not to overcook this as the butter can start to burn.
Place a muslin, nut milk bag, cheesecloth or (clean) pair of tights over a large jug and strain the butter (or oil) into the jug. Set aside.
Stew
Add 4 tablespoons of the strained spiced butter (or 1 tablespoon of rapeseed oil if doing the quick version) to a large pan and add the onions. Cook until soft and lightly browned.
Add the garlic and cook for a further minute.
Stir through the berbere spice blend and cook for another minute.
Add the tomato puree and tomatoes and cook for 5-10 minutes, stirring occasionally.
Add the lentils and stock, bring to the boil and then simmer for around 30 minutes, stirring occasionally. Keep an eye on the stew as you might need to add a little more stock if it starts to dry out.
At the end of cooking, stir through the lemon juice.
Enjoy with the the optional serving suggestions and drizzle the remaining infused butter/oil over the stew.
Did you know that Vegan Recipe Club is run by a charity?
We create vital resources to help educate everyone – vegan veterans, novices and the v-curious alike – about vegan food, health and nutrition; as well as the plight of farmed animals and the devastating environmental impact of farming.
Through this work we have helped thousands of people discover veganism; but we want to reach millions more! We rely entirely on donations as we don't get any government funding. If you already support us, thank you from the bottom of our hearts, you are really making a difference! Please share our details with your friends and loved ones too, as every donation enables us to keep fighting for change.