Simple Cheese, Thyme & Beetroot Tarts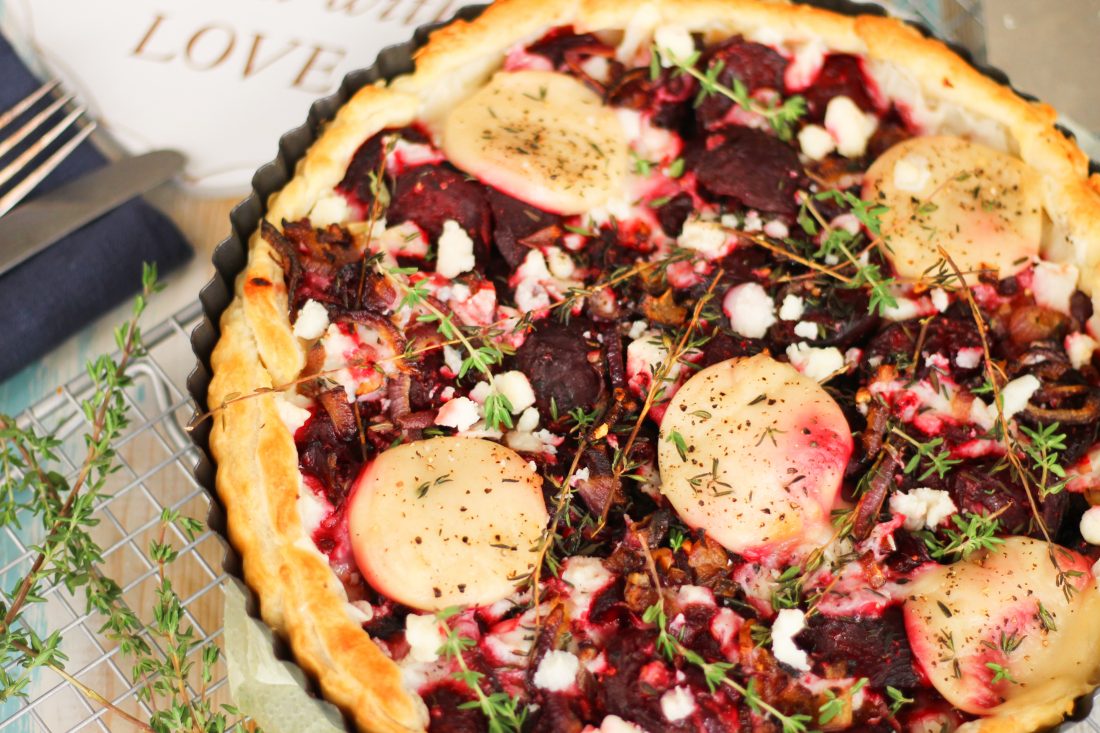 These tarts are very easy to make and make the perfect accompaniment to your picnic or summer evening feast

Easy



Ingredients
2 sheets vegan puff pastry (eg Jus-Rol)
2 medium red onions, finely sliced
3 cloves garlic, finely chopped
300g/11 oz pre-cooked beetroot (not in vinegar)
200g/7 oz melting vegan cheese (we used MozzaRisella)
A few sprigs fresh thyme, stalks removed
Unsweetened soya milk for glaze
Optional: handful vegan 'feta', crumbled (we used Violife Greek White Block)
Vinaigrette
(if short of time use a ready-made balsamic glaze)
3 tbsp olive oil
3 tbsp balsamic vinegar
1 tsp syrup (eg maple or agave) or brown sugar
Few sprigs fresh thyme leaves, stalks removed
Salt and black pepper
Instructions
Preheat the oven to 200°C/400°F/Gas Mark 6. Line a baking tray with parchment.
Lightly fry the onion until soft. Add the garlic and fry for a further minute.
With a sharp knife, slice each pastry sheet into 2, to make 4 tarts. Place these on the baking try. Alternatively use 1 large or 4 small round tart tins, as in picture.
Pinch along the edges of each pastry piece to form a rough crust.
Distribute the onion/garlic mixture evenly between the pastry slices.
Slice the beets about 1cm thick into rounds. Distribute them equally also.
Drizzle half the vinaigrette over the tarts (if using balsamic glaze then add at the end) then sprinkle the melting cheese over everything. Sprinkle the thyme over the tarts and glaze the edges with plant milk.
Bake the tarts in the hot oven for about 12-15 minutes, or until the pastry is puffed and golden.
Remove from the oven and drizzle over the rest of the vinaigrette. Sprinkle over the 'feta' and some black pepper.
Did you know that Vegan Recipe Club is run by a charity?
We create vital resources to help educate everyone – vegan veterans, novices and the v-curious alike – about vegan food, health and nutrition; as well as the plight of farmed animals and the devastating environmental impact of farming.
Through this work we have helped thousands of people discover veganism; but we want to reach millions more! We rely entirely on donations as we don't get any government funding. If you already support us, thank you from the bottom of our hearts, you are really making a difference! Please share our details with your friends and loved ones too, as every donation enables us to keep fighting for change.