Pia Werzinger
Post published at August 31, 2023
New meat alternative producer, VEGBLOC, has been selected as one of seven new startups to the latest cohort of the Good Food Programme.
VEGBLOC is a pre-launch UK-based brand, with retail and food service listings expected from January 2024.
Co-founder Simon Day explains, "Being selected for such a prestigious programme is a real endorsement of VEGBLOC and our potential to solve some of the key challenges for plant-based food. We're delighted that such an experienced and high calibre group of people have backed our approach and share our belief that VEGBLOC can help make healthy plants desirable and accessible to many more people."
For a healthier future
The programme is a collaboration between Mission Ventures and Impact on Urban Health, supporting food and drink brands to develop healthier options and make them more widely available and accessible – particularly to families on lower incomes.
"VEGBLOC is bringing what plant-based has been missing. It's not tofu or tempeh, it doesn't taste like meat, it's quick to cook, versatile, high in protein and high in fibre. Simply made from pulses, seeds and vegetables, it might just be what plant-based needs!" says Day.
Each of the selected start-ups will receive a £15,000 equity-free grant and benefit from two years of specialised branding support, including marketing and brand strategy through to supply chain and retailer listings.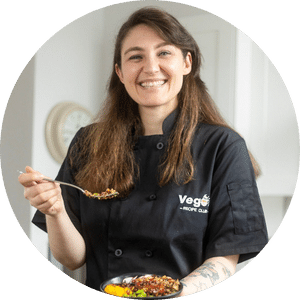 The author
This post was written by Pia Werzinger
As Viva!'s Food and Cookery Digital Media Manager, Pia is keeping you up to date on the latest recipes and vegan food news.