Pia Werzinger
Post published at November 30, 2021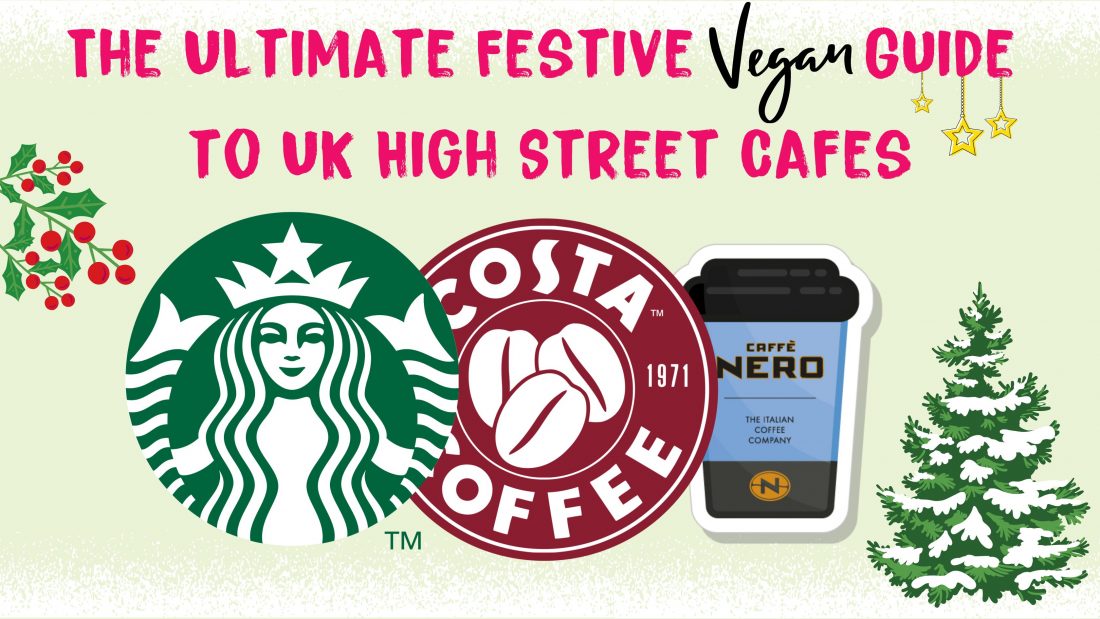 With the temperatures dropping and late-night shopping approaching, a Christmassy drink and nibble are essential to keep the festive mood going. Here's our ultimate guide to the festive food and drink offerings at your local High Street Cafes, so you can enjoy this season filled with vegan treats!
The Very Merry Berry Beyond Meat Sandwich features a famous Beyond Meat® patty accompanied by a cranberry chutney, vegan Dijon mustard mayo, a tomato slice and vegan cheese in a crusty Vienna roll.
Starbucks also offers a No Turkey and Trimmings Toastie, packed to the brim with soya turkey, potato, cabbage, sprouts, a leek hash, vegan mozzarella and cranberry sauce.
According to our local barista, all of their festive drinks, including the Caramel Waffle Latte and Fudge Brownie Hot Chocolate can be made vegan!
None of the festive sweet treats are suitable for vegans at Starbucks.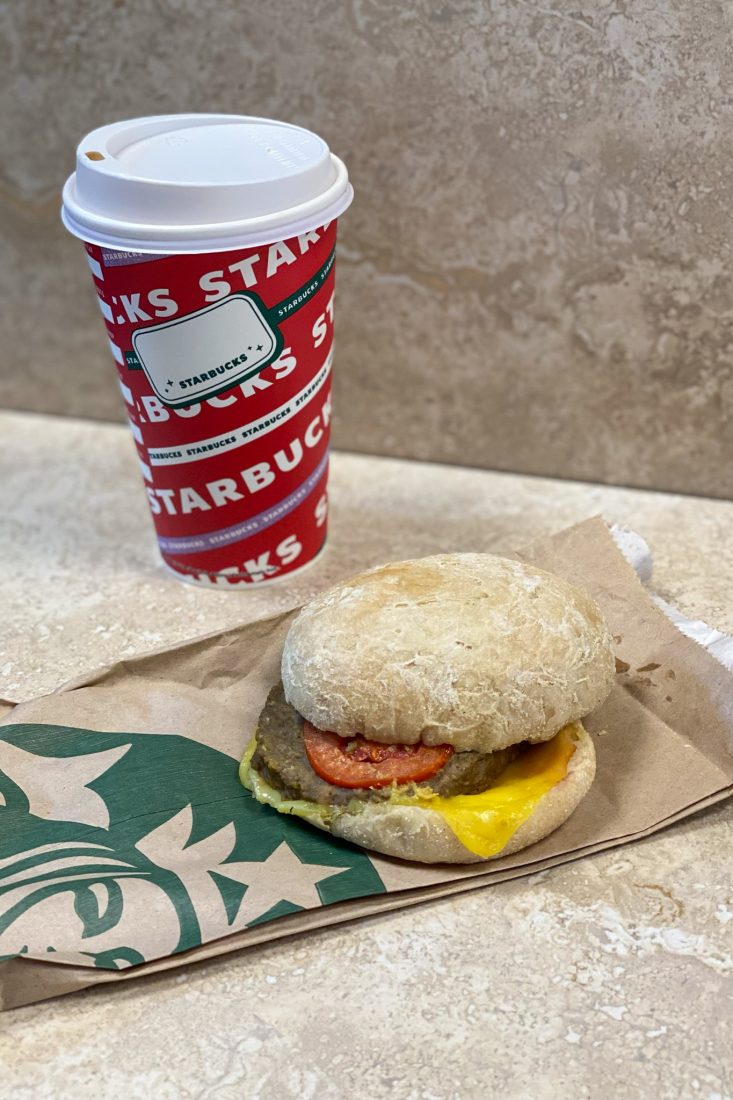 Image: Viva!'s Vegan Recipe Club
We taste tested the Very Merry Berry Beyond Meat Sandwich and the Caramel Waffle Latte with Oat Milk. Our verdict:
The sandwich has more of a burger feel, but is a filling, quick bite to eat and feels like comfort food. Sadly, the roll isn't crusty at all, which makes it lose points in the texture department. The Caramel Waffle Latte is sweet, creamy and a perfect dessert to follow the sandwich. We'll give it 6 out of 10.
This year, Caffe Nero and THIS™ have teamed up to create a Vegan Festive Feast Panini, using THIS™ Isn't Turkey, stuffing, cranberry, port sauce and fresh spinach.
What's more, their Classic Mince Pie, that's decorated with a star and sweet dusting, is suitable for vegans.
Just like at Starbucks, all festive drinks can be made vegan. However, Caffe Nero offers to swap the dairy whipped cream for a vegan alternative on their Salted Caramel Latte, Gingerbread Latte, Mint Choc Chip Hot Chocolate and Hazelnut Hot Chocolate!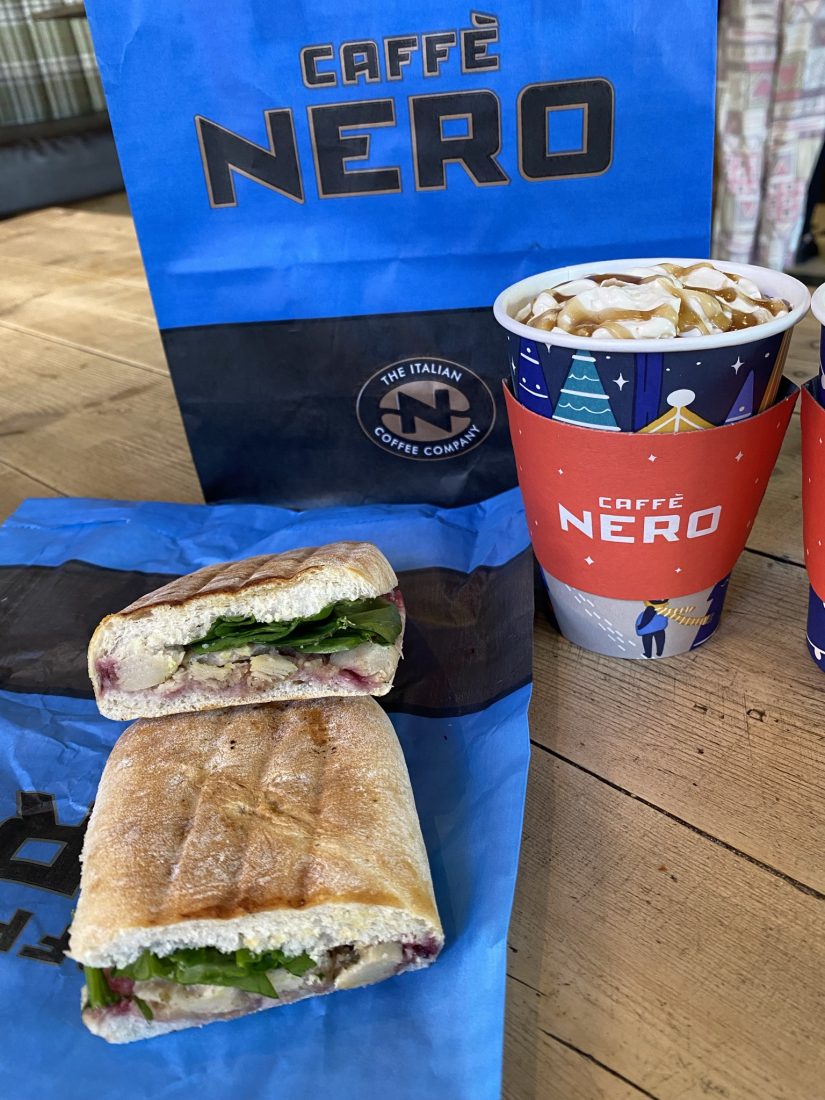 Image: Viva!'s Vegan Recipe Club
We taste tested the Vegan Festive Fest Panini and the Salted Caramel Latte with Oat Milk and Vegan Whipped Cream. Our verdict:
The panini is well filled and could easily fool us for being 'the real thing'. The balance of different textures and flavours was sublime. However, it was slightly on the dry side and could do with a little more sauce – some vegan cheese would have been great too. The Salted Caramel Latte was an excellent sweet treat and we are beyond delighted to have been able to enjoy it with vegan whipped cream! A firm 8 out of 10 points.
Costa Coffee is easing us into the season with a Vegan Turkee, Cranberry & Stuffing Bloomer Toastie that includes a soya and wheat-gluten shred, cranberry sauce, sage and onion stuffing, sage and onion vegan mayonnaise and fresh spinach in white bloomer bread.
In addition, Costa offers a Lotus Biscoff Cheezecake, Christmas Cake Slice (gluten-free), Mince Tart (gluten-free) and Father Christmas Gingerbread. New in their range is also a Gingerbread Latte Vegan Cookie, a Chocolate & Salted Caramel Torte and a BOSH! Ultimate Chocolate Slice.
As for festive drinks, sadly not all of them are suitable for vegans, but the After Eight Hot Chocolate, Terry's Chocolate Orange Hot Chocolate, Black Forest Hot Chocolate, Gingerbread Hot Chocolate, (and Latte) and Quality Street Toffee Penny Latte can be veganized by asking for plant-based milk and omitting the cream. However, please be aware that the 'purple' lattes can't be made vegan.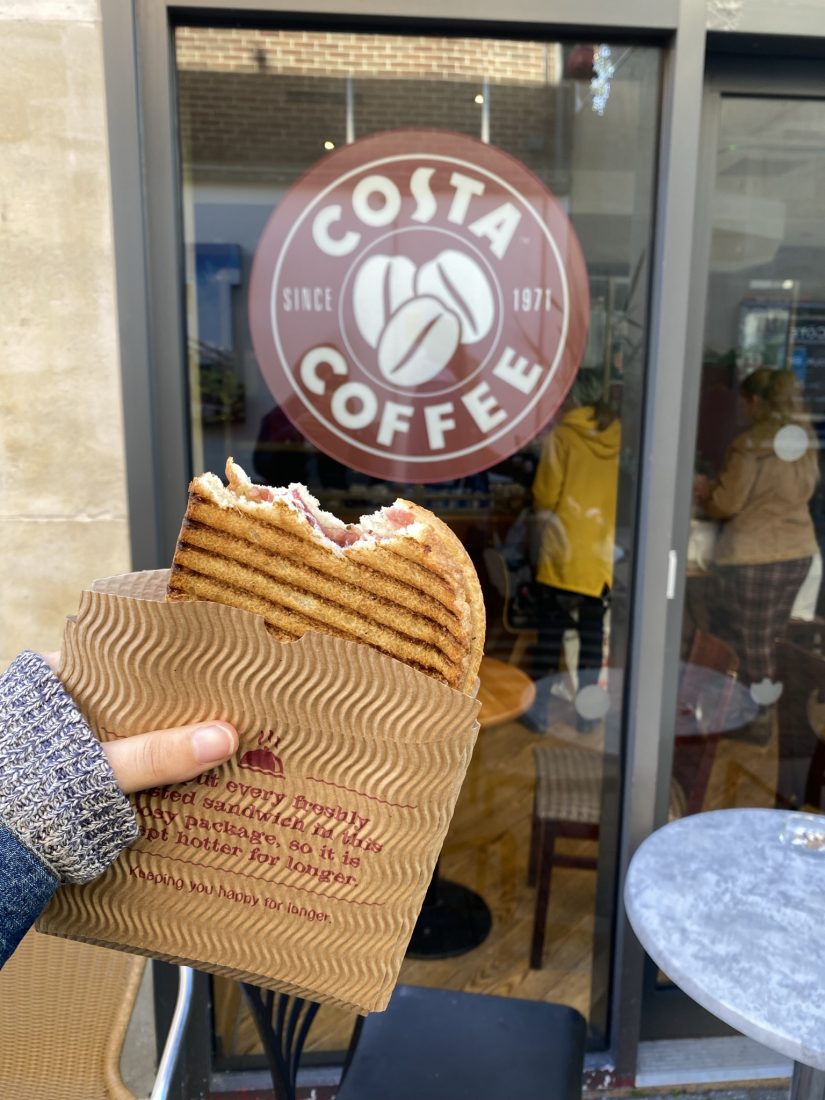 Image: Viva!'s Vegan Recipe Club
We taste tested the Vegan Turkee, Cranberry & Stuffing Bloomer Toastie. Our verdict:
The highlight of our high street café taste testing journey! It's Christmassy, it's warming and filled to the brim. Costa Coffee has really upped their vegan game this season and offers by far the most options – even without vegan whipped cream on their menu. Our festive winner of 2021 with 9 out of 10 points!

Honorary mention: Pret A Manger
Advertising festive vegan options such as a Vegan Christmas Nut Roast Sandwich, Vegan Christmas Flatbread and even a Vegan Festive Pasta Bake – we failed to find these in our local branches. In the hope of exploring their seasonal menu soon, we would love to hear your verdicts on Pret A Manger options.

Image: Pret A Manger
Have you tried any of the current festive options in your local high street cafe yet?
Let us know on social media! Facebook | Instagram | Twitter | Pinterest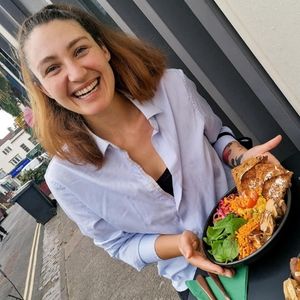 The author
This post was written by Pia Werzinger
As Viva!'s food and cookery media coordinator, Pia is keeping you up to date on the latest recipes and vegan food news on our Vegan Recipe Club socials.