Pia Werzinger
Post published at November 18, 2021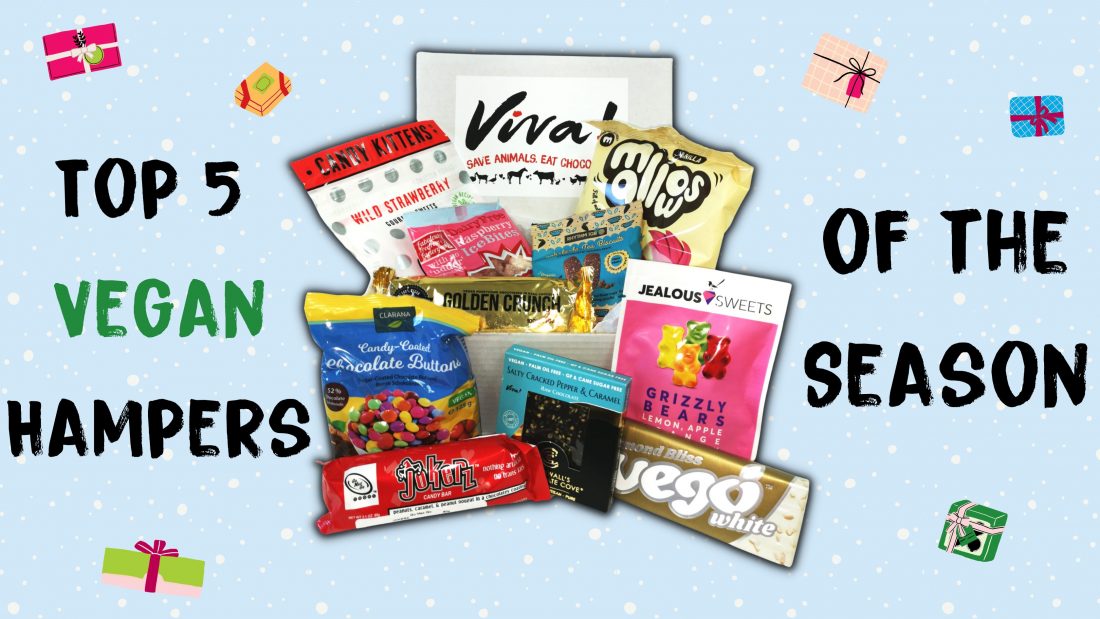 The Luxury One
Eden Treats – Merry Christmas Gift Hamper
From £38.50
Working primarily with new, artisan, and emerging producers Eden treats offer a guaranteed 10 items per hamper and you can opt to add their very own Eden gin, rum, whisky and vodka liqueurs to the hamper.
Hamper contents rotate regularly, but expect goodies such as:
Enjoy Rogue Conserves
Rollagranola Artisan Granola
Lazy Days: brownies and shortbread
Candy Kittens Confectionary
H!p Oat Chocolate
Charitea Organic Fairtrade Tea
Pri's Pop Squares
Rollasnax – wild trail mix
Pep and Lekker Savoury Cracker
Love Vegan Fruit and Nut Treats
The Fun One
Gifts for Life – Viva! Vegan Surprise Treat Box
£20
Our very own Vegan Surprise Treat Box is filled with delicious vegan goodies. The contents will be a surprise – ideally to find new treats you've not tried before or to gift to a loved one. You can even request to add a personalised note!
Each box contains a mix of treats such as chocolate, fudge, sweets, biscuits, marshmallows and toffees, with a retail value of approximately £20. All 100% vegan, of course!
What's more: by buying this box from Viva! you are helping to support our campaigns, this means by eating chocolate, you are helping to save animals!
The Christmassy One
TheVeganKind – Christmas Selection Box
£15.99
An annual Christmas selection box featuring brand new and unbeatably yummy vegan goodies: a festive selection of plant-based chocolate treats, gathered together in one lovely little box.
Each box includes:
Tony's Chocolonely Belgian Fairtrade Mint Candy Cane and Dark Chocolate Bar
Rhythm 108 Organic Swiss Dark Cocoa Mint Fondant Bar
Love Raw 2 Cream Filled Chocolate Wafer Bars: White Choc
Whitakers Salted Caramel Creams
NOMO – Cookie Dough Filled Reindeer
Either spoon Mummy Meagz Vegan What's O-Stirring Hot Chocolate 45g or Cocoba – Vegan Spoon for Hot Chocolate with Marshmallows
The Gluten-Free One
The Goodness Project – Gluten-Free Snack Hamper Gift Box
£26.50
A beautifully presented and fully gluten-free gift box that's sure to impress. Packed with delicious gluten-free treats, such as moreish biscuits, gluten-free chocolate and a selection of flapjacks, this box is an instant winner for any taste-buds!
Each box includes:
Against the Grain Chocolate and Orange Biscuit
The Giving Tree Vegetable Crisps
Montezuma's Dark Chocolate with Orange and Geranium
Creative Nature Salted Caramel Flapjack Bar
Munchy Seeds Omega Mix Pot
Wholebake Cranberry Flapjack
Doves Farm Chocolate Chip Flapjack
Doves Farm Apricot and Chia Oat Bar
Nakd Coconut Bliss Nibbles
Perkier Cacao and Cashew Quinoa Bar
The Massive One
Vegan Food UK – Luxury Christmas Day Vegan Hamper
£75.99
Popular Facebook group, Vegan Food UK, has produced its first ever hamper with hand-selected products from independent vegan businesses across the UK.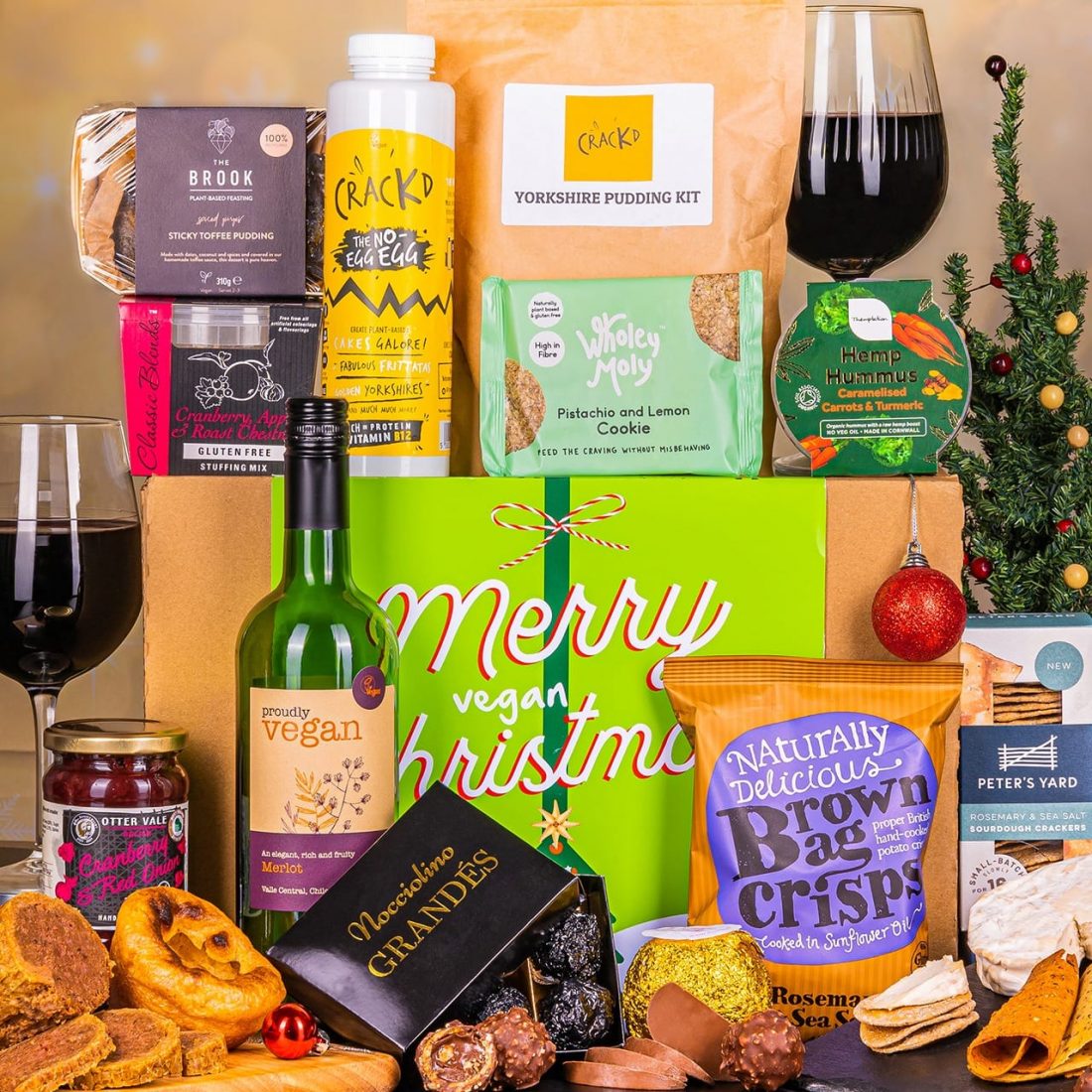 Vegan Food UK – Luxury Christmas Day Vegan HamperEach box includes:
UK's First Vegan 'Ferrero Rocher' – new and exclusive to this hamper
UK's First Vegan 'Terry's' Chocolate Orange
Prosciutto, Turkey and Salami Deli Meat Board, from Nottingham's First Faux Butcher
Camembert Wheel from Fauxmagerie, the UK's First Vegan Cheesemonger
Our choice of Red, White or Prosecco Bottle of Proudly Vegan Wine
Sage Stuffed Turkey Roast, from Scotland's very-own Sgaia
UK's First Crack'd Vegan Yorkshire Pudding Kit
Sticky Toffee Pudding handmade by the Brook Plant-Based Kitchen
Hemp and CBD Infused Organic Cornish Carrot and Turmeric Hummus
Wholey Moly's incredible vegan Cookies
And tasty crackers, crisps, stuffing and chutney etc
In addition, £1 from every box sold will be donated to The Retreat Animal Sanctuary.
Which one will you chose?
The author
This post was written by Pia Werzinger