Pia Werzinger
Post published at January 7, 2022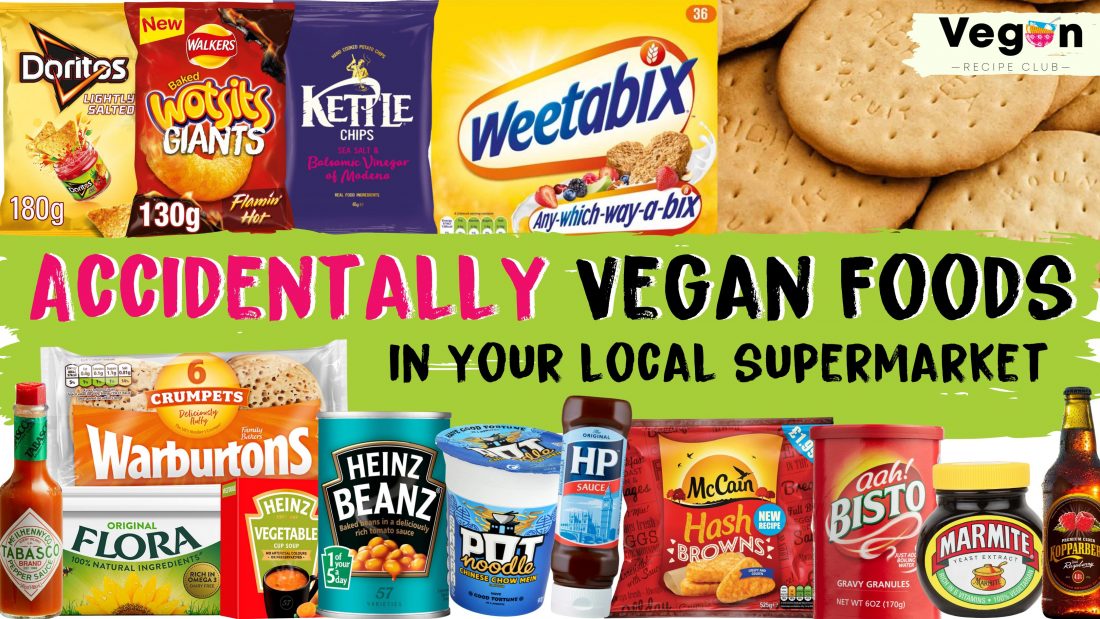 Switching to a plant-based diet doesn't necessarily mean you have to give up on your favourite foods. Whereas there's many delicious vegan alternatives out there, there's just equally many accidentally vegan foods – products which are not directly targeted to vegan customers, but contain no animal derived ingredients – for you to enjoy! Here's our ultimate guide with top tips on which products are accidentally vegan, and how to find them!
Note: always check the ingredients, as food manufacturers regularly adapt recipes. Items listed here do not contain ingredients derived from animals at the time of writing, but many have been made in factories that handle non-vegan products. Please refer to the manufacturer to learn more about the individual product's risk for cross contamination or cross contact – especially if you suffer from allergies.
Biscuits
Some of the UK's most popular biccys are in fact vegan! Go for the supermarket own versions – such as Tesco – and you'll be able to enjoy the plant-based versions of:
Bourbon Biscuits
Ginger Nut
Rich Tea Biscuits
Tesco's dark chocolate digestives are also suitable for vegans.
Just as with many other accidentally vegan products, there is a cross-contamination possibility in the manufacturing process, however, Oreo and McVitie's Hobnobs ingredients are also free from animal-derived ingredients.
Also, Fox's Party Rings, Jammie Dodgers and Lotus Biscoff Sandwich Cookies might be packed with sugar, but suitable for vegans.
Crisps
The following crisps are suitable for vegans, but manufactured in factories that handle animal products(which is why these are not labelled vegan):
Kettle Crisps (Lightly Salted, Sea Salt and Balsamic Vinegar, and Sea Salt and Black Peppercorn)
Doritos (Lightly Salted, BBQ & Chilli, and Chilli Heatwave)
Skips Prawn Cocktail Crisps
Flamin' Hot Wotsits
Many supermarket own brand 'bacon' flavoured crisps – better known as Bacon Rashers – are free from pig or any other animals. Please note, Smith's Frazzles contain lactose and whey powder, which are both derived from milk.
Other Sweets
As Skittles has now removed the cochineal extract (pulverized bodies of certain female scale insects), making them suitable for vegans and vegetarians alike. Love Hearts will also give you all the love, but without animal products, as well as Roundtree's Fruit Pastilles, Jelly Tots and Starburst.
Looking for a bigger treat? Grab a Mr Kipling Treacle Tart or Apple and Blackcurrant Pies, which are made without egg, milk or other animal-deprived ingredients.
Condiments
Many condiments are made from only a handful of ingredients, which makes them cheap to produce without animal-deprived additives. You'll be safe to splash out on:
Jam
Maple Syrup
Lotus Biscuit Spread
Tomato Ketchup
HP Sauce
Hot Sauces such as Tabasco, Siracha and Reggae Reggae Sauce
Hummus
Bird's Traditional Custard Powder (tinned)
Marmite is made from yeast extract that contains a good source of B12, and vegan!
Peanut Butter is usually vegan, but especially if you chose one that's made from 100 per cent peanuts.
Breakfast
Ready for a vegan fry-up? Or rather a quick crumpet? It's never been easier to assemble one that's plant-based. Mix and match to your desire with:
Warburtons Crumpets
New York Bakery Co. Original Bagels (including thins)
Toast
Flora Original, Light or Dairy-Free
Weetabix (Original, and Banana & Chocolate)
Ready Brek Original Porridge
Nestle Shreddies (including Coco Shreddies)
Co-op Donuts (Jam, and Custard)
Baked Beans
Lunch, Dinner and in-betweens
Many cupboard staples, such as dried pasta and rice (including rice noodles) are made to a vegan recipe and are widely available in most supermarkets and even corner stores. Furthermore, you can enjoy:
Potato Fries
Potato Waffles
Hash Browns
Goldenfry Beef Gravy Granules
Bisto (Favourite Gravy Granules, Gravy Granules Beef, The Original Gravy Powder, Onion Gravy Granules, Vegetable Gravy Granules, Best Caramelised Onion Gravy, Best Vegetable Gravy, Free From Favourites, Southern Style Gravy Granules)
Tideford's Tomato, Lentil and Red Pepper Soup
Pot Noodle (Beef and Tomato, Bombay Bad Boy, Sweet and Sour, Brazilian BBQ Steak, Chilli Beef, Chinese Chow Mein, Piri Piri Chicken, and Sticky Rib)
Heinz Cup Soup (Vegetable, and Minestrone)
Alcohol
Guinness have changed their manufacturing process to become fully plant-based in 2015, but they're not the only vegan-safe alcohol brand. Cheers to:
Heineken
Stella Artois
Peroni
Carlsberg
Amstel
Budweiser
Bulmers
Kopperberg
Magners (Pear)
Rekorderlig
In the stronger section, spirits such as Barcardi, Jagermeister, Jack Daniels, Captain Morgan Rum and Pimms are all vegan-friendly as well.
Fancy a glass of wine? Most supermarkets now clearly label vegan wines, but why not visit Viva!'s Wine Club in our Gifts for Life section on the shop.
Continue the conversation and let us know how you celebrate your plant-based Christmas: Facebook | Instagram | Twitter | Pinterest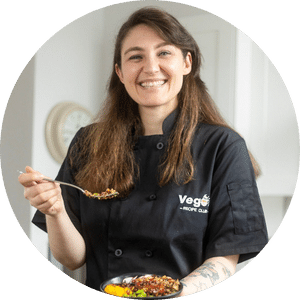 The author
This post was written by Pia Werzinger
As Viva!'s Food and Cookery Digital Media Manager, Pia is keeping you up to date on the latest recipes and vegan food news.