Mint Chocolate Tart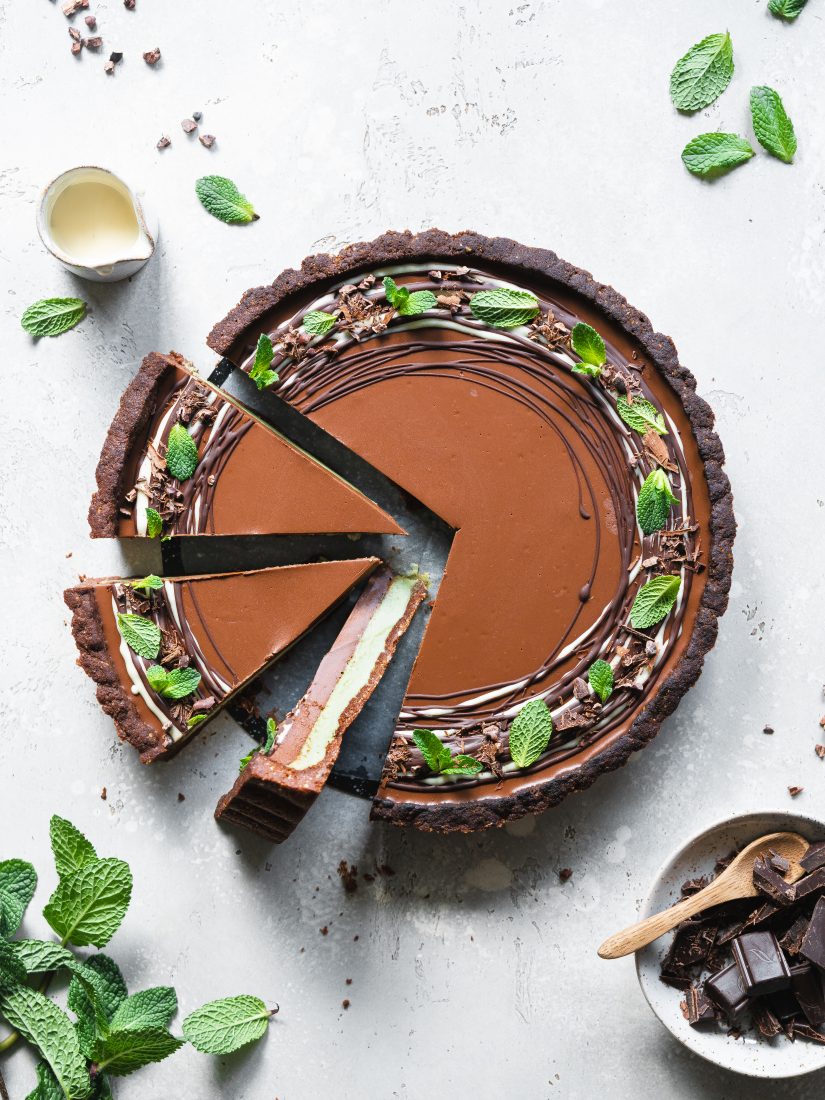 This dessert is basically "after eight" chocolate in tart form. With a delicious chocolate shortbread and mint and chocolate ganache filling, it's perfect for the holidays!

Not too tricky




Ingredients
Crust
225g/2 cups almond flour
30g/⅓ cup cacao powder
3 tbsp coconut oil (solid)
3 tbsp maple syrup
¼ tsp Himalayan pink salt or sea salt
Mint Ganache Layer 
150g/5 oz vegan-friendly white chocolate
1 x 400ml can chilled coconut milk *see notes
20 fresh mint leaves
Chocolate Ganache Layer
100g (3.5) oz vegan-friendly dark chocolate
1 x 400ml can chilled coconut milk *see notes
½ tsp vanilla bean paste
Pinch sea salt
Garnish
50g/1.75 oz vegan-friendly white chocolate, melted
50g/1.75 oz vegan-friendly dark chocolate, melted
Fresh mint leaves
Instructions
Preheat your oven to 175°C/350°F/Gas Mark 4.
Crust
Lightly grease the base and sides of a 9.5″ tart tin with some coconut oil.
In your food processor, combine the almond flour, cacao powder, coconut oil, maple syrup and salt until the ingredients stick together to form a dough.
Evenly press the dough into the base and sides of the tart tin and use a fork to prick several holes into the base.
Bake the crust for 10-12 minutes then allow to cool (do not remove the tart from the tin).
Mint ganache
To make the mint ganache, place the white chocolate into a heat resistant bowl and melt over a double boiler.
Add the melted white chocolate, chilled coconut milk and fresh mint leaves to your blender and blitz until smooth.
Pass the blended mixture through a sieve and pour into the tart shell. Place in the fridge to set for at least 2 hours.
Chocolate ganache
To make the chocolate ganache layer, add the coconut milk to a saucepan and bring to a simmer.
Chop the chocolate and add it to a heat resistant bowl. Pour the hot coconut milk on top of the chocolate and stir. Add in the vanilla and salt and stir well until evenly combined.
Pour the chocolate ganache on top of the set mint layer in the tart tin and gently tap the tin on your work surface to knock out any air bubbles. Allow to cool for about 10 minutes before transferring the tart to the fridge to set for 4 hours (or overnight).
Garnish
Once set, remove the tart from the tart tin and garnish with melted dark and white chocolate, fresh mint leaves and grated chocolate. Store in an airtight container in the fridge.
Recipe notes
* Chilled coconut milk – refrigerate the tin of coconut milk overnight, then only use the thick cream from the top of the can. 1 x 400ml can generally yields up to one cup of coconut cream, depending on the brand.
Did you know that Vegan Recipe Club is run by a charity?
We create vital resources to help educate everyone – vegan veterans, novices and the v-curious alike – about vegan food, health and nutrition; as well as the plight of farmed animals and the devastating environmental impact of farming.
Through this work we have helped thousands of people discover veganism; but we want to reach millions more! We rely entirely on donations as we don't get any government funding. If you already support us, thank you from the bottom of our hearts, you are really making a difference! Please share our details with your friends and loved ones too, as every donation enables us to keep fighting for change.