Raw Cheesecake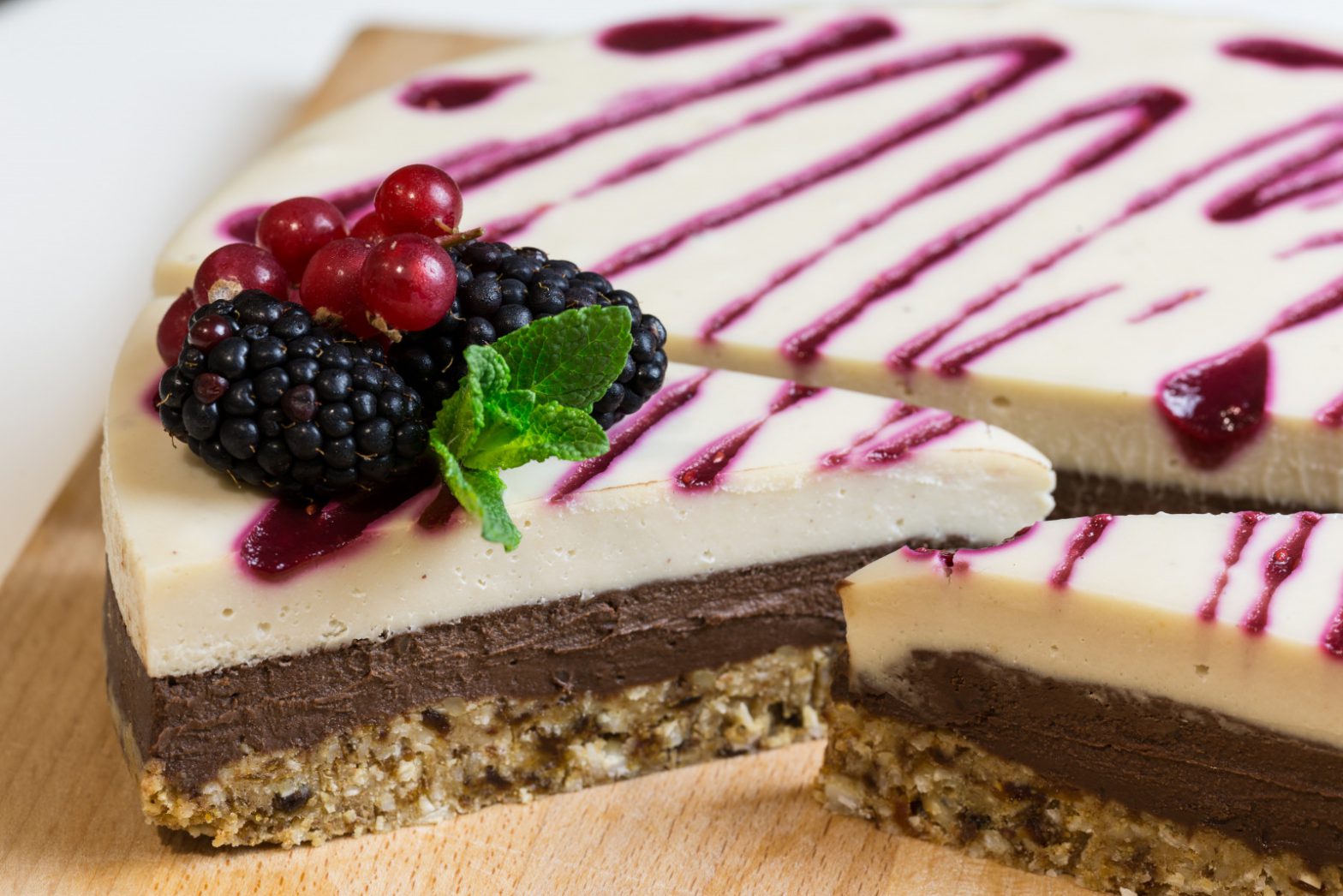 At Stem + Glory our raw desserts are an absolute winner, and one of our best sellers. Cashew nuts are a really versatile ingredient; once soaked and blended they make the most deliciously creamy desserts. We vary our cheesecake according to the seasons, and you can easily adapt this yourself. This one uses vanilla with berry compote and fresh berry garnish, but you can easily add 150g frozen berries to the cheesecake mix, or banana + blueberry, raspberries, or even cocoa.

Not too tricky





Courtesy of Stem & Glory



See other recipes by Stem & Glory
Ingredients
For the base
110g cashews (can also use almonds)
100g desiccated coconut
265g pitted dates
30g coconut oil, melted
2.5g vanilla powder (or extract)
60ml water
5g cocoa powder
For the filling
720g cashews
220g maple syrup
100ml lemon juice
220g coconut oil (melted)
90ml water
5g vanilla powder (or extract)
Pinch sea salt
15g soy lecithin
Instructions
For the base
Soak the cashews (or almonds) in water for 15 minutes.
Drain and discard the water then add the cashews (or almonds) and all the remaining ingredients to a food processor and pulse until a sticky, crumbly mixture is made.
Line a 25cm springform tin with baking paper. Transfer the mixture into the tin and flatten the base evenly.
Press down well and smooth over using the back of a spoon.
For the filling
Soak the cashews in hot water for 15 minutes.
Drain and discard the water then dd the cashews and all the remaining ingredients, except the soya lecithin, to a blender.
Blend until a smooth and viscous liquid has formed. If your blender is low powered, this may take 10 minutes or more.
Thoroughly stir the lecithin into the liquid then pour the filling over the base.
Leave the cheesecake in the fridge to set or freeze (if freezing, leave it out for an hour to defrost before serving).
To serve
We serve ours with some berry compote… drizzle this over the top of the cheesecake before freezing. When ready to serve, garnish with fresh berries.
Did you know that Vegan Recipe Club is run by a charity?
We create vital resources to help educate everyone – vegan veterans, novices and the v-curious alike – about vegan food, health and nutrition; as well as the plight of farmed animals and the devastating environmental impact of farming.
Through this work we have helped thousands of people discover veganism; but we want to reach millions more! We rely entirely on donations as we don't get any government funding. If you already support us, thank you from the bottom of our hearts, you are really making a difference! Please share our details with your friends and loved ones too, as every donation enables us to keep fighting for change.