Portable Blueberry Cheesecakes (no-bake)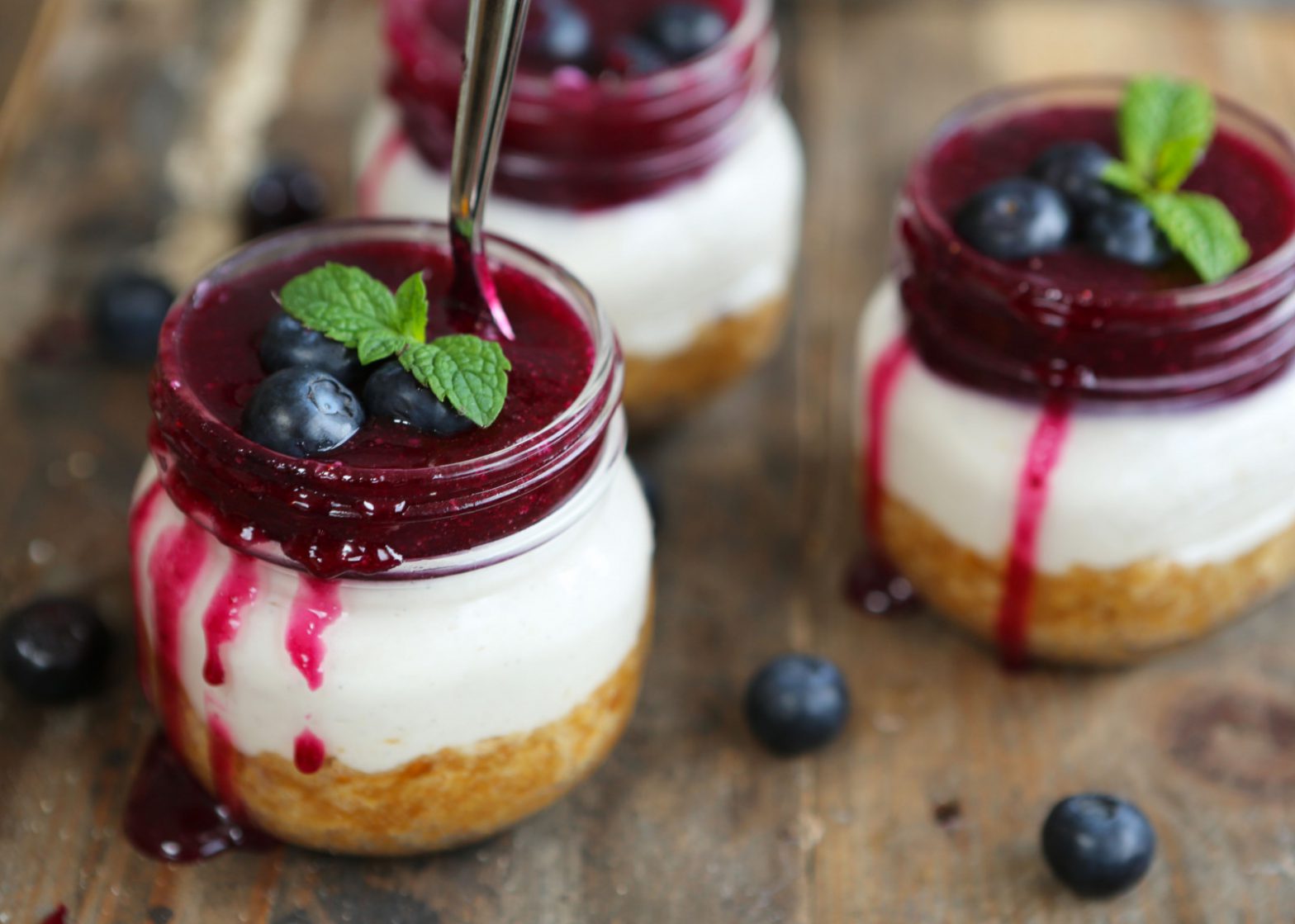 These cheesecakes are super easy and so handy for taking on picnics or to a barbecue. The recipe will make 6 x 0.25 litre jars or 12 x 0.125 litre jars or one large cheesecake (roughly 20cm cake tin). They're no-bake but on the dirty side… not healthy raw cakes… we fancied a bit of indulgence!

Easy




Ingredients
Base
100g vegan spread
2 tbsp coconut oil
300g digestives (McVitie's Lights are vegan along with free-from brands and some supermarket low cost). Use GF biscuits if needed (find in free-from sections in health food shops and supermarkets)
Filling
500g vegan cream cheese
2 tsp vanilla paste or extract
2 tbsp lemon juice
100g ground almonds
90g coconut oil, melted
150g caster sugar
Pinch of salt
Topping
150-200g blueberries
2 tbsp berry (any) jam
250g icing sugar, sieved
1 tsp lemon juice
Instructions
Grease the inside of your jars with coconut oil.

Gently melt the spread and coconut oil on a low heat.
Blitz the digestives or bash them with a rolling pin (in a clean tea towel) until fine.
In a large bowl, mix together the melted spread and coconut oil with the biscuits.
Place a small amount of the mixture (around 1cm) in the bottom of each jar and press down firmly with the back of a spoon.
Place in the fridge while you make the filling.
Filling
Blend all of the ingredients until smooth. You can use a stick blender if you don't have a blender or food processor.
Add 5 tablespoons of the filling to each jar if you are using the 0.25 litre jars or add 2.5 tablespoons if you are you are using the 0.125 litre jars.
Place in the fridge to set for a minimum of 2 hours.
Topping
Once your cheesecakes have nearly set, you can make the topping.
Place the blueberries and berry jam into a medium saucepan and heat on low-medium until the blueberries are soft and squishy.
Add the sieved icing sugar and lemon juice to the pan and stir thoroughly for a minute or two.
Sieve the mixture into a jug and pour a thin layer over each cheesecake.
Decorate with blueberries and mint (optional) and then pop back in the fridge until you're ready to eat.
Did you know that Vegan Recipe Club is run by a charity?
We create vital resources to help educate everyone – vegan veterans, novices and the v-curious alike – about vegan food, health and nutrition; as well as the plight of farmed animals and the devastating environmental impact of farming.
Through this work we have helped thousands of people discover veganism; but we want to reach millions more! We rely entirely on donations as we don't get any government funding. If you already support us, thank you from the bottom of our hearts, you are really making a difference! Please share our details with your friends and loved ones too, as every donation enables us to keep fighting for change.