No-Yeast Pizzas with Cashew Cheese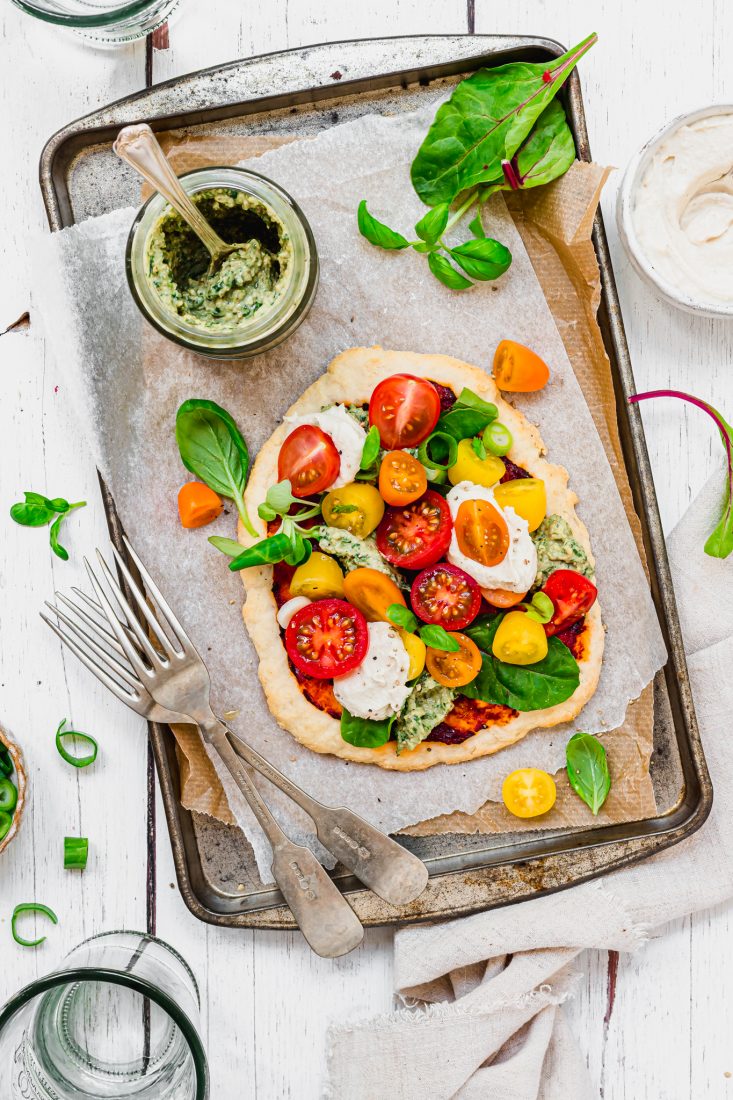 Simple, fluffy and authentic homemade pizzas ready in less than half an hour. This no-yeast base is perfect for speedy vegan and gluten-free pizzas and is delicious topped with homemade vegan walnut pesto, cashew cheese and tomatoes.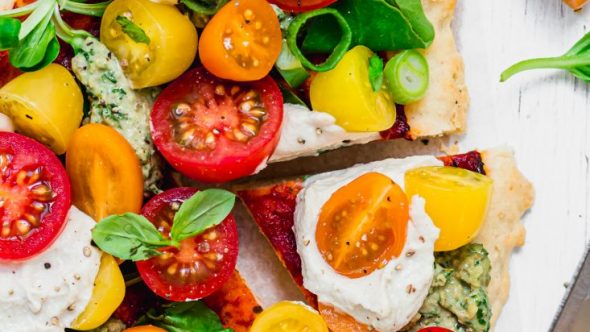 Easy




Courtesy of Nourishing Amy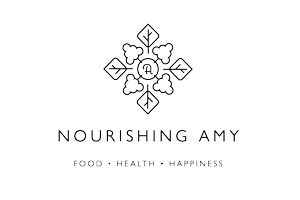 See other recipes by Nourishing Amy
Ingredients
1 x batch of Easy Vegan Homemade Cashew Cheese
Walnut pesto
15g basil leaves, stems too
50g walnuts, toasted
2 tbsp nutritional yeast
½ tsp salt
2 tbsp olive oil
1 tbsp lemon juice
3 tbsp water
No-yeast pizzas
245g self-raising flour or GF self-raising flour (more flour as needed)
230g thick vegan yogurt
A pinch of salt
2 tbsp olive oil
Tomato sauce
4 tbsp tomato puree
½ tsp garlic granules
¼ tsp dried oregano
Salt and pepper
Topping suggestions: 250g sliced mixed tomatoes, fresh salad leaves, spring onion, black pepper
Instructions
Prepare the cashew cheese according to the recipe.
Make the walnut pesto: lightly toast the walnuts in a dry frying pan for a few minutes until smelling fragrant. Add to a food processor with all the other ingredients, season to taste and pulse to a chunky pesto. Store in an airtight container in the fridge for 3-5 days.
When ready to make the pizzas preheat the oven to 160Fan/180*C. Prepare the tomato sauce by stirring together all the ingredients.
Make the pizza dough: stir together the flour, yoghurt and salt and bring to a dough. Tip onto a lightly floured surface and knead for 1 minute to bring to a smooth dough. If using GF flour, add more as needed if the dough is wet and skip the kneading, just bring to a ball of dough. Divide into 2 or 4 pieces and roll out to ovals/circles.
Transfer the dough to a parchment lined tray and brush all over with the oil. Now top with the tomato sauce, leaving a gap round the edge for the crust.
Bake in the oven for 18-22 minutes, turning round halfway. You can add on the cashew cheese, pesto and any toppings at the start, halfway through or you can wait till the pizzas are fully cooked before topping. (The pizzas will take longer to cook if you add the toppings at the start).
Enjoy straight away or cold later on. Store leftovers in an airtight container for 1-2 days and eat cold or warm again in the oven or grill.
Did you know that Vegan Recipe Club is run by a charity?
We create vital resources to help educate everyone – vegan veterans, novices and the v-curious alike – about vegan food, health and nutrition; as well as the plight of farmed animals and the devastating environmental impact of farming.
Through this work we have helped thousands of people discover veganism; but we want to reach millions more! We rely entirely on donations as we don't get any government funding. If you already support us, thank you from the bottom of our hearts, you are really making a difference! Please share our details with your friends and loved ones too, as every donation enables us to keep fighting for change.