Apple Tarte Tatin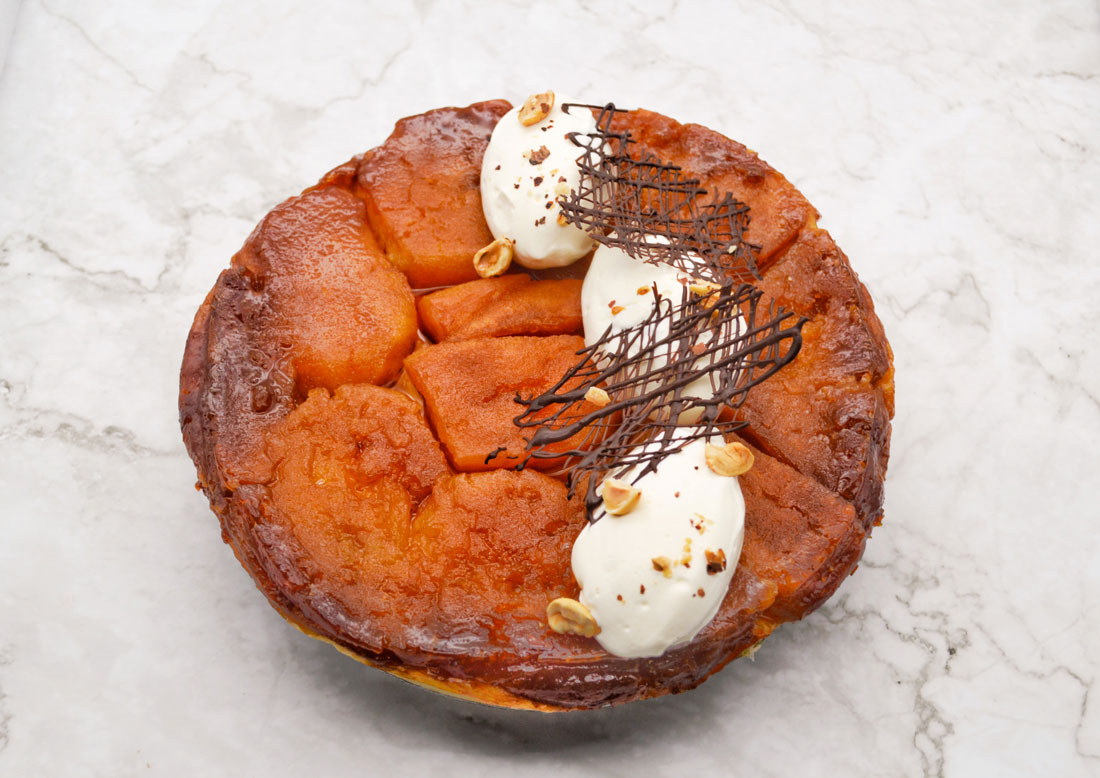 Voila! A truly French dessert centred upon luscious apples with lashings of caramel.

Easy




Ingredients
Pastry
1 block ready-made puff pastry (use GF if necessary)
Filling
4 Braeburn apples, peeled, cored and thinly sliced
100g caster sugar
85g dairy-free butter
Serving cream
100g vegan whipping/double cream (eg Elmlea or Oatly)
1 vanilla pod
10g icing sugar
Instructions
Roll the pastry block and cut it into a circle around a flan dish (around 20cm diameter). Don't put the pastry into the flan dish (you're just using the dish at this stage to cut the pastry and get it to the right size), instead prick the pastry with a fork all over to avoid bubbles when cooking, place on a baking sheet, then cover and freeze while preparing the apples.
Preheat oven to 180ºC/350ºF/Gas Mark 4. Put the sugar in a saucepan and place over a medium-high heat. Cook the sugar for 5-7 minutes until it's a dark amber caramel syrup and it's starting to smoke. Take it off the heat and whisk in the butter.
To assemble the tarte tatin, arrange the apple slices very tightly in a circle around the edge of your flan dish first, moving inwards in a spiral until the whole fruit is used and the dish covered. Gently press with your hands to ensure there are no gaps. Brush the fruit with the melted butter and sugar.
Bake in the oven for 30 minutes then remove the dish and place the puff pastry circle on top. Tuck the edges down the inside of the dish and with a knife, prick a few holes in the pastry to allow steam to escape. Bake for a further 40-45 minutes or until the pastry is golden brown and crisp.
Allow to cool to room temperature for 1 hour before running a knife around the edge and inverting it onto a large serving plate that is deep enough to hold the juices.
In a kitchen mixing bowl, add the vegan cream, icing sugar and vanilla pod. Start whisking until stiff peaks. Use the cream to decorate the tarte tatin the way you like.
Did you know that Vegan Recipe Club is run by a charity?
We create vital resources to help educate everyone – vegan veterans, novices and the v-curious alike – about vegan food, health and nutrition; as well as the plight of farmed animals and the devastating environmental impact of farming.
Through this work we have helped thousands of people discover veganism; but we want to reach millions more! We rely entirely on donations as we don't get any government funding. If you already support us, thank you from the bottom of our hearts, you are really making a difference! Please share our details with your friends and loved ones too, as every donation enables us to keep fighting for change.