Vegan Spanish Beach Churros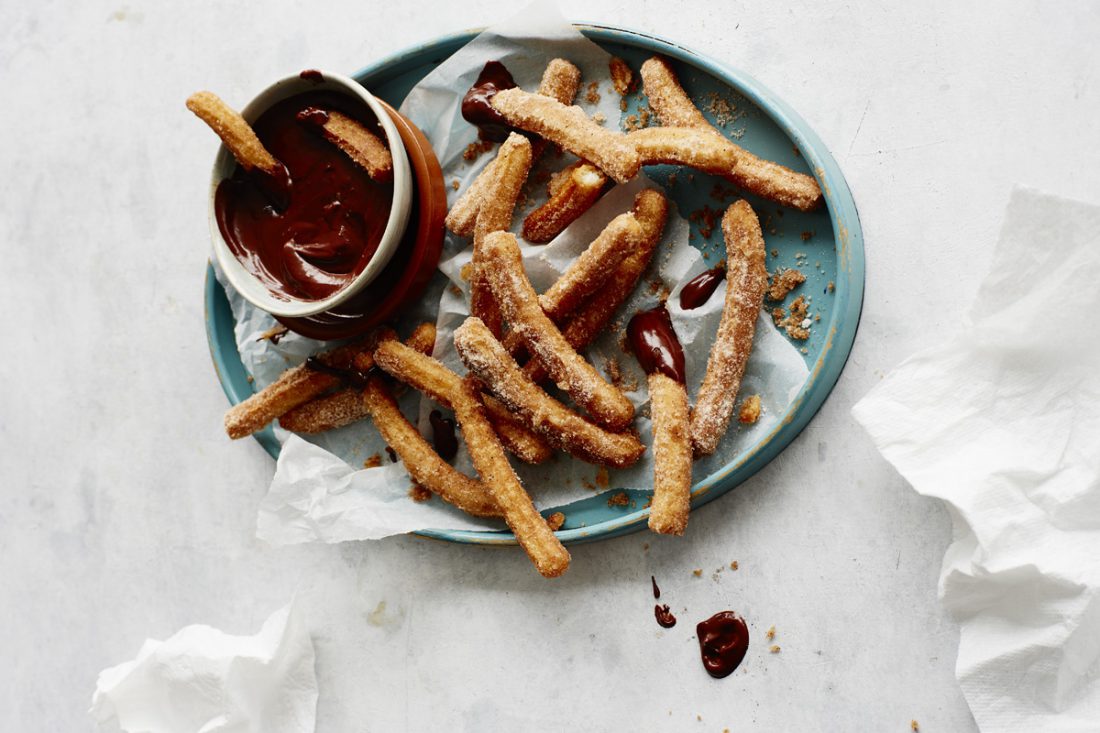 We remember eating churros on the beach in Spain as kids and decided we needed to recreate the memory (even if we are in East London in the rain!). This is such an easy dish to make, you could even make a giant churros snake if you were feeling adventurous. Trust us, try this, you will thank us!

Not too tricky

Courtesy of Bosh!



See other recipes by Bosh!
Ingredients
215g sugar
2 tsp ground cinnamon
1½ litres + 2 tbsp vegetable oil (preferably flavourless, like sunflower)
500ml water
½ tsp salt
½ tsp vanilla extract
240g plain flour
Chocolate Sauce
100g dark chocolate
185ml plant-based milk
40g sugar
½ tsp vanilla extract
Instructions
You will need: small saucepan on a low heat | 3 disposable piping bags or 1 clean reusable piping bag | 1½cm star-shaped nozzle | Large deep saucepan | Cooking thermometer, optional | Baking tray lined with parchment paper | Medium saucepan | Line a large plate with a double layer of kitchen paper
First, make the chocolate sauce: break up the chocolate and put it into the small saucepan with the plant-based milk, sugar and vanilla. Stir to a smooth sauce and transfer to a serving bowl and set aside.
Sprinkle 115g sugar and the cinnamon over a large plate and set aside.
If you are using disposable piping bags, pile them up and roll them together to make one thick cone (a single bag is likely to split). Cut a small hole at the tip, insert the piping nozzle and push it all the way down to the bottom so that it sticks out of the hole. Spray or brush the inside of the bag with a little oil. If you are using a reusable bag, insert the nozzle and coat lightly with oil.
Pour the 1½ litres of oil into the large saucepan so that it comes a third of the way up the sides of the pan. Heat the oil to about 180°C, or until a wooden spoon dipped into the oil sizzles around the edges.
Meanwhile, put the water, the remaining 100g sugar, the two tablespoons vegetable oil, salt and vanilla extract into the medium saucepan and place on a high heat. Bring to the boil, stirring to dissolve the sugar. Remove from the heat, add the flour and beat vigorously with a wooden spoon until it forms a thick, sticky dough (you'll need to use a little elbow grease). Spoon the mixture into the piping bag.
Pipe 6 churros on to the lined baking tray, each one about 10–15cm long. Carefully transfer the churros to the hot oil (if you're feeling brave you can pipe them straight into the oil). Fry for 8–10 minutes, until golden and cooked through. Use a wooden spoon to move them around if they stick together.
Remove the churros with a slotted spoon and lay on the kitchen paper for 1 minute to drain. While they're still hot, transfer to the cinnamon sugar and roll until completely covered. Repeat with the remaining dough – you may need 3 or 4 batches. Serve with chocolate sauce on the side for people to pour over if they wish.
Did you know that Vegan Recipe Club is run by a charity?
We create vital resources to help educate everyone – vegan veterans, novices and the v-curious alike – about vegan food, health and nutrition; as well as the plight of farmed animals and the devastating environmental impact of farming.
Through this work we have helped thousands of people discover veganism; but we want to reach millions more! We rely entirely on donations as we don't get any government funding. If you already support us, thank you from the bottom of our hearts, you are really making a difference! Please share our details with your friends and loved ones too, as every donation enables us to keep fighting for change.