Vegan Cherry Bakewells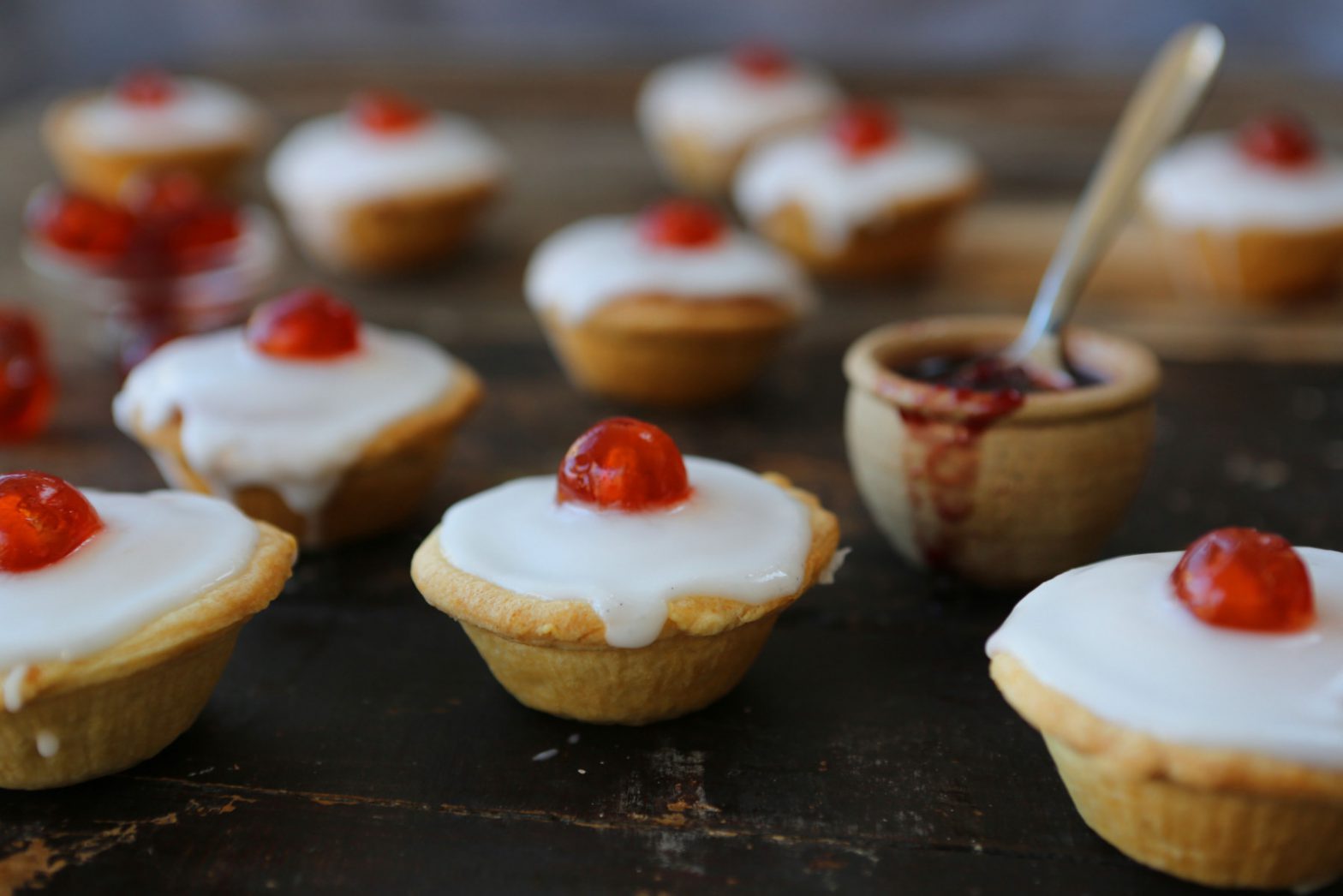 A vegan take on these classic cakes! Enjoy 🙂

Not too tricky


Ingredients
Cakes
75ml plain vegetable oil or sunflower oil (refined)
140g caster sugar, preferably golden (most sugar in the UK is vegan but always check. Tate & Lyle, Sainsbury's etc are suitable)
1 tsp almond essence
1 tsp vanilla essence
200ml soya cream
100g plain (all-purpose) flour
2 tsp baking powder
85g fine polenta (cornmeal)
50g ground almonds
2 tbsp natural vegan yoghurt, eg soya or coconut
1-2 packets of vegan ready to roll shortcrust pastry eg Jus Rol
Cherry jam (or any other jam of your choice…raspberry or strawberry works just as well)
Decoration
NB Most glacé cherries are vegan. If they are coloured with Anthocyanins, this is natural colour derived from plant foods. Avoid any with E20 (cochineal, made from crushed insects!)
Instructions
Cakes
Heat the oven to 180ºC/350º/Gas Mark 4 (fan)
Lightly oil the inside of the foil cases.
Cut 15 circles into the shortcrust pastry and line the inside of each of the cases making sure the pastry stretches right up to the top of the case and over a little (pastry shrinks during cooking). If you don't have cutters, you can just use the bottom of a glass or a small bowl.
Mix together the oil, sugar, vanilla essence, almond essence and soya cream until you get a smooth, creamy consistency.
Slowly add the flour, baking powder, polenta and ground almonds to the mixture and stir continuously until everything is completely integrated.
Stir in the vegan yoghurt.
Spoon a tablespoon of jam into the bottom of each of the pastry lined cases.
Spoon a small amount of the mixture into each of the pastry cases. Don't fill them right up to the top because they will rise.
Bake them in the oven for 30-40 minutes. Check after 30 minutes to make sure they have risen and are lightly golden. If not, then leave them in for another 10 minutes.
Leave them to cool completely before decorating.
Decoration
Sieve the icing sugar into a bowl and mix in the almond essence (optional) and hot water.
Mix thoroughly until you get a smooth, thick and creamy consistency.
Spoon around a tablespoon of icing onto each cake. I like to get a consistency where it holds its shape but just starts to drip down the sides.
Finish the cakes off with half a glacé cherry and serve.
Note: Any leftover mixture can be made into a small cake 🙂
Did you know that Vegan Recipe Club is run by a charity?
We create vital resources to help educate everyone – vegan veterans, novices and the v-curious alike – about vegan food, health and nutrition; as well as the plight of farmed animals and the devastating environmental impact of farming.
Through this work we have helped thousands of people discover veganism; but we want to reach millions more! We rely entirely on donations as we don't get any government funding. If you already support us, thank you from the bottom of our hearts, you are really making a difference! Please share our details with your friends and loved ones too, as every donation enables us to keep fighting for change.