Turmeric Chai Cake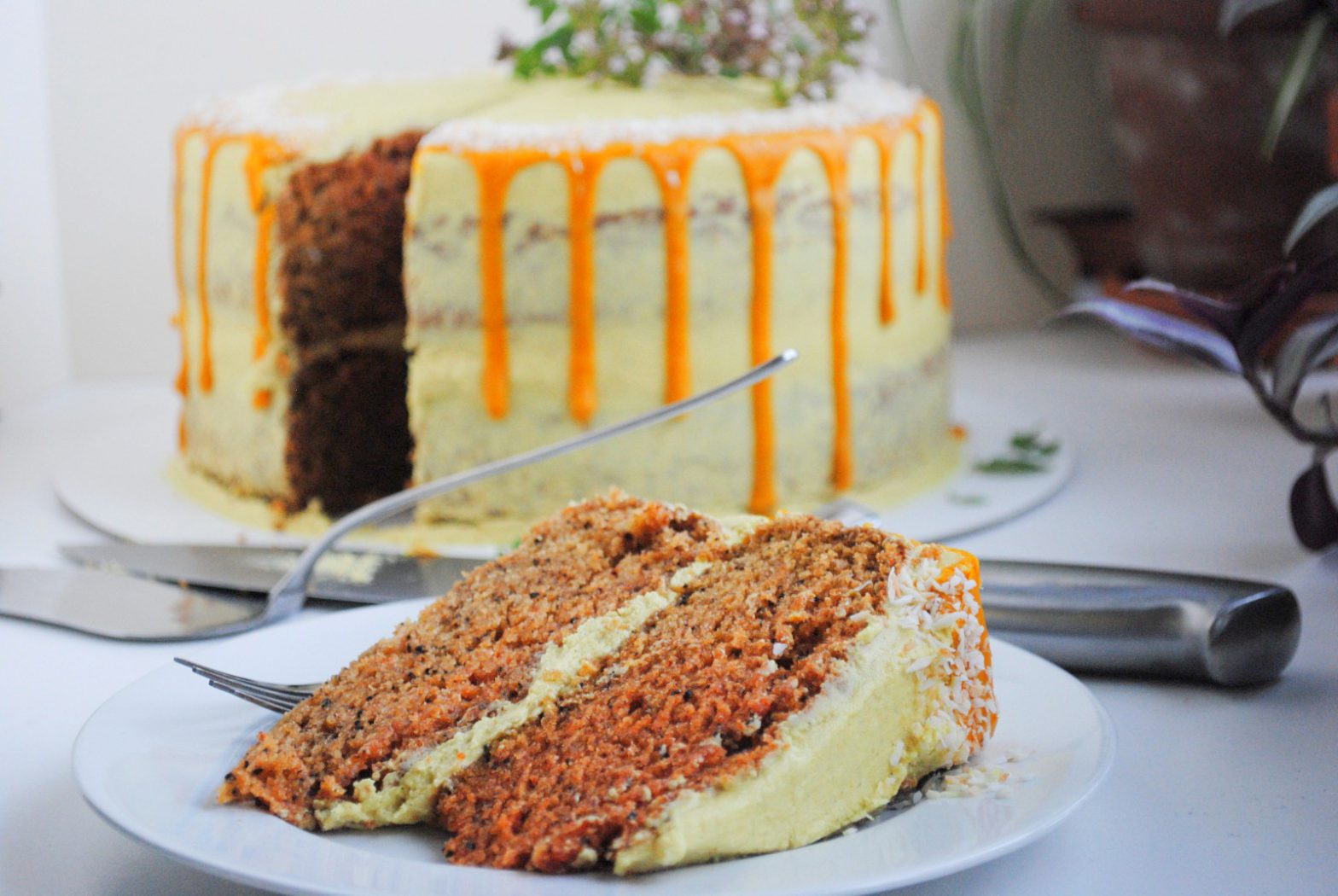 Whoever said vegan cakes were dry needs to try this recipe! Think moist and comforting rather than your traditional light and fluffy, with plenty of spice and creamy icing.

Easy


Ingredients
65g/½ cup sunflower spread
265g/1⅛ cups golden granulated sugar
400g/1½ cups soya yoghurt
240g/2 cups plain flour
1 tsp baking powder
1 tsp bicarbonate of soda
1 tsp ground turmeric
Contents of an Assam teabag
½ tsp ground cloves
½ tsp ground cinnamon
½ tsp ground ginger
¼ tsp salt
Instructions
Preheat oven to 180ºC (fan)/350ºF/Gas Mark 4.
Grease and flour a 9″ cake tin (or line with greaseproof paper if you're fancy).
Cream the sunflower spread and sugar together.
Add the yoghurt and mix well.
Mix all dry ingredients in a separate bowl.
Add dry ingredients to wet and mix well. (It may be a thicker cake batter than you're used to).
Pour into the tin and smooth the top so that it's level-ish.
Bake for about 45 minutes before checking how it's doing. Stick a toothpick into the centre – if it comes out clean, your cake is ready! If not, try another few minutes and check again. Ovens vary!
Allow to cool in the tin before removing for icing.
Ice however you wish or sprinkle with icing sugar. We use a vegan buttercream made with margarine, lots of icing sugar and some spices.
Did you know that Vegan Recipe Club is run by a charity?
We create vital resources to help educate everyone – vegan veterans, novices and the v-curious alike – about vegan food, health and nutrition; as well as the plight of farmed animals and the devastating environmental impact of farming.
Through this work we have helped thousands of people discover veganism; but we want to reach millions more! We rely entirely on donations as we don't get any government funding. If you already support us, thank you from the bottom of our hearts, you are really making a difference! Please share our details with your friends and loved ones too, as every donation enables us to keep fighting for change.