Squash & Ginger Pakoras with Watercress Raita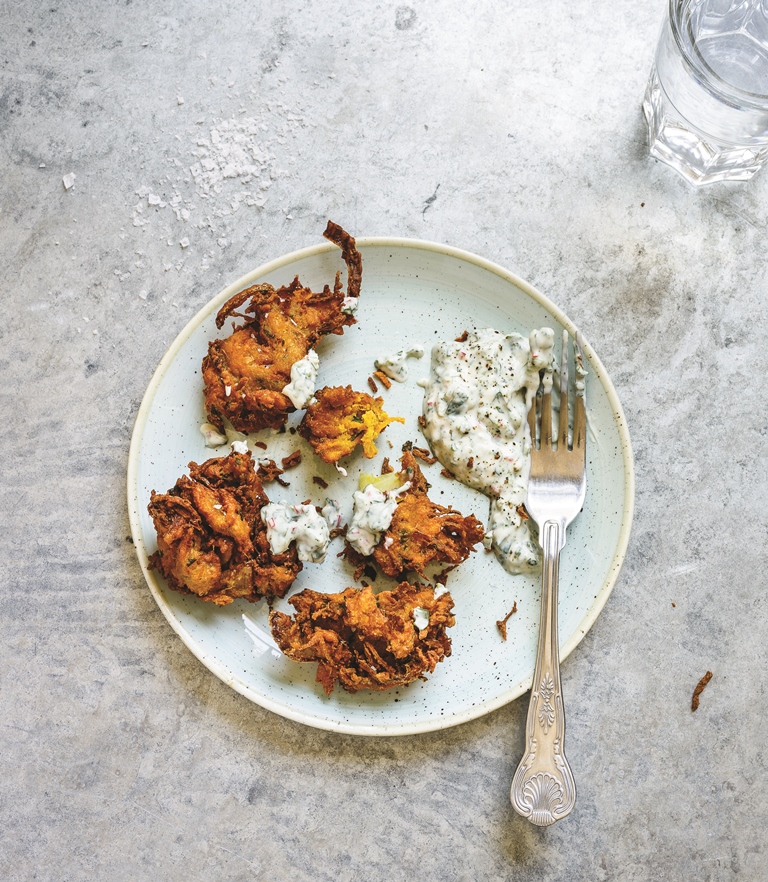 Fiery ginger and sweet squash work so well together in these deep-fried Indian snacks. You could use other types of squash or pumpkin instead of the butternut if preferred, and any vegan yoghurt will work in place of the soya for the raita.

Easy





Cuisine
Indian and Indian Subcontinent
Meal
soups-starters
lunches
sides-light-meals-and-salads
Ingredients
For the raita
250g/1 cup soya yoghurt
50g/2 oz watercress leaves
1 small green chilli (optional)
1 small clove of garlic
A few fresh mint leaves
½ tsp ground cumin
½ tsp white sugar
½ tsp salt
For the pakoras
Oil, for frying
160g/1¼ cups chickpea flour
40g/⅓ cup cornflour
1 tsp ground cumin
1 tsp garam masala
½ tsp chilli powder
½ tsp ground turmeric
1 tsp salt
150ml/⅔ cup water
500g/17½ oz butternut squash
50g/2 oz fresh ginger
1 small red onion
A few fresh coriander leaves
Instructions
For the raita
Place all the ingredients into a food processor and blend until fairly smooth, with a few green specks still visible. It can also be made by hand and left chunky; finely slice the leaves and chilli if using, crush the garlic to a purée with the back of a knife and some salt, then stir everything together.
For the pakoras
Heat a deep fat fryer or a large saucepan of oil to around 180°c.
First, make the batter: combine the flours, spices and salt before mixing in the water until smooth. Let it rest while you prepare the other ingredients.
Peel the squash and cut each end off, then cut lengthways and remove all the seeds. I find a dessert spoon works best for this. Cut each half into 3 or 4 pieces so they can then be easily grated by hand or with a grating attachment in a food processor.
Grate the ginger on a fine side of a grater or by using a microplane. Peel and finely slice the red onion.
Now stir the grated ginger and squash, sliced red onion and coriander leaves into the batter. Use 2 spoons to form the pakoras and drop them carefully into the hot oil one by one. Fry until they are dark golden. You must fry the pakoras immediately after the vegetables have been added, otherwise they will leak water and the batter will become too thin. Drain the pakoras on kitchen paper and then serve warm with the watercress raita.
Did you know that Vegan Recipe Club is run by a charity?
We create vital resources to help educate everyone – vegan veterans, novices and the v-curious alike – about vegan food, health and nutrition; as well as the plight of farmed animals and the devastating environmental impact of farming.
Through this work we have helped thousands of people discover veganism; but we want to reach millions more! We rely entirely on donations as we don't get any government funding. If you already support us, thank you from the bottom of our hearts, you are really making a difference! Please share our details with your friends and loved ones too, as every donation enables us to keep fighting for change.