Roasted Chillies Stuffed with Cashew Cheese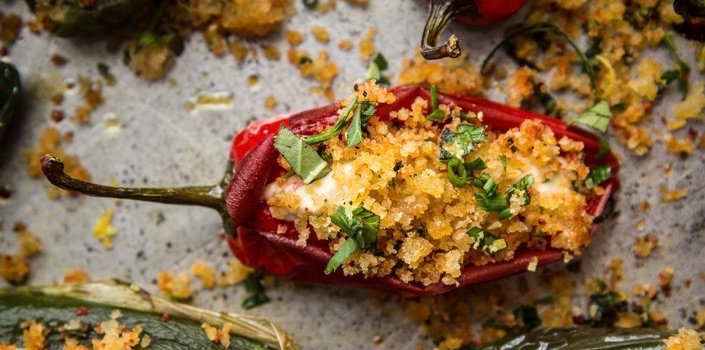 We've been experimenting with vegan nut-based cheeses here at the cookery school and have discovered that this cashew cheese makes a terrific filling for stuffed chillies. These roasted stuffed chillies are lovely as an appetiser, or you could serve them alongside other small dishes as part of a Mexican tapas, or with tortillas and a green salad. If hot chillies are a little too much for you, feel free to substitute with baby bell peppers. Any leftover cashew cheese will keep for up to five days in the fridge. For our non-vegan friends, you can substitute the cashew cheese with ricotta or soft goats cheese if you'd like.

Not too tricky
Courtesy of Demuths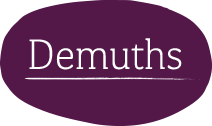 See other recipes by Demuths
Cuisine
Mexican, Central and South American
Meal
soups-starters
lunches
sides-light-meals-and-salads
vegetable-side-dishes
Ingredients
200g cashew nuts, soaked in cold water overnight or a minimum of 4 hours

50-75ml cold water for blending
Juice of half a lemon
1 tsp garlic powder
2-3 tbsp nutritional yeast flakes
½ tsp salt
12 mixed fat red and green chillies such as Jalapeños
Olive oil for roasting and frying
50g fresh breadcrumbs
1 garlic clove, chopped finely
Zest of a lemon
3 tbsp chives, chopped finely
3 tbsp parsley, chopped finely
Pinch of Aleppo chilli flakes
Black pepper
Instructions
Drain and rinse the soaked cashews and place in a blender with half the water, the lemon juice, garlic powder, nutritional yeast and salt.

Blend till very smooth, adding more water if necessary to help the nuts to process, then taste and adjust the flavour as you may want to add more of the seasonings.
Scrape the cashew mixture into a muslin lined sieve over a bowl, twist the ends together, and place in the fridge overnight to drain and firm up.
Heat the oven to 200ºC.
Place the whole chillies in a roasting tin and drizzle with a little olive oil.
Roast for 10 -15 minutes or until they are just softening and the skin is blistered.
Allow the chillies to cool enough to handle, then using a small sharp knife, carefully slit a chilli open from just below the stalk to almost the end tip.
Carefully scoop out the seeds and discard. Repeat with the remaining chillies.
Heat 1 tablespoon of olive oil in a frying pan, then fry the breadcrumbs till golden and crisp.
Add the garlic to the breadcrumbs and continue to cook until fragrant. Add half the lemon zest, 1 tablespoon each of the chopped herbs and a pinch of salt and pepper. Remove from the heat and decant into a small bowl and set aside.
Remove the cashew cheese from the muslin, and empty into a mixing bowl.
Add the remaining chopped fresh herbs, remaining lemon zest, Aleppo chilli flakes and black pepper. Taste and adjust the seasoning to suit.
Fill a piping bag with the cashew cheese mixture and pipe a little into the cavity of each chilli. Alternatively, using two teaspoons, carefully fill each cavity with the cashew cheese.
Top each chilli with a spoonful of the breadcrumbs and then either serve at once or pop into a hot oven for a few minutes to warm through.
Did you know that Vegan Recipe Club is run by a charity?
We create vital resources to help educate everyone – vegan veterans, novices and the v-curious alike – about vegan food, health and nutrition; as well as the plight of farmed animals and the devastating environmental impact of farming.
Through this work we have helped thousands of people discover veganism; but we want to reach millions more! We rely entirely on donations as we don't get any government funding. If you already support us, thank you from the bottom of our hearts, you are really making a difference! Please share our details with your friends and loved ones too, as every donation enables us to keep fighting for change.