Puff Pastry Swirl with Baked 'Camembert', Rosemary & Thyme
This swirl provides the ultimate indulgence! Gooey 'camembert' encased with golden puff pastry, fresh herbs and syrup – tear, share, dunk and enjoy 🙂
Meal
lunches
sides-light-meals-and-salads
Ingredients
1 wheel vegan 'camembert' (we used Nurishh)
1 clove garlic, sliced
2 sheets puff pastry (eg Jus-Rol or some supermarket own-brands. Gluten-free puff pastry is also available)
Syrup (eg maple or agave)
2 tbsp fresh thyme, stalks removed and very finely chopped
2 tbsp fresh rosemary, stalks removed and very finely chopped
Olive oil
Salt
1 tbsp soya milk mixed with 1 tbsp syrup (in a small bowl) for a glaze
Instructions
Preheat the oven to 200°C/390°F/Gas Mark 6.
Unroll one of the sheets of puff pastry, leaving it on the paper that it came in. Brush with a light coating of syrup all over then evenly sprinkle just under half of the fresh rosemary and thyme (you will leave a little left over for sprinkling on the finished swirl) along with a light dusting of salt.
Roll the pastry back up into a log then slice it lengthways. Repeat this process with the second sheet of puff pastry. You will be left with 4 long slices of pastry, layers exposed.
Line a large baking tray and then place the lid of the 'camembert' into the centre.
Twist up each individual slice of pastry (4 in total) and then place them around the 'camembert' box, spiraling outwards. Leave a little space between each one as they will expand.
Remove the box from the centre of the swirl and replace it with the 'camembert'.
Insert the garlic slices into the top of the 'cheese'.
Brush the swirl with the soya milk/syrup glaze and sprinkle with the remaining fresh herbs.
Option to drizzle with a little olive oil.
Bake in the oven for 30 minutes or until nicely golden. If the swirl browns too quickly then cover the top with foil and return to the oven.
Serve immediately, dipping the puff pastry into the melted 'cheese'.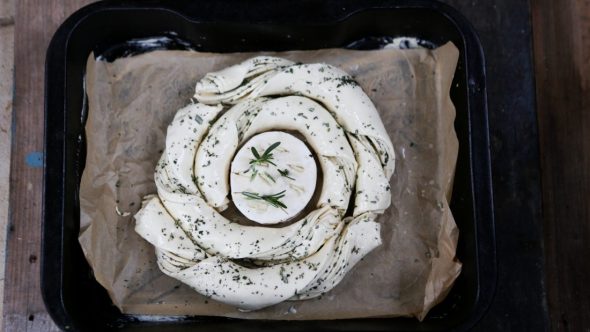 Did you know that Vegan Recipe Club is run by a charity?
We create vital resources to help educate everyone – vegan veterans, novices and the v-curious alike – about vegan food, health and nutrition; as well as the plight of farmed animals and the devastating environmental impact of farming.
Through this work we have helped thousands of people discover veganism; but we want to reach millions more! We rely entirely on donations as we don't get any government funding. If you already support us, thank you from the bottom of our hearts, you are really making a difference! Please share our details with your friends and loved ones too, as every donation enables us to keep fighting for change.