Golden 'Chicken' & Leek Pies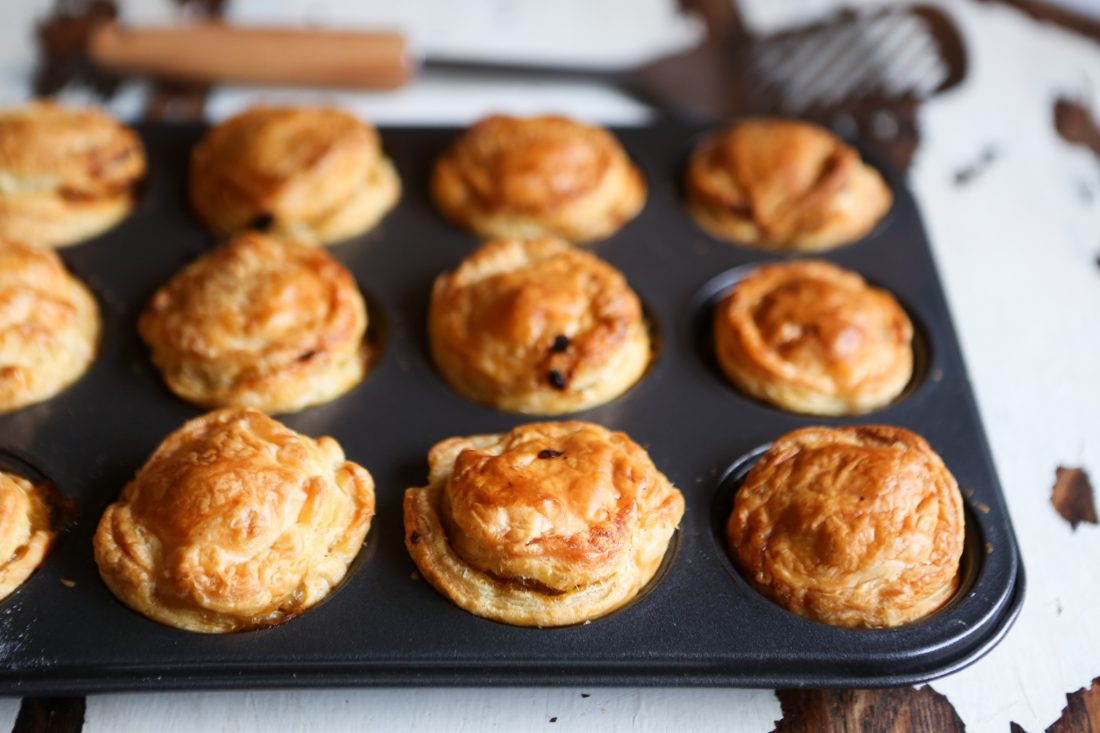 These pies are mmmnn delicious! You can choose whether to make 1 large pie, 6 medium-sized (using pie cases or ramekins) or 12 little pies (using a muffin tin).

Not too tricky




Ingredients
1 onion, finely diced
3 cloves garlic, finely chopped
1 tsp paprika
Handful thyme leaves, stalks removed
1 tsp sugar or syrup (eg maple, agave)
300g/10½ oz leeks, sliced
400g/14 oz vegan chicken pieces (we used THIS Isn't Chicken)
200g/7 oz squash, peeled and cubed (1cm square). You can use pre-prepared squash cubes if easier
2 vegan stock cubes dissolved in 250ml/1 cup boiling water
125ml/½ cup vegan white wine
200g/1 cup vegan creme fraiche (eg Oatly)
1 tbsp lemon juice
500g/17½ oz ready-made puff pastry (eg Jus-Rol)
Small amount of soya milk for brushing the pastry
Instructions
Preheat the oven to 160°C/320°F/Gas Mark 3.
Grease either 1 large pie dish, 6 medium-sized pie dishes or a 12 slot muffin tin.
In a large pan or wok, fry the onion until soft.
Add the garlic and paprika and fry for a further couple of minutes.
Add in the thyme leaves, sugar, leeks, 'chicken' pieces, squash and cook until the squash is soft (but not mushy), stirring frequently.
Pour in the stock, wine and vegan creme fraiche then simmer for 10 minutes, stirring frequently.
Stir through the lemon juice then remove from the heat and leave the mixture to cool.
On a floured surface, roll out the puff pastry to around 4mm thick. Using a pastry cutter, cut the pastry to line your chosen pie dish and then cut a lid.
Divide the mixture evenly between the pie dishes then place the pastry lid on the top and seal the edges before gently folding them in to create a rustic look.
Lightly brush the pies with soya milk before placing in the oven for 30-35 minutes or until the pies are nice and golden. Check after 25 minutes to make sure they're not browning too quickly. If they are, cover them with foil.
Did you know that Vegan Recipe Club is run by a charity?
We create vital resources to help educate everyone – vegan veterans, novices and the v-curious alike – about vegan food, health and nutrition; as well as the plight of farmed animals and the devastating environmental impact of farming.
Through this work we have helped thousands of people discover veganism; but we want to reach millions more! We rely entirely on donations as we don't get any government funding. If you already support us, thank you from the bottom of our hearts, you are really making a difference! Please share our details with your friends and loved ones too, as every donation enables us to keep fighting for change.