Apricot & Chestnut Stuffing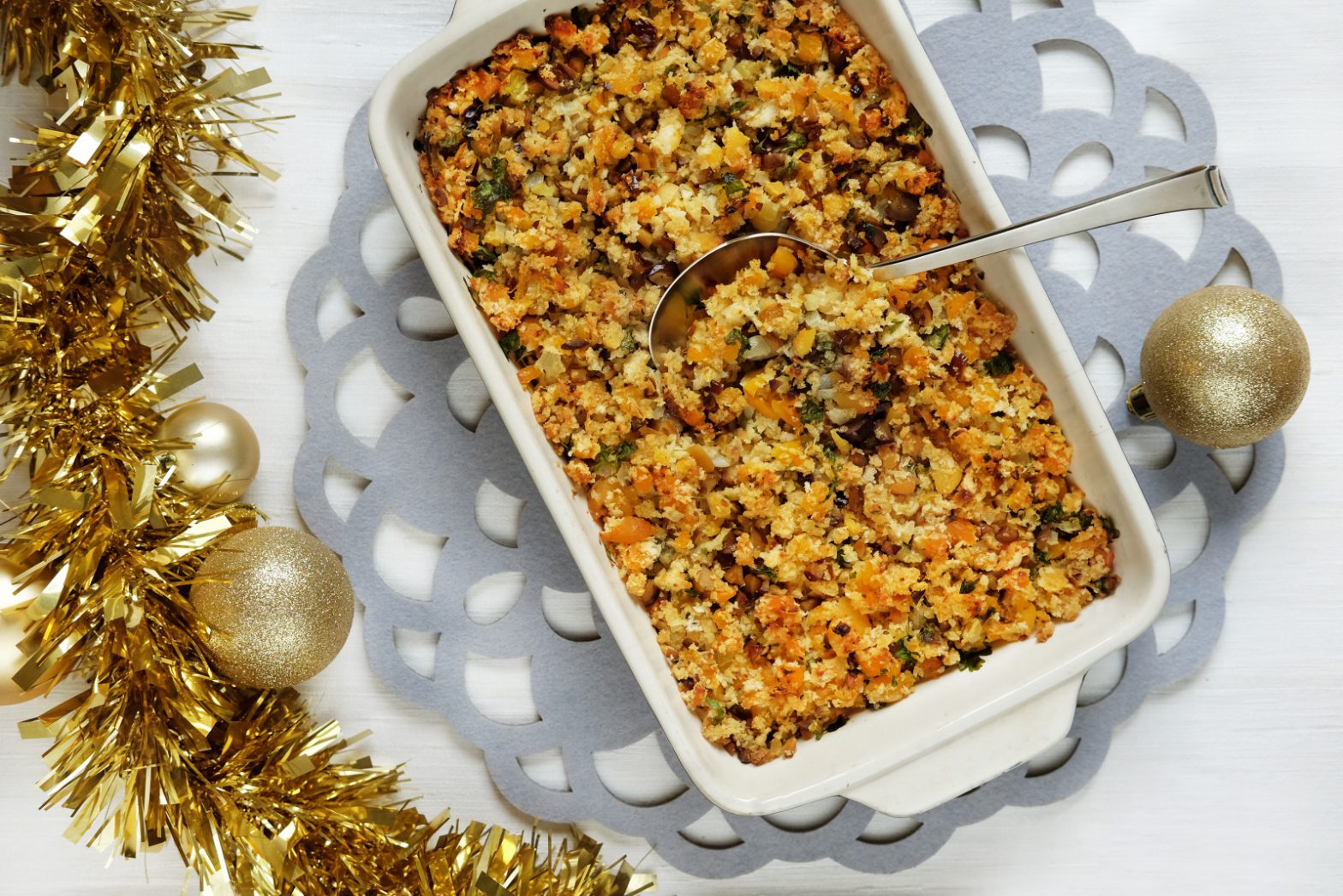 This stuffing is really delicious, easy and compliments a range of dishes. Makes the perfect filling for our Turkey-less roast or alongside any Christmas centrepiece 🙂
This recipe has been taken straight from our Deliciously Vegan Christmas Guide: Over 25 recipes including starters, mains, desserts, cheese, truffels and cocktails… only £2!

Easy


Meal
sides-light-meals-and-salads
Ingredients
1 large onion, finely diced
1 clove garlic, finely chopped
225g dried apricots, snipped into small pieces
225g breadcrumbs (use GF if necessary)
75g vegan butter (our favourite is Naturli), spread or odourless coconut oil
225g vacuum-packed or frozed chestnuts (defrosted), roughly chopped or briefly blitzed in a food processor
600ml vegan stock
Medium bunch fresh parsley, roughly chopped or briefly blitz in blender or food processor
Salt and black pepper, to taste
Instructions
Preheat the oven to 200ºC (fan)/400º/Gas Mark 6.
In a small frying pan lightly fry the onion until soft. Add the garlic and fry for a further minute. Add half the butter and the chestnuts and fry for a further 5-10 minutes, stirring frequently.
In a medium-sized saucepan add the apricots and 600ml stock. Bring to the boil, then reduce the heat and simmer for about 5 minutes. Drain.
Place the breadcrumbs into a large bowl. Melt the remaining butter in a frying pan and pour this onto the breadcrumbs.
Mix together the the apricots, onion, garlic, chestnuts and parsley. Season with salt and pepper, try the mixture and add more if necessary.
Turn into the greased ovenproof dish and bake in the oven for about 25-30 minutes until crisp and hot.
Did you know that Vegan Recipe Club is run by a charity?
We create vital resources to help educate everyone – vegan veterans, novices and the v-curious alike – about vegan food, health and nutrition; as well as the plight of farmed animals and the devastating environmental impact of farming.
Through this work we have helped thousands of people discover veganism; but we want to reach millions more! We rely entirely on donations as we don't get any government funding. If you already support us, thank you from the bottom of our hearts, you are really making a difference! Please share our details with your friends and loved ones too, as every donation enables us to keep fighting for change.