5:2 Fast Diet – Griddled Courgettes with Lemon, Mint, Puy Lentils & Cheezly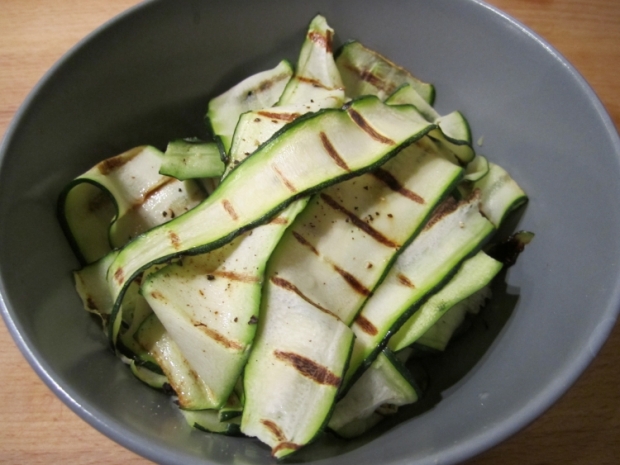 Calories: 248
Men's Extra: 10 or 20g Cheezly (25 or 50 cals)
A nice, Mediterranean-inspired dish.

Not too tricky


Meal
mains
sides-light-meals-and-salads
vegetable-side-dishes
Ingredients
500g small courgettes (90 cals)
15 mint leaves (1 cal)
1 tsp olive oil (40 cals)
30g (2 rounded tbsp) cooked puy lentils (35 cals)
30g Redwood Cheezly mature white cheddar style (75 cals)
lemon zest (1 cal)
A drizzle of lemon juice, 1 tsp (5 cals)
1 tsp dill – dried or finely chopped fresh (1 cal)
Instructions
1. Cut the courgettes into long, ½ cm wide slices. Mix with the oil and a pinch of salt.
2. Heat a ridged griddle pan or non-stick frying pan until it smokes. Cook the courgette slices, turning once, until striped with dark brown on both sides. You will probably have to do this in at least two batches. Add a splash of water if it starts to stick.
3. Transfer the courgettes to a bowl and mix with the lemon zest, juice, Cheezly, lentils and dill. Just before serving, mix through the ripped mint leaves.
Did you know that Vegan Recipe Club is run by a charity?
We create vital resources to help educate everyone – vegan veterans, novices and the v-curious alike – about vegan food, health and nutrition; as well as the plight of farmed animals and the devastating environmental impact of farming.
Through this work we have helped thousands of people discover veganism; but we want to reach millions more! We rely entirely on donations as we don't get any government funding. If you already support us, thank you from the bottom of our hearts, you are really making a difference! Please share our details with your friends and loved ones too, as every donation enables us to keep fighting for change.