Sticky Toffee Pudding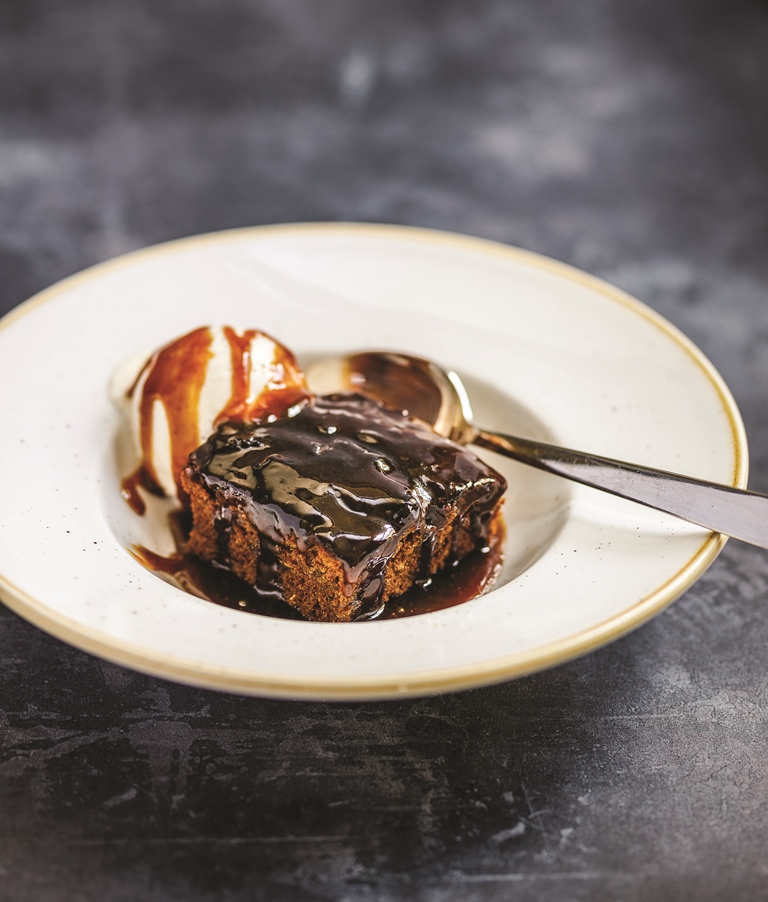 A classic British pudding that needs no introduction. We have veganised it here 🙂

Easy



Ingredients
Cake
180g/6½ oz dates
150ml/⅔ cup water
375ml/1½ cups soya milk
190g/⅞ cup margarine
150g/¾ cup soft brown sugar
2 tbsp black treacle
350g/2¾ cups self-raising white flour
1½ tsp bicarbonate of soda
1 tsp ground cinnamon
1 tsp ground ginger
½ tsp nutmeg
Sauce
125g margarine
90g brown sugar
60ml maple syrup
1 tsp vanilla bean paste
65g soya cream
Instructions
Cake
Preheat your oven to 175°C/350°F/Gas Mark 4.
Grease a 23cm (9 inch) square cake tin with oil, then line it with greaseproof paper.
Chop the dates into small chunks and place them in a saucepan, cover with the water and soya milk, then simmer for 5 minutes until the dates are soft. Leave to cool in the fridge.
In a large bowl, beat the margarine and sugar together until pale and creamy. Add the cooled date mixture, black treacle, flour, bicarbonate of soda and spices to the bowl. Whisk it all together and give it a good beating.
Pour the cake mixture into the prepared tin and bake in the middle of the preheated oven for 40 minutes. Towards the end of the cooking time, check whether the cake is cooked right through by poking a fine knife or skewer into the centre. It should come out clean when the cake is ready.
Sauce
While the cake is baking, make your sticky toffee sauce. Place all the ingredients except the cream in a medium saucepan and bring to a gentle simmer. Cook the sauce until it begins to thicken, then take the pan off the heat and whisk in the cream until evenly combined.
To serve
Leaving it in the tin, cut the cake into 3 inch squares. Pour some of the toffee sauce over the top while both the cake and the sauce are still hot, so it partly soaks in and forms a glaze.
Serve the sticky toffee pudding with your favourite non-dairy ice cream and extra sauce in a jug on the table.
Did you know that Vegan Recipe Club is run by a charity?
We create vital resources to help educate everyone – vegan veterans, novices and the v-curious alike – about vegan food, health and nutrition; as well as the plight of farmed animals and the devastating environmental impact of farming.
Through this work we have helped thousands of people discover veganism; but we want to reach millions more! We rely entirely on donations as we don't get any government funding. If you already support us, thank you from the bottom of our hearts, you are really making a difference! Please share our details with your friends and loved ones too, as every donation enables us to keep fighting for change.