Waitrose Mushroom Stroganoff with Vintage Cider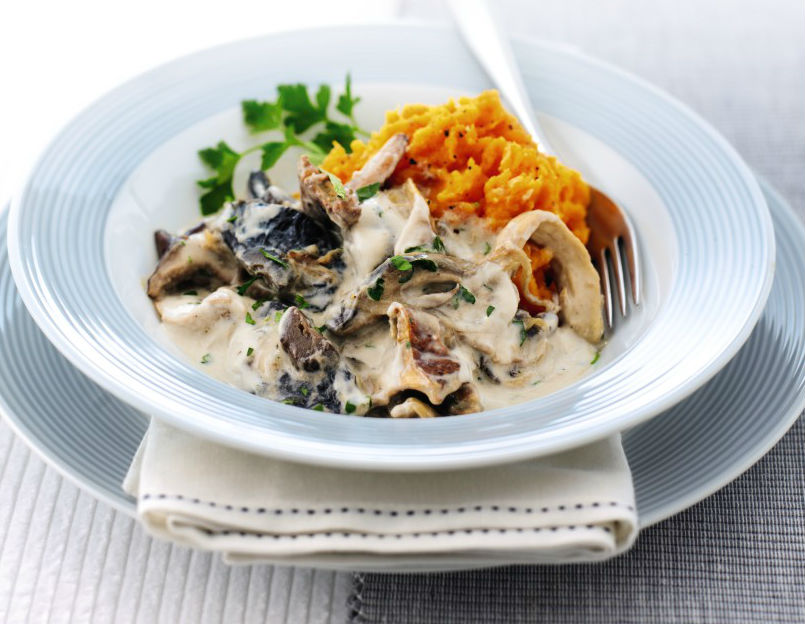 A nice variant on the vegan veggie classic – from Waitrose. This would be a quick, tasty supper before or after the Christmas madness!
For a slightly more indulgent but still healthy version, use our vegan sour creme recipe instead of the yogurt. You teetotallers could also replace the cider with apple juice, if you prefer.
Waitrose have a dedicated Christmas section with a few veggie and vegan items here There are some lovely recipes but not all of them are vegan. However, many could be veganised with dairy or egg alternatives, eg smoked tofu in their Kedgeree instead of eggs or melting vegan cheese in the Shepherd's Pie. See our Veganiser and Vegan Baking articles for hints to make changes!)

Not too tricky




Meal
mains
sides-light-meals-and-salads
Ingredients
1 tbsp rapeseed oil
1 onion, finely sliced
2 cloves garlic, crushed
250g mushrooms (eg a mix of oyster, shiitake, portabellini), wiped clean and sliced if large
175ml medium or dry cider
2 tsp cornflour
1 tbsp Geo Watkins Mushroom Ketchup
150ml Alpro Organic Soya Yogurt OR vegan sour creme (or Tofutti Sour Supreme vegan sour creme)
½ x 20g pack fresh flat-leaf parsley, chopped
Eg Aspall's, Dunkerton's, Merrygold, Sam Smith's, Sheppy, Thatcher's, Weston's
Instructions
1. Heat the oil in a deep frying pan and sauté the onion for 8-10 minutes until starting to soften.
2. Add the garlic and mushrooms, season and continue to sauté for 4-5 minutes, until the mushrooms have softened.
3. Add the cider and bring to the boil, then reduce the heat and simmer for 5 minutes to reduce slightly.
4. Blend the cornflour with the mushroom ketchup until smooth. Remove the mushrooms from the heat then add the ketchup and yogurt, and stir to combine. Warm over a low heat until slightly thickened and piping hot.
Did you know that Vegan Recipe Club is run by a charity?
We create vital resources to help educate everyone – vegan veterans, novices and the v-curious alike – about vegan food, health and nutrition; as well as the plight of farmed animals and the devastating environmental impact of farming.
Through this work we have helped thousands of people discover veganism; but we want to reach millions more! We rely entirely on donations as we don't get any government funding. If you already support us, thank you from the bottom of our hearts, you are really making a difference! Please share our details with your friends and loved ones too, as every donation enables us to keep fighting for change.