Viva!'s Moroccan Chickpea Stew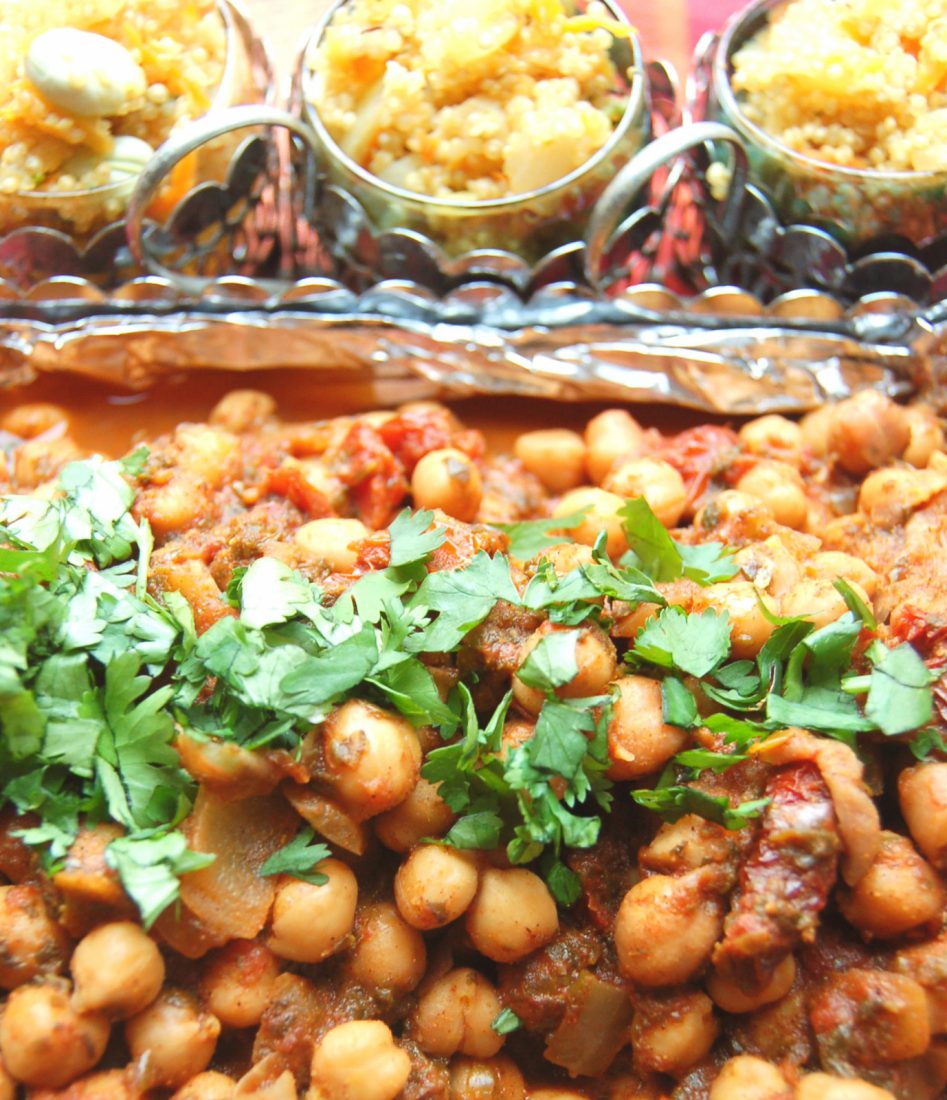 This is a lovely, flavoursome recipe that is very adapatable. We like cooked aubergine and red peppers in with it – but experiment! Like most stews, it tastes even nicer the next day.
Serve with a grain – this can be cooked while the stew simmers. It works well with
– wholemeal couscous
– wholemeal bulghur
– brown rice (GF)
– quinoa (GF)
– millet pilaf (GF)
Or flatbread, eg pitta or similar

Not too tricky







Ingredients
12 sun-dried tomatoes, chopped into pieces with scissors (the dry ones, not in oil)
1L hot vegan stock, made with a veggie stock cube or 3 tsp Marigold red tub bouillon powder
2 tbsp extra-virgin olive oil (plus more for garnish if desired) OR oil spray
1 large onion, medium chopped
6 cloves garlic, crushed
2-3 tsp ground cinnamon
2 tsp ground cumin
¼ tsp cayenne pepper
2 heaped tsp paprika
1 tin (400g) of plum or chopped tomatoes
2 tins (400g each) chickpeas, drained and rinsed well
2 tbsp raisins or chopped apricots
140g/5 oz washed baby spinach (or use a few lumps of frozen spinach)
Salt and black pepper
Fresh coriander, chopped – 2-3 tbsp
Optional: 1 aubergine, cubed to 1.5cm chunks (approx!); 1-2 red/yellow/orange peppers, roughly chopped; 1 courgette, cut into semi circles – or a mixture of any of these veg. Add at stage 3.
Instructions
1. Soak the sun-dried tomato pieces in a quarter of the hot stock and set aside.
2. Heat olive oil/spray in a large pot over medium-high heat. Add the onion and sauté until it begins to turn translucent. Add a little water/stock if it starts to stick. Add the garlic to the onions. Lower the heat if browning starts to occur.
3. Add the cinnamon, cumin, cayenne and paprika and sauté a minute or so. If you are adding extra veg such as courgettes, aubergines or peppers, do so now. Finally, add tinned tomatoes, chickpeas, sun-dried tomatoes, stock and raisins or apricots. Stir well. If using whole plum tomatoes, chop up in the pan with a knife.
4. The chickpeas should be slightly covered with liquid. If the level is too low, add some water to bring it just above the chickpeas. Bring the mixture to the boil then reduce and gently simmer for 30-40 minutes.
5. Remove the stew from heat. Use a potato masher to mash up some of the chickpeas in the pot – or put about a third of the stew in a bowl and mash it with a hand blender. Return to the pan.
6. Stir in the spinach and let it heat through until wilted, just a few minutes. Season again, to taste, with salt and pepper.
Did you know that Vegan Recipe Club is run by a charity?
We create vital resources to help educate everyone – vegan veterans, novices and the v-curious alike – about vegan food, health and nutrition; as well as the plight of farmed animals and the devastating environmental impact of farming.
Through this work we have helped thousands of people discover veganism; but we want to reach millions more! We rely entirely on donations as we don't get any government funding. If you already support us, thank you from the bottom of our hearts, you are really making a difference! Please share our details with your friends and loved ones too, as every donation enables us to keep fighting for change.