Viva!'s Mince Pies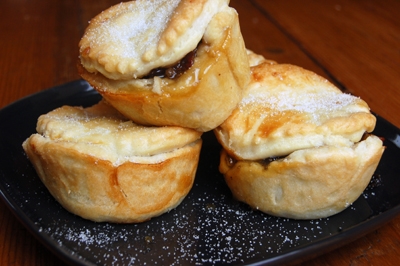 This is our wonderful mince pie recipe - enjoy making your own pastry or take the cheatin' option using a ready-made!
Ingredients
Makes 36 pies using small bun tins (6cm/21⁄2 inches across the top).
Makes fewer if you use larger bun tins, but you will need to use larger cookie cutters for linings and lids.
Pastry
350g/12oz plain flour
90g/3oz white vegetable fat eg Trex (NB WhiteFlora isn't vegan)
90g/3oz vegan margarine, eg Pure, Biona, Suma, Vitalite, Tesco Free From
Pinch salt
Cold water – 2-3 tbsp
OR 500g ready-made vegan plain pastry, defrosted and rolled out as Stage 6
Filling
700g/1½ lb vegan mincemeat
Soya or almond milk to glaze
Instructions
1. Make pastry in advance. Add the sieved flour, margarine, white fat, salt and water to a food processor. Give it a quick whizz – a couple of seconds.
2. Remove the lid and check the texture with cool fingers – run them under the cold tap before touching pastry. If it looks like it will form a ball of pastry easily, remove. If not, add 1 tbsp water and whizz again for a second or two. Remember, too much water makes pastry hard, so go easy!
3. Remove, form into a ball and place in plastic bag. Wrap up and put in the fridge for 20-30 mins.
4. Pre-heat oven to 200°C/400°F/Gas Mark 6.
5. Grease tins.
6. With cool hands, roll just over half of it to about 3mm/1⁄8 inch thick.
7. Use each half to make 36 large circles and 36 smaller, using the cookie cutters. You will need to gather up pastry scraps and re-roll to make them all.
8. Line each hole with the larger pastry rounds.
9. Fill each one with mincemeat – not too much, to just below the pastry edge.
10. Dampen each lid a little with cold water. Press them on top, sealing the edges.
11. Brush each one with a little soya milk. Using a knife or scissors, make 2 little snips on the top.
12. Bake in the oven for 20-25 mins until they are light golden brown.
13. Cool them and then sprinkle with sieved icing sugar.
14. Store in an airtight container – they can be re-warmed before serving.
Did you know that Vegan Recipe Club is run by a charity?
We create vital resources to help educate everyone – vegan veterans, novices and the v-curious alike – about vegan food, health and nutrition; as well as the plight of farmed animals and the devastating environmental impact of farming.
Through this work we have helped thousands of people discover veganism; but we want to reach millions more! We rely entirely on donations as we don't get any government funding. If you already support us, thank you from the bottom of our hearts, you are really making a difference! Please share our details with your friends and loved ones too, as every donation enables us to keep fighting for change.