Vegan Tortilla with 'Chorizo' Topping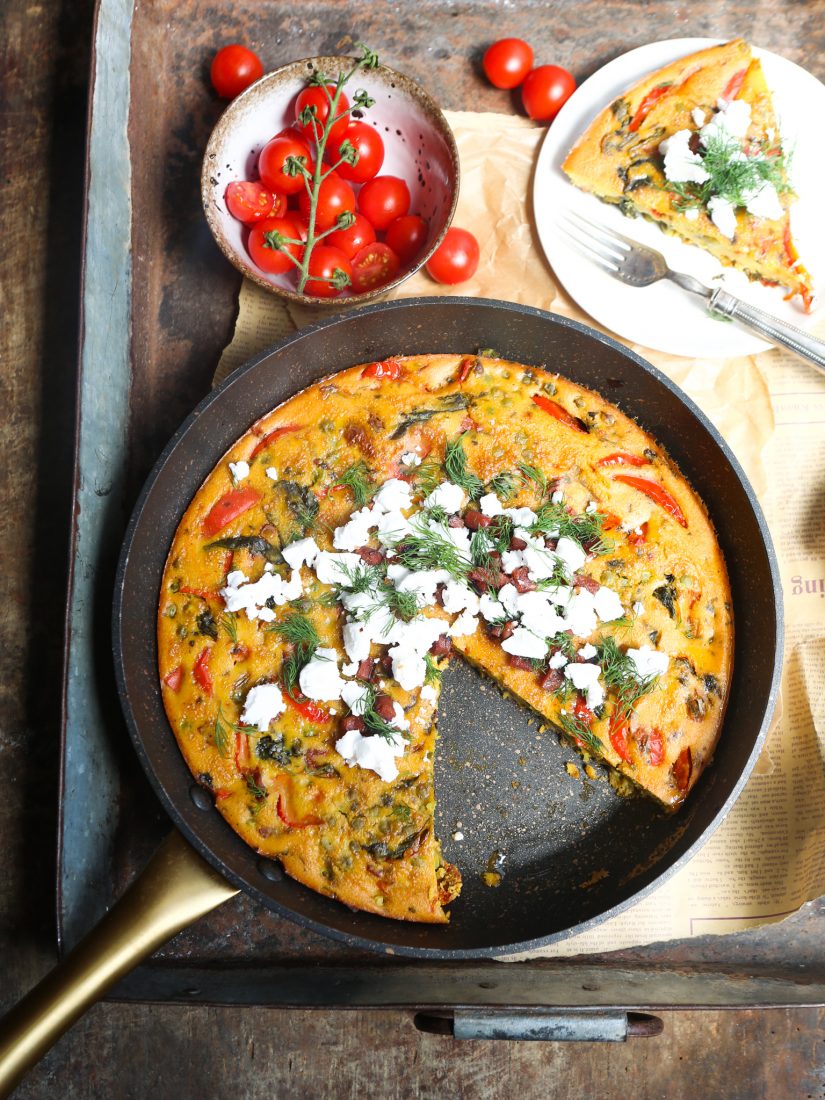 Tortilla, also known as Spanish omelette, is a tasty Spanish dish. This vegan version is packed full of flavour and makes the perfect picnic treat. Serve with leafy greens and mayo or a drizzle of your favourite dressing.

Easy



Ingredients
Batter
220g/1¾ cups gram flour, sieved
550ml/2⅓ cups unsweetened plant milk
2 tbsp olive oil
3 tbsp nutritional yeast
1 tsp turmeric
½ tsp cayenne pepper (optional)
2 tsp English or Dijon mustard
1 tbsp garlic powder
1 tsp salt (ideally Kala Namak/black salt)
½ tsp freshly ground black pepper (optional)
1 tsp baking powder
Filling
1 red pepper, deseeded and sliced
3 spring onions, trimmed and sliced diagonally
1 tsp smoked paprika
150g/1 cup frozen peas
2 large handfuls spinach
10 sundried tomatoes (in oil), diced
Handful mint leaves, finely chopped
Zest (finely chopped) and juice of half a lemon
Salt and pepper
Topping (optional)
100g/3.5 oz vegan chorizo, vegan lardons/bacon bits or vegan bacon, finely chopped
1 clove garlic, thinly sliced
2 tbsp red wine vinegar
1 tbsp syrup (eg maple or agave)
Optional serving suggestions: a sprinkling of vegan Parmesan or feta, fresh dill, green salad, olives, vegan mayo, a drizzle of balsamic glaze
Instructions
Batter
In a large bowl, whisk the gram flour and plant milk then cover with a tea towel and set aside (ideally for minimum of one hour).
Stir through all of the other ingredients, apart from the baking powder – set aside until needed.
Filling
Preheat the oven to 180°C/350°F/Gas Mark 4.
Using an ovenproof frying pan, fry the red peppers in a little olive oil for a few minutes.
Add the spring onions and heat for a further 5 minutes.
Stir through the spinach and frozen peas until the spinach has wilted then remove from the heat.
Add the sundried tomatoes, mint, lemon juice and zest and a sprinkling of salt and pepper.
Whisk the baking powder into the batter mix then pour the batter over the filling ingredients, making sure everything is evenly spread.
Place the ovenproof frying pan into the oven and bake for 20-30 minutes or until lightly golden. Check after 20 minutes and see if it's cooked/golden.
Topping (optional)
While the frittata is baking, fry the vegan chorizo or lardons in a little olive oil for a few minutes until golden.
Add the garlic and fry for a further minute.
Pour in the vinegar and syrup then heat for a further minute before removing from the heat.
Spoon over the frittata once ready.
Did you know that Vegan Recipe Club is run by a charity?
We create vital resources to help educate everyone – vegan veterans, novices and the v-curious alike – about vegan food, health and nutrition; as well as the plight of farmed animals and the devastating environmental impact of farming.
Through this work we have helped thousands of people discover veganism; but we want to reach millions more! We rely entirely on donations as we don't get any government funding. If you already support us, thank you from the bottom of our hearts, you are really making a difference! Please share our details with your friends and loved ones too, as every donation enables us to keep fighting for change.