Vegan Sushi Roll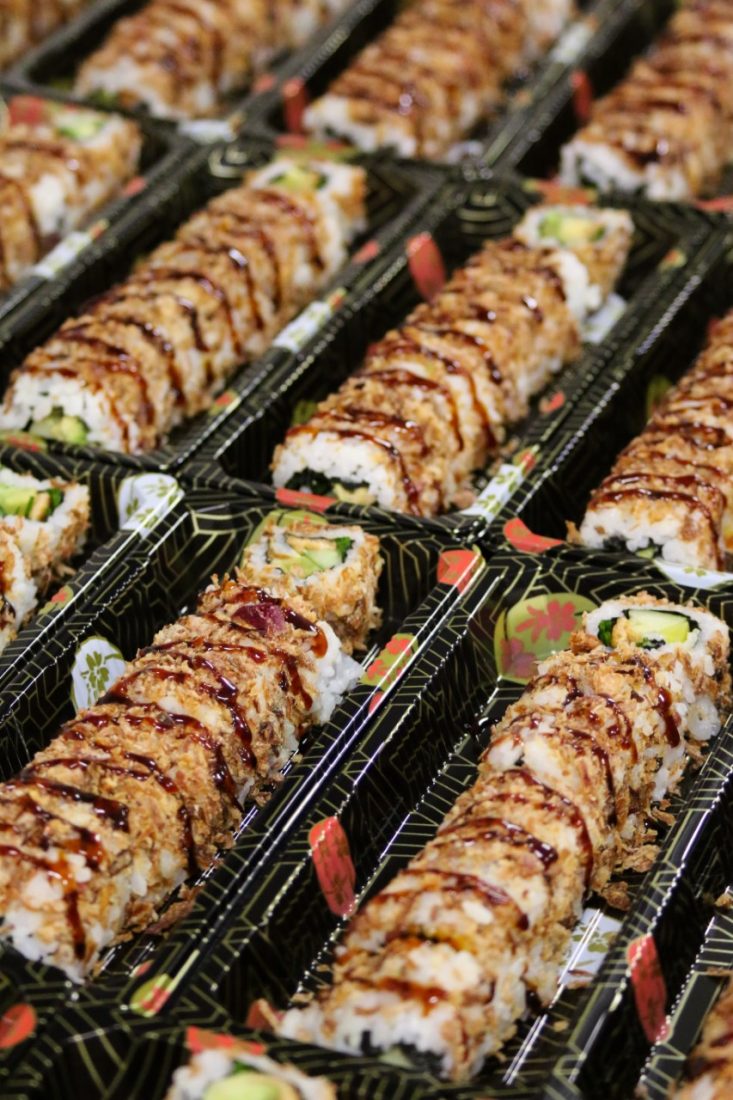 This incredible sushi roll goes down a treat every time – thank you King's College London for sharing one of your special recipes!

Easy
Ingredients
15ml Product 4287752 Sushi Seasoning JS-47 £0.03
40g Product 4287760 Ibuki Rice Italian £0.07
0.5 each Product 4287751 Yakinori USA 50 Full Size Seaweed £0.06
20g Product 2710041 Crispy Fried Onion £0.08
20g Product 4287755 Teriyaki Marinade Sauce £0.26
0.2 each Product 217498 Avocado £0.20
0.1 each Product 666876 Cucumber £0.06
0.5 each Product 4287761 Maruyone+Ajizuke Inari Beancurd Skin £0.11
10 kg Product 4287754 Mizutamari+Takuwan Pickled Radish £0.05
5g Product 201096 Chives £0.08
Instructions
Wash the rice thoroughly and discard the milky water. Repeat this at least three times until the water is clear and allow the rice to drain using a colander. Place the washed rice into a container, cover with cold water and set aside for 30 minutes.
Place the rice container in the combi oven, steam at 100°C for 40 minutes. Place the cooked rice onto a flat tray and spread it out evenly.
Add the sushi vinegar into the rice with a folding action until all the vinegar has been incorporated. Once it is at room temperature it is ready to use.
Cling film a bamboo mat and use rubber gloves to roll the sushi.
Place a half sheet of nori, shiny side down, on the bamboo mat. Spread and cover the nori sheet with sushi rice. Sprinkle with fried onions.
Flip the sheet over so the nori is on top. Place cucumber, inari, radish, most of the chopped chives and avocado along the centre of the nori.
Roll the sushi into a cylindrical shape. Cut into nine even sized pieces.
Drizzle with teriyaki sauce and sprinkle the remaining chives over the top.
Did you know that Vegan Recipe Club is run by a charity?
We create vital resources to help educate everyone – vegan veterans, novices and the v-curious alike – about vegan food, health and nutrition; as well as the plight of farmed animals and the devastating environmental impact of farming.
Through this work we have helped thousands of people discover veganism; but we want to reach millions more! We rely entirely on donations as we don't get any government funding. If you already support us, thank you from the bottom of our hearts, you are really making a difference! Please share our details with your friends and loved ones too, as every donation enables us to keep fighting for change.