Vegan Snickerz Bars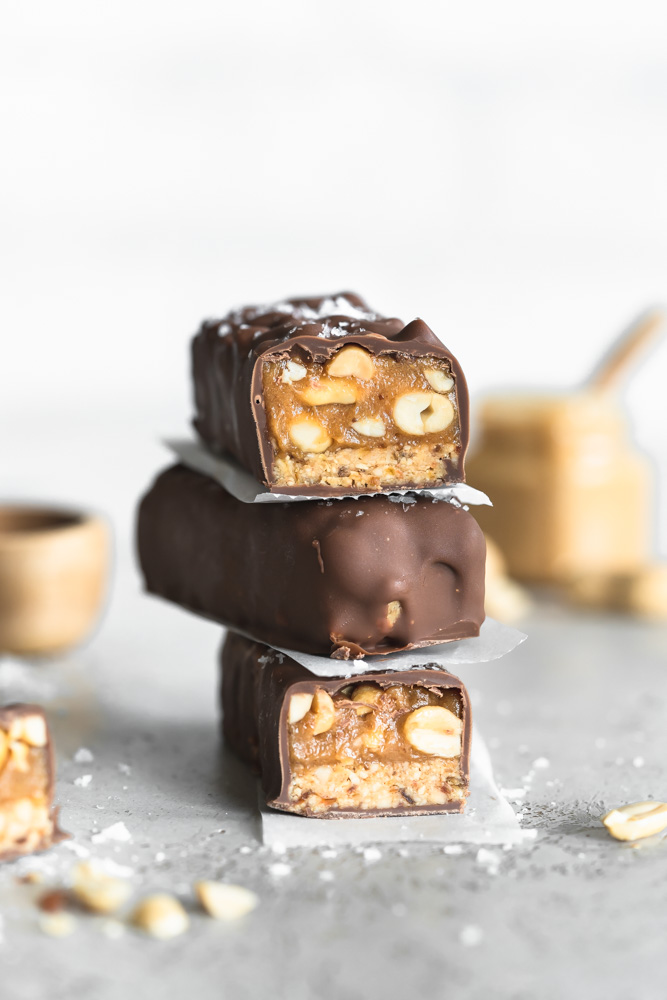 A fan favourite and one of the most popular recipes from the blog and my book No-Bake Vegan Desserts. With a delicious peanut nougat, date caramel and dairy free chocolate coating, these bars are so easy to make and taste amazing!

Easy




Ingredients
Base
290g/2 cups unsalted peanuts
10 medjool dates (pitted)
¼ tsp Himalayan pink salt/sea salt
Caramel
10 medjool dates (pitted)
125ml/½ cup rice milk
130g/1 cup crunchy peanut butter, divided into two
1 tsp vanilla extract
½ tsp Himalayan pink salt/sea salt
145g/1 cup roasted peanuts
255g/9 oz vegan chocolate, for coating
1 tsp coconut oil (solid), for coating
Instructions
Base
To make the base, blend the peanuts in your food processor until they form a light crumb.
Add in the salt and medjool dates and blend further until completely combined.
Line a 12 x 3½" or 8 x 8″ with parchment paper and press the mixture evenly into the base of
the dish using a spatula.
Caramel
For the caramel, put the dates, rice milk, half cup of peanut butter, salt and vanilla extract in a
high-speed blender and blitz until completely smooth. Transfer the caramel to a bowl and add
the remaining half cup peanut butter, then stir well to combine.
Assembly
Spread the caramel on top of the base using your spatula.
Add the roasted peanuts on top of the caramel and press them down into the surface of the
caramel using your spatula.
Place in the freezer for at least 2 hours (overnight if possible).
Remove the snickers slab from the baking tray and cut into 18 miniature bars or 12 large bars.
Place the bars back in the freezer whilst you prepare the chocolate coating.
Melt the chocolate and coconut oil over a double boiler.
Dip the bars into the chocolate and sit them on top of a cooling rack to set.
You can dip them a second time for a thicker layer of chocolate.
Store the bars in an airtight container in the fridge.
Did you know that Vegan Recipe Club is run by a charity?
We create vital resources to help educate everyone – vegan veterans, novices and the v-curious alike – about vegan food, health and nutrition; as well as the plight of farmed animals and the devastating environmental impact of farming.
Through this work we have helped thousands of people discover veganism; but we want to reach millions more! We rely entirely on donations as we don't get any government funding. If you already support us, thank you from the bottom of our hearts, you are really making a difference! Please share our details with your friends and loved ones too, as every donation enables us to keep fighting for change.