Vegan Loaded Nachos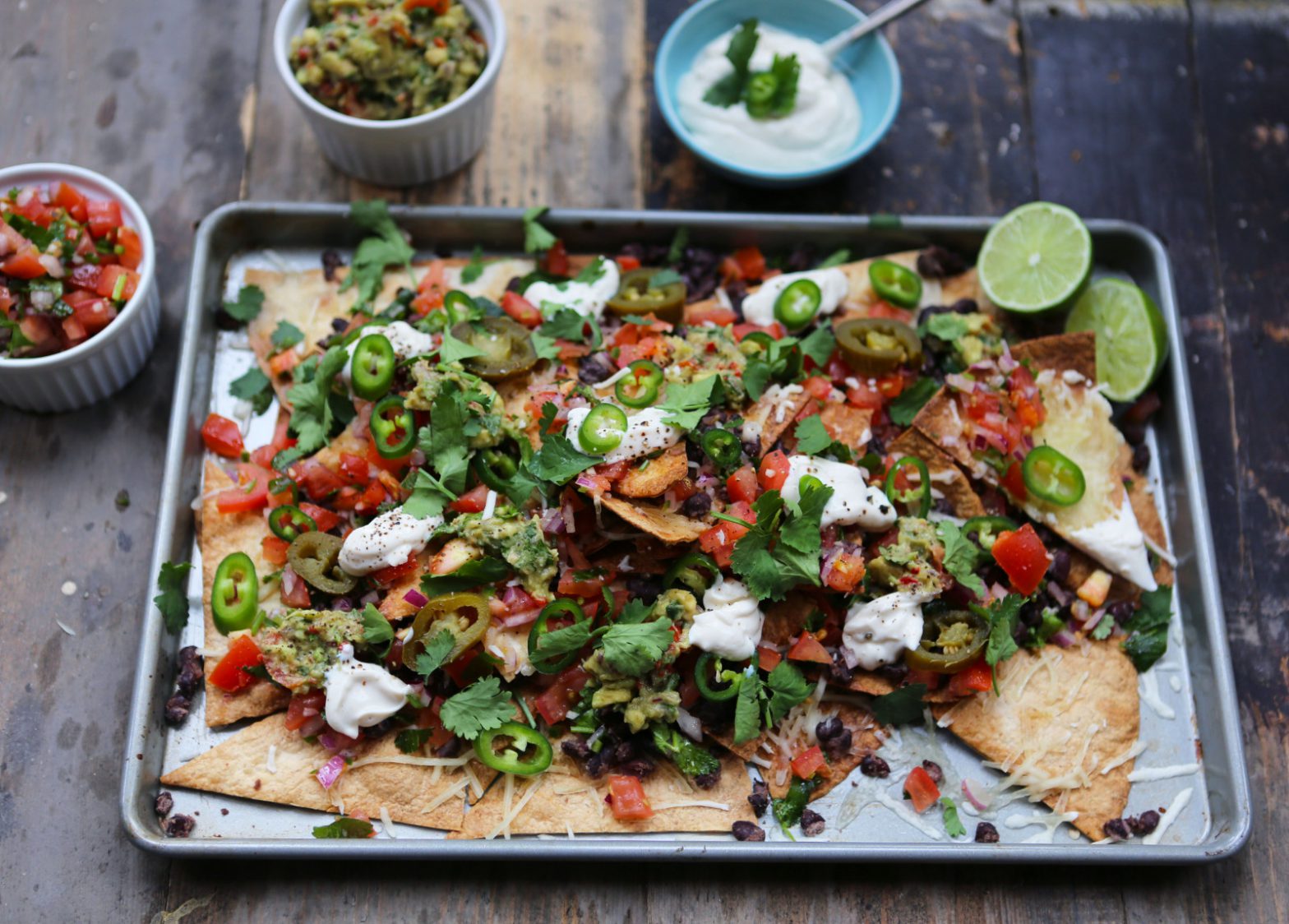 These loaded nachos are a real crowd pleaser and perfect to share for an evening with friends! The homemade version is of course the best and well worth the effort but if you don't have the time or inclination you can cheat all the way 🙂
This recipe was taken straight from our Everybody's Going Dairy-free Guide (over 95 pages full of recipes, handy charts, helpful tips, dairy-free secrets, eating out and lots more)
If you're short of time then try our cheatin' version!

Not too tricky




Cuisine
Mexican, Central and South American
Ingredients
Tortillas
6 flour tortillas (or use 2 large bags of shop bought tortilla chips, check the ingredients to make sure they're vegan), cut into triangles
100g/1 cup grated vegan cheese
1 portion of our guacamole (or for a cheatin' version, buy Sainsbury's Be Good To Yourself Guacamole, Holy Moly, Asda Smashed Avocado dip, Morrison's Guacamole or use a chopped up avocado)
1 portion of our sour cream (or for a cheatin' version, buy ready-made eg Tesco Free-From, Asda Free-From or Tofutti)
1 portion of our fresh salsa (or for a cheatin' version buy a shop bought salsa, available in fresh tubs or jars… nearly all are vegan)
Refried Black Beans
1 tin (400g) black beans, drained and rinsed
1 tsp paprika
1 tsp ground coriander
½ tsp ground cumin
1 tbsp lime juice
1 tsp brown sugar or vegan syrup (eg agave or maple etc)
Olive oil for frying
Instructions
Tortillas
Preheat the oven to 180˚C (fan)/350˚F/Gas Mark 4.
Line a couple of baking trays with greaseproof paper.
Lightly coat the tortilla triangles in a light oil, such as rapeseed.
Place them on the baking trays, evenly spaced, then pop them in the oven for around 10 minutes or until golden.
Refried black beans
Heat a little olive oil in a small saucepan on a medium heat and add the spices. Lightly fry for 30 seconds – 1 minute and then add the black beans.
Cook the beans for around 5 minutes, stirring throughout.
Add the lime juice and sugar, then cook for a further couple of minutes.
Assembly
On a large serving plate, add a layer of tortilla chips followed by the refried black beans, guacamole, salsa, grated cheese and repeat. Top off with fresh coriander and sour cream.
Did you know that Vegan Recipe Club is run by a charity?
We create vital resources to help educate everyone – vegan veterans, novices and the v-curious alike – about vegan food, health and nutrition; as well as the plight of farmed animals and the devastating environmental impact of farming.
Through this work we have helped thousands of people discover veganism; but we want to reach millions more! We rely entirely on donations as we don't get any government funding. If you already support us, thank you from the bottom of our hearts, you are really making a difference! Please share our details with your friends and loved ones too, as every donation enables us to keep fighting for change.