Vegan Chocolate Brownie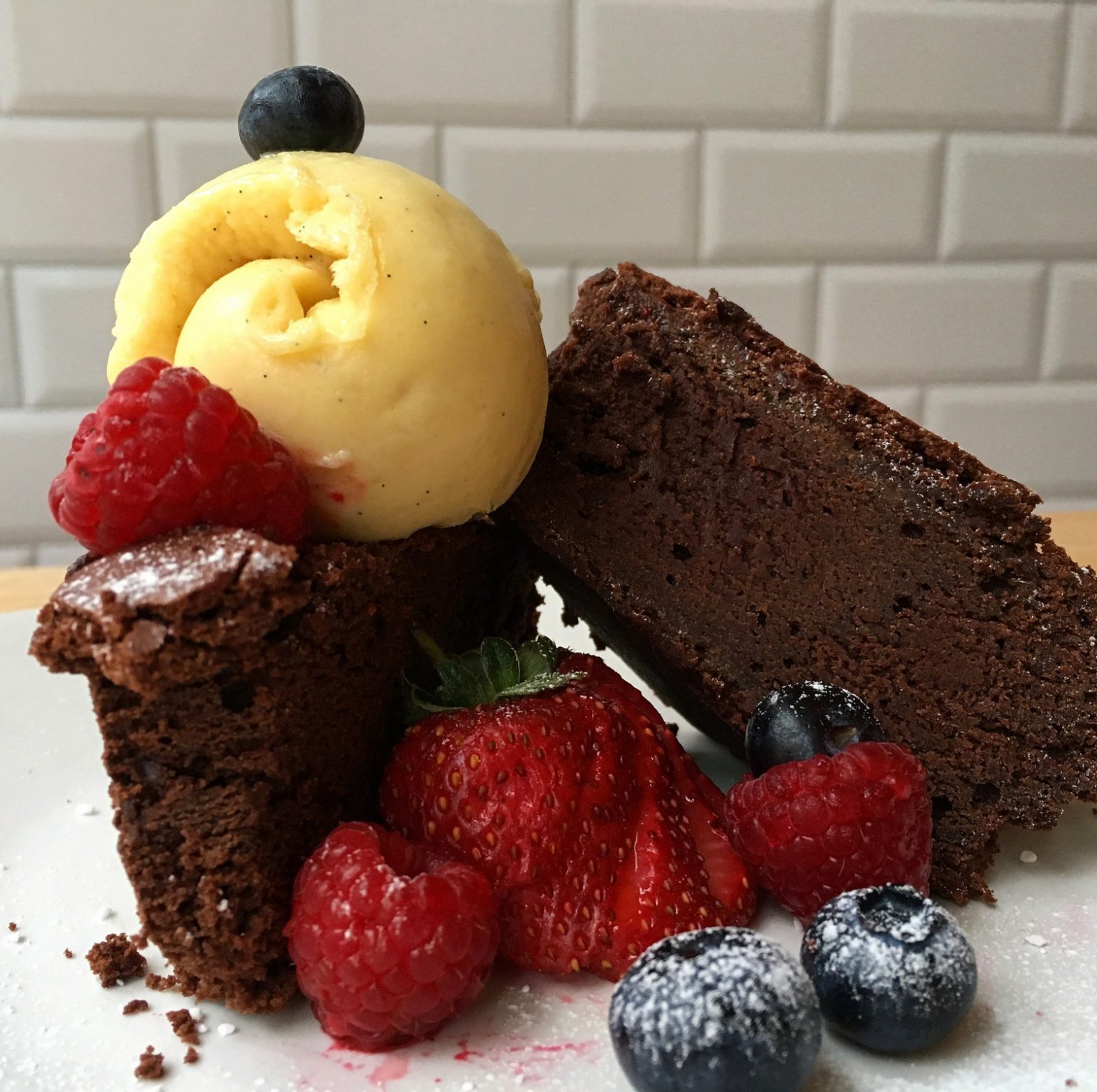 Our Kitchen's award winning chocolate brownie oozes with gooey vegan goodness… a real chocolate and nutty taste explosion! Serve warm and top with vanilla vegan ice cream and fresh berries for maximum satisfaction 🙂

Not too tricky
Ingredients
5 tbsp coconut oil, melted
200g vegan dark chocolate
170g self-raising flour
180g golden caster sugar
3 heaped teaspoons cocoa powder
1 vanilla pod
230ml unsweetened soya milk
200g pecan nuts
Large pinch of sea salt
Instructions
Preheat the oven to 180ºC/350ºF/Gas Mark 4.
Grease a square baking tray (20cm) with a little coconut oil and line with grease proof paper.
Melt ¾ of the dark chocolate in a microwave or in a dish over a pot of boiling water.
Sieve the flour and cocoa powder into a bowl.
Add the caster sugar, sea salt and cocoa powder.
Halve the vanilla pod and scrape out the seeds.
Add the soya milk, coconut oil and melted chocolate and stir until you reach an even consistency.
Chop the pecan nuts and rest of the dark chocolate and add to the mixture.
Spread the mixture evenly onto your baking tray.
Cook in the oven for 25 minutes.
Allow to cool for a few minutes
Serve with vegan vanilla ice cream and berries.
Did you know that Vegan Recipe Club is run by a charity?
We create vital resources to help educate everyone – vegan veterans, novices and the v-curious alike – about vegan food, health and nutrition; as well as the plight of farmed animals and the devastating environmental impact of farming.
Through this work we have helped thousands of people discover veganism; but we want to reach millions more! We rely entirely on donations as we don't get any government funding. If you already support us, thank you from the bottom of our hearts, you are really making a difference! Please share our details with your friends and loved ones too, as every donation enables us to keep fighting for change.