Vegan Chickpea, Aubergine & Spinach Curry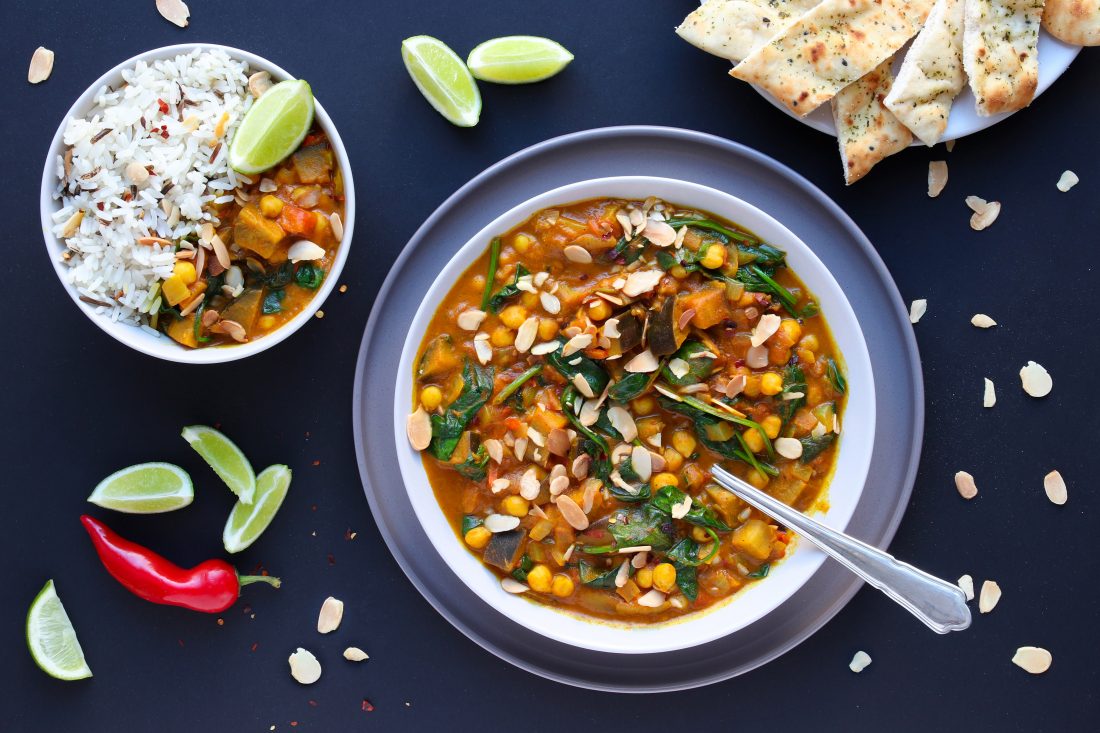 This delicious curry's a sure-fire winter winner. With golden aubergine, earthy chickpeas, fresh spinach, and a fragrant coconut sauce, this dish is packed with flavour and texture. Plus, it's really quick and easy to make!

Easy
Ingredients
1½ tbsp vegetable oil
1 onion, chopped
3 cloves garlic, very finely chopped
½ red chilli, deseeded and finely chopped
5cm piece root ginger, very finely chopped
1 aubergine, chopped into roughly 2cm cubes
2 tbsp soy sauce
1 x 400g can chickpeas, drained and rinsed
2 tbsp curry powder
½ tbsp ground turmeric
1 x 400ml can coconut milk
1 x 400g can chopped tomatoes
115g baby spinach
½ lemon, juiced
1 tsp ground black pepper
2 tbsp toasted flaked almonds (optional)
Crushed chilli flakes (optional)
Naan bread (optional)
Instructions
Prepare the ingredients and have them ready in front of you – it will make cooking much easier.
In a large saucepan, heat the vegetable oil over a medium heat until hot. Add the onion, garlic, chilli and ginger. Cook for 5 minutes, stirring regularly.
Add the aubergine and soy sauce and cook for 5 minutes, continuing to stir. Add 5 tbsp water and cook for a further 5 minutes. The aubergine should be soft; if it isn't, cook for a little longer.
Add the chickpeas, curry powder, turmeric, coconut milk, chopped tomatoes, spinach, lemon juice and black pepper. Bring to the boil and simmer for 5 minutes, stirring occasionally.
Divide between 4 bowls and garnish with the toasted flaked almonds and chilli flakes, if using. Serve with naan bread or rice.
Top tip: You can easily toast flaked almonds in the oven. Heat the oven to 170°C. Spread the almonds in a single layer on a large baking tray. Toast them for five to 10 minutes, shaking the baking tray a few times to redistribute the almonds so they brown evenly. Pull them from the oven just as they turn golden brown and aromatic. Leave the toasted almonds to fully cool on the tray before transferring to a container.
Did you know that Vegan Recipe Club is run by a charity?
We create vital resources to help educate everyone – vegan veterans, novices and the v-curious alike – about vegan food, health and nutrition; as well as the plight of farmed animals and the devastating environmental impact of farming.
Through this work we have helped thousands of people discover veganism; but we want to reach millions more! We rely entirely on donations as we don't get any government funding. If you already support us, thank you from the bottom of our hearts, you are really making a difference! Please share our details with your friends and loved ones too, as every donation enables us to keep fighting for change.