Vegan Banana Bread & Cashew Cream Icing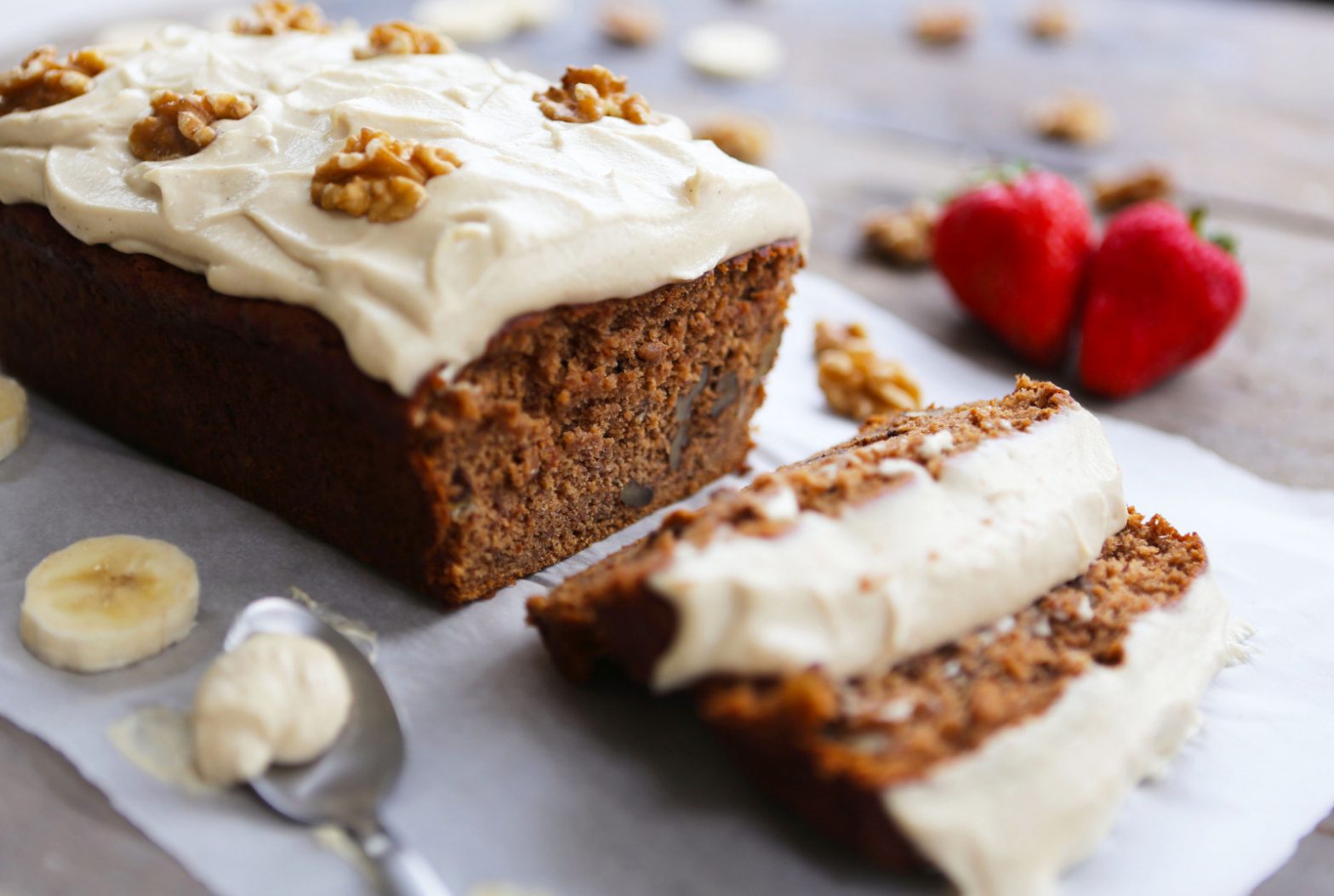 This banana bread is very straightforward to make and can be adapted to suit all budgets. For a plain version just take off the cashew cream icing and the walnuts and you've still got a delicious golden cake. The coconut sugar adds a lovely caramel flavour but you can also use any sugar that you have available. Enjoy 🙂
This recipe was taken straight from our Everybody's Going Dairy-free Guide (over 95 pages full of recipes, handy charts, helpful tips, dairy-free secrets, eating out and lots more)

Easy



Ingredients
250g/2 cups self-raising flour
1 tsp baking powder
1 tsp bicarbonate of soda
200g/1 cup coconut sugar or soft brown sugar
115g/½ cup vegan margarine/spread
3 very ripe bananas
60ml/¼ cup soya milk
1 tsp cider vinegar
1 tsp cinnamon
¼ tsp all spice
1 tsp vanilla
Pinch salt
100g/¾ cup walnut pieces
Instructions
Icing
Make a batch of our cashew cream (sweet version).
Cake
Preheat the oven to 180˚C (fan)/350˚F/Gas Mark 4.
Grease and line a large loaf tin with baking parchment.
Mix the soya milk and cider vinegar together in a small bowl and set aside.
Into a large bowl, sieve the flour, baking powder, bicarb, spices and set aside.
In a separate bowl, cream the margarine and coconut sugar then add the bananas and mix until smooth.
Mix the wet ingredients together with the dry ingredients just before you are ready to put the cake in the oven. Combine thoroughly and then pour into the lined cake tin. Add more soya milk if the mixture is too thick.
Bake in the oven for an hour or until golden and fully cooked through. Test with a cake probe.
Wait until the cake has completely cooled before adding the cashew cream icing. Top with walnuts and serve.
Did you know that Vegan Recipe Club is run by a charity?
We create vital resources to help educate everyone – vegan veterans, novices and the v-curious alike – about vegan food, health and nutrition; as well as the plight of farmed animals and the devastating environmental impact of farming.
Through this work we have helped thousands of people discover veganism; but we want to reach millions more! We rely entirely on donations as we don't get any government funding. If you already support us, thank you from the bottom of our hearts, you are really making a difference! Please share our details with your friends and loved ones too, as every donation enables us to keep fighting for change.