Ultimate Hummus Recipe (including sesame-free option)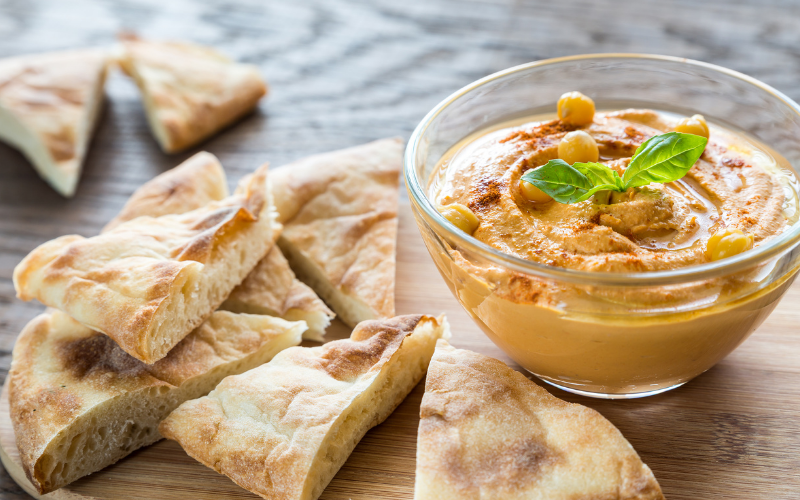 This hummus is well worth the effort! It's given in big-batch quantities so you can make it at the weekend to have for lunchboxes and other meals throughout the week.

Easy





Cuisine
Middle Eastern and Moroccan
Meal
lunches
sides-light-meals-and-salads
Ingredients
800g dried chickpeas, soaked overnight
2 tbsp bicarbonate of soda
8 cloves garlic, roughly chopped
400ml/500g tahini (if you need sesame-free then use sunflower seed butter instead eg Meridian, Indigo, Biona, Sun & Seed, Carley's)
200ml olive oil
150ml water
200ml lemon juice
Pinch cumin
2 tsp salt
Instructions
Dry fry the chickpeas in the bicarbonate of soda for a couple of minutes, then cover with water and cook until slightly soft but still with some bite (you'll need to check to get the right texture as you don't want the chickpeas to be slushy, more on the slightly firm side).
Remove any chickpea skins and foam from the water.
Drain the water and leave the chickpeas to cool.
Add all the ingredients to the blender or food processor and blend until smooth.
Taste and add more salt if necessary.
Did you know that Vegan Recipe Club is run by a charity?
We create vital resources to help educate everyone – vegan veterans, novices and the v-curious alike – about vegan food, health and nutrition; as well as the plight of farmed animals and the devastating environmental impact of farming.
Through this work we have helped thousands of people discover veganism; but we want to reach millions more! We rely entirely on donations as we don't get any government funding. If you already support us, thank you from the bottom of our hearts, you are really making a difference! Please share our details with your friends and loved ones too, as every donation enables us to keep fighting for change.