Two Layer Chocolate Fudge Cake
Lucy: "This cake is so incredible that I really can't tell if it's vegan or not. It tastes exactly the same as a non-vegan one! Having experimented with vegan baking, and knowing how cruel the farming industries can be, I now don't understand why people bother using eggs in recipes at all. They are completely unnecessary. If you love chocolate cake as much as I do (i.e. a lot) then this recipe will not disappoint."
Courtesy of Lucy Watson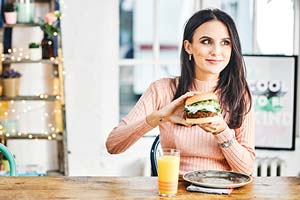 See other recipes by Lucy Watson
Ingredients
Cake
Sunflower oil spray, for greasing
250g self-raising flour
1 tsp baking powder
½ tsp sea salt
200g demerara sugar
120g light muscovado sugar
120g good-quality cocoa powder
550ml soya milk
1 tbsp vanilla extract
2 tsp apple cider vinegar
90ml vegetable oil
Fresh strawberries and extra melted vegan chocolate, to decorate
Chocolate fudge icing
300g good-quality vegan dark chocolate, chopped
225g vegan margarine/spread/butter
300g icing sugar
A large pinch of fine sea salt
Instructions
Cake
Preheat the oven to 200°C (180°C fan, gas 6), and grease and line two 20cm round loose-based cake tins with greaseproof paper.
Sift the flour, baking powder and salt into a large mixing bowl. Stir in both the sugars and the cocoa.
Heat the milk in a small saucepan over a medium heat until it just comes to a simmer. Remove from the heat and stir in the vanilla, vinegar and oil. Mix well.
Make a well in the dry ingredients and gradually whisk in the milk. Whisk until the mixture is smooth and lump free.
Divide the cake batter between the prepared tins. Put the tins on a baking sheet and bake in the centre of the oven for 25 minutes or until a skewer inserted into the centre comes out clean. If there is cake mix on the skewer, return the cakes to the oven for 5 minutes more.
Allow to cool in the tins for 5 minutes, then remove from the tins and put on a wire rack to cool completely.
Icing
Melt the chocolate in a heat proof bowl over a pan of gently simmering water, making sure the base of the bowl doesn't touch the water. Stir occasionally.
Remove from the heat. Put the butter in a bowl and add the icing sugar and salt. Cream them together using an electric whisk. Pour in the chocolate while it is still warm so that it combines well into the icing.
Flip one cake over onto a serving plate so that you have a flat surface. Working quickly, spread one-third of the icing onto the cake. Top with the second cake and cover the top and sides with the remaining icing. If you leave it too long the chocolate will set and it will be harder for you to spread the icing.
Decorate with some fresh strawberries and a drizzling of melted vegan chocolate. This cake is lovely and moist, so it will last for four or five days in the fridge.
Did you know that Vegan Recipe Club is run by a charity?
We create vital resources to help educate everyone – vegan veterans, novices and the v-curious alike – about vegan food, health and nutrition; as well as the plight of farmed animals and the devastating environmental impact of farming.
Through this work we have helped thousands of people discover veganism; but we want to reach millions more! We rely entirely on donations as we don't get any government funding. If you already support us, thank you from the bottom of our hearts, you are really making a difference! Please share our details with your friends and loved ones too, as every donation enables us to keep fighting for change.